Description
Quick Description:
What if you were told that no Dutch person has ever heard of the most listened-to radio station broadcasting from the Netherlands? Radio Dabanga has 3 million daily listeners in Sudan and Darfur and delivers them important, often life-saving information, where the government controls everything else.
The University of Maastricht and Radio Dabanga are having a run-a-thon on Dec. 9th from 12h - 18h. A run-a-thon is a charity run where participants gather sponsors per lap (most often friends or family). As an example, a participant with 20 sponsors, each having agreed to 3 euro per lap, who walks/ runs 5 laps, would have €300 to donate!!! Yay!
All proceeds will be sent to Stichting Free Press Unlimited. 7.5% of the funds raised will be allocated towards two prizes for the teams which complete the most laps per team member or raise the most funds per team member.
We ask that you - students of any age, parents, and community members, join us in helping Radio Dabanga to secure funding so that they can expand their operations. The money from this fundraiser will go directly towards producing an informative video to secure future funding and awareness. So, how can you help?
We are collecting names of runners and sponsors, and this is how it works:
1) Sign up on the Eventbrite page and give your email and other information. We will then send you all of the necessary information.
2) You can download and print the 'Sponsor Pledge Sheet' and begin collecting sponsors. For us to meet our funding goals it would be great if you could gather between 10 and 20 donors (friends, family, etc.) and between EU1 and EU2 per lap that you run or walk.
3) You can come to the track on December 9th and join other runners and teams in walking and running for Darfur/ Sudan! Make sure to bring your Sponsor Pledge Sheet to the run-a-thon so we can document it. You will have hot chocolate, soup, toasties, light music, and socializing with other students from the area. Laps run will be collected and added to your school's/faculty's/organization's group amount. The group with the most laps run, averaged out per person, will win a trophy - the group with the most donations raised, averaged out per person, will win a secret prize!
4) Your donors will know how many laps you ran/ walked, and they can transfer the amount to a bank account associated with Stichting Free Press Unlimited, NL92 INGB 000 000 7676 with payment reference Radio Dabangathon + Your Name,
5) The top-earning teams and individuals will be rewarded with prizes and we will keep you up to date on the project as it evolves!
Here is the Sponsor Pledge Sheet - Please right-click on the image and save it, print it, fill it out, and bring it to the run-a-thon: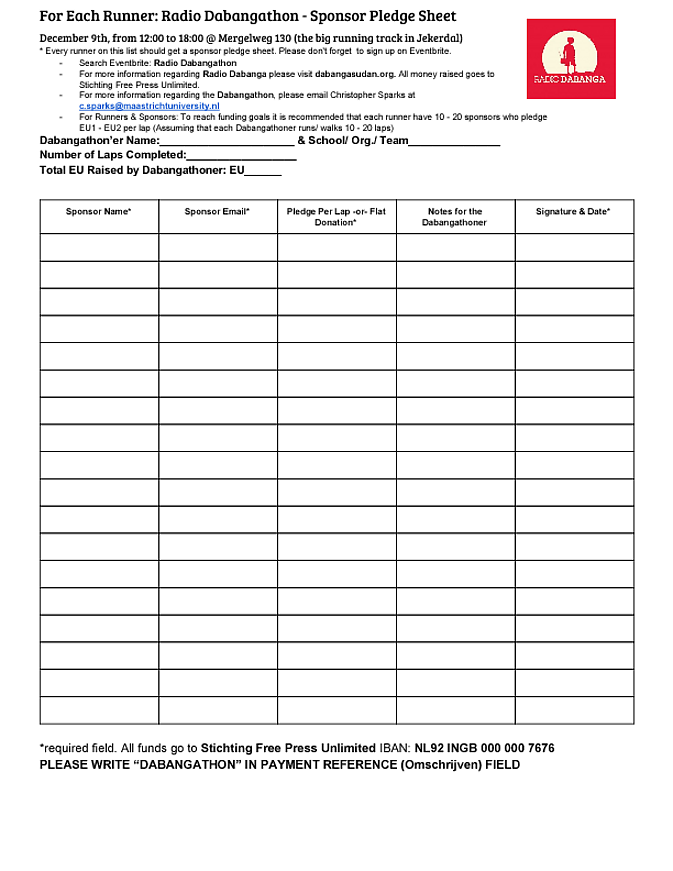 Full Description of Radio Dabanga and What They Do:
Tucked amongst the radio stations of the Netherlands rests one which is, at the same time, the one with the greatest number of listeners as well as the one that hardly anyone has heard of.
Radio Dabanga is a non profit radio station that produces in Amsterdam and broadcasts to Sudan and the Darfur region with 3 million daily listeners. Where many radio stations simply produce news, music, or talk, Radio Dabanga provides unbiased information to people who depend on accuracy - in fact their lives are directly dependent on it.
The condition in Sudan and Darfur, specifically, is precarious to say the least. A complex mess of politics, tribalism, decades of famine, and inflation has led to the deaths of slightly under 500 thousand either by violence, disease, or famine. Between 2.8 million and three million have been displaced, mostly children - concentrated in refugee camps that are conveniently centralized for violent human rights abuses at the hands of any of the several roving militias in the area. The conflict in this region is widely regarded as the worst humanitarian disaster of the new millennium and has become the face of genocide, as well as failure of the international political system, since it began in earnest in 2004.
In a world where accuracy of information can mean the difference between life and death, the government, predisposed to tribalism and subjugation of politically powerless groups, controls all information in the country.
Radio Dabanga broadcasts daily and delivers the information necessary to make informed decision about one's daily life. If, for example, a child from one town wishes to go to school in the next town over, reports regarding the safety, or mere existence of that town from day to day will be broadcast over shortwave to the homes or tents of the people of the region. Contraband radios are relied upon for receiving the reports, all of which are triangulated for accuracy by the Radio Dabanga Team in Amsterdam, and thus an archaic radio format has, undoubtedly, saved the lives of tens of thousands, potentially hundreds of thousands, over the past ten years.
The parent company, Free Press Unlimited, has been the benefactor of Dabanga for the past decade. Dabanga is engineering an amicable split from FPU and although they have a healthy clutch of individual donors to maintain operations, further examination into alternative, more widespread funding is necessary.
Dabanga has formed a task force to explore other avenues for securing future funding. The team is based in Maastricht and has begun the process of building awareness and engineering fundraising campaigns on behalf of Radio Dabanga.
For more information on what's going on in Sudan and Darfur, we recommend the following sources:
- https://www.youtube.com/watch?v=USLDoIiFzzg
- https://www.youtube.com/watch?v=W66ovZe1-TM
Participation in the Dabangathon is purely voluntary and can also be walked if running is not the individual preference. All proceeds will be sent to Stichting Free Press Unlimited. 7.5% of the funds raised will be allocated towards three secret prizes for the teams which complete the most laps per team member.