Event Information
Refund policy
Contact the organizer to request a refund.
Eventbrite's fee is nonrefundable.
A Virtual Benefit Production to Raise the Voices of Intersectional Feminists
About this event
Enjoy a night of powerful performances while helping to end violence against womxn and girls, and bring justice to all who are in need. 4thU Artivists invites you to "Radical Voices: The 'Otherness' of Feminism". A curated reading interwoven with dance, musical performances, and a storyteller to highlight the theme of Systemic Trauma for the most marginalized in our societies." The presentation features work from Audre Lorde, Edwidge Danticat, Jo Carrillo, Rosario Morales, Andrea/Andrew Gibson, and other formidable writers & Poets. Net proceeds support Sakhi and Legal Momentum. The performance begins at 8 pm ET.
The mission of 4thU Artivists is to raise awareness and funds to end violence against women and girls globally and locally through creative projects (theater and dance productions, concerts, and art shows) presented under the auspices of the Fourth Universalist Society in the City of New York. "We continue to embrace our original mission and acknowledge that we are evolving and deepening our intentionality to highlight the voices and experiences of those who are often unheard or dismissed by society," Managing Director & Founder, Deborah Roth stated. "In particular, for this production, Radical Voices: The 'Otherness' of Feminism, we encouraged self-identifying intersectional womxn and non-binary folx to audition and join us in this important work."
As an organization, 4thU Artivists continues to rethink, recognize, grow, evolve and expand, and have revisited their intentionality and how they show up, daily. "We gather to support and spotlight the voices, perspectives, and authentic challenges of all who make up the feminist experience," says Erin Bigelow, Creative Director of 4thU Artivists.
This show is a benefit production to highlight and promote intersectional feminists, presenting varied experiences and portrayed by vastly different voices. "Trans womxn, queer womxn, disabled womxn, cis womxn, non-binary folx, womxn of color and otherwise; the production purposefully highlights the voices and experiences of the most marginalized individuals in our broken and healing society," affirmed Erin Bigelow.
Net proceeds from this event will support the work of our beneficiaries: Sakhi and Legal Momentum. Sakhi for South Asian Women unites survivors, communities, and institutions to eradicate domestic violence and create strong, healthy communities. Legal Momentum ensures economic and personal security for all women and girls by advancing equity in education, the workplace, and the courts. Formerly known as NOW Legal Defense and Education Fund, Legal Momentum is the oldest legal advocacy group for women in the United States.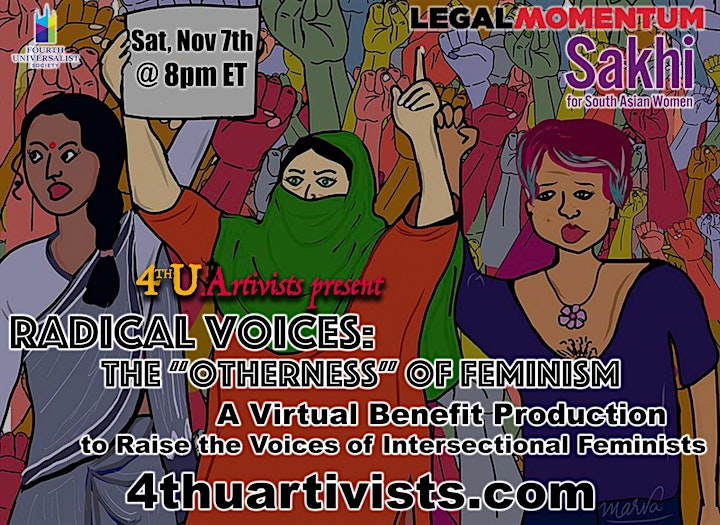 Date and time
Location
Refund policy
Contact the organizer to request a refund.
Eventbrite's fee is nonrefundable.
Organizer of Radical Voices: The "Otherness" of Feminism (Online Live Production)
About 4thU Artivists: Activism through the Arts
The mission of 4thU Artivists is to raise awareness and funds to end violence against women and girls globally and locally through creative projects (theater and dance productions, concerts, and art shows) presented under the auspices of the Fourth Universalist Society, a 501(c)(3) Unitarian-Universalist (UU) congregation in New York City. The group's community of performers, creatives, healers, and communication professionals volunteer their time in order to save lives. Donations can be made at https://4thuartivists.com/donate/

To learn more about the organization's mission, leadership, past productions, and more, visit 4thuartivists.com. You can also follow 4thUArtivists on Facebook, Twitter, Instagram, and LinkedIn.

PRESS CONTACT
Luisa (Lou) Riano-Anderson
201-925-8834
latinany00@gmail.com