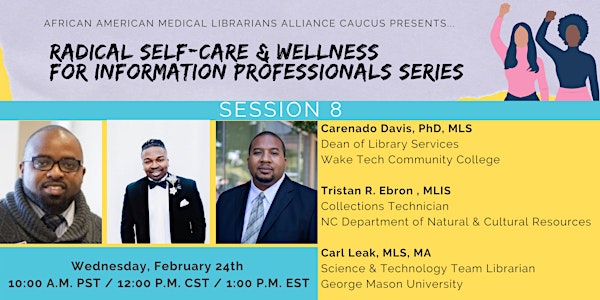 Radical Self Care & Wellness: Grace Under Pressure: Black Male Perspective
Join us for Session 8 of AAMLA's Radical Self-Care & Wellness for Information Professionals webinar series.
About this event
Join us for Session 8 where Carenado Davis, Tristan Ebron, and Carl Leak present Grace Under Pressure: The African American Male Perspective.
Carenado Davis is the Dean of Library Services at Wake Technical Community College. He was formerly a Research Associate Professor and Liaison for the Brody School of Medicine at Laupus Health Science Library at East Carolina University. He has worked in the academic, community college, and health science library settings. He received his Bachelor of Science in Business Administration for ECU, his Master of Library Science from NCCU, and his Ph.D. in Education from Capella University. Carenado's research interests include diversity and inclusion in librarianship (faculty, staff, students), minority student recruitment and retention library science programs, and student success and engagement.
Tristan Ebron is Collections Technician at North Carolina Department of Natural and Cultural Resources. His job description requires him to be the first responder during the evening for reference questions. He provides help on libguides as well, and helps the ILL supervisor with Document Delivery. Also, he is over the heavy use collection which is the textbooks that students in health science related fields use during the semester. While, working full time Tristan is also in MLS school at North Carolina Central University part time. Tristan also double majored at East Carolina University and received a Bachelor of Arts in History, and African and African American Studies.
Carl Leak (he/him/his) is the Life Sciences and Systems Biology Librarian at George Mason University. He earned his Master's degree in Library Science from North Carolina Central University and a second Master's degree in English with a concentration in Technical and Professional Communication from East Carolina University. Carl is active in the Association of Information Science & Technology (ASIS&T) as well as the Medical Library Association.