Event Information
Location
Maisie Dunbar Spa Lounge
8711 1st Avenue
Silver Spring, MD 20910
Description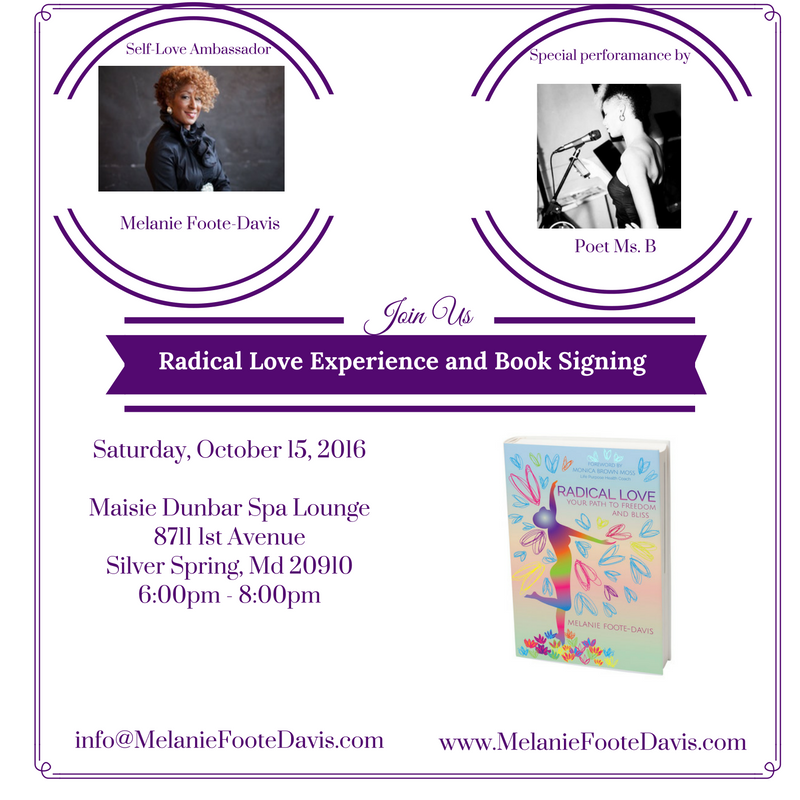 Join us for a Radical Love Experience and Book Signing
Saturday, October 15, 2016
Award Winning, Maisie Dunbar Spa Lounge
8711 1st Avenue
Silver Spring, MD 20910
6:00pm - 8:00pm


You're Awesome! Sometimes you just need a reminder
As nurturers, women often give from a depleted place.
In celebration of her new book release Melanie Foote-Davis invites you to engage in a candid conversation about how to give without giving yourself away. She will help you reconnect with the essence of who you are and have fun doing it.
Don't miss a special performance by spoken word artist, Ms. B
Invite your girlfriends, colleagues and social network to strengthen our bond in the spirit of sisterhood.
But remember, this is a sisters loving sisters moment. What's shared in the Radical Love Lounge, stays in the lounge.
Isn't it ime to say 'Yes" to loving you without apology?
6:00 pm Check in and Refreshments

6:30 – 7:30 pm Radical Love Conversations & Performances
7:30 -8:00 pm Book Signing and Social Hour
For more information: Melanie@MelanieFooteDavis.com
www.MelanieFooteDavis.com
Date and Time
Location
Maisie Dunbar Spa Lounge
8711 1st Avenue
Silver Spring, MD 20910