RADICAL BLACK WOMEN: Claudia Jones & Black Left Feminist Visions of Peace
An event of the RADICAL BLACK WOMEN Series, this online political education series pays homage to historical radical leftist Black women.
About this event
About the event:
For the second installment in the #RadicalBlackWomenSeries, join us for "Claudia Jones, Afro-Asian Solidarity, and Black Left Visions of Peace" with scholar Zifeng Liu on Tuesday, June 29th from 6:30-8:00 PM EST. Liu will discuss his work on Trinidadian leftist-feminist Claudia Jones and explore Jones' radical politics and solidarity with Maoist China, internationalism, and anticolonial thought.
About Zifeng Liu:
Zifeng Liu is an intellectual historian of the 20th-century Africana world with specializations in Black internationalism, anticolonial thought, and Afro-Asian solidarity. His current project "Redrawing the Balance of Power: Black Left Feminists, Mao's China, and the Making of an Afro-Asian Political Imaginary" explores how Black leftist women's understandings of race, class, gender, sexuality, and empire evolved as they sought Afro-Chinese solidarity within often difficult geopolitical contexts. His research has been featured in The Economist and CGTN. His essays and reviews in English and Chinese on Black radicalism and African American political culture have been published in the Journal of Intersectionality, Journal of African American History, Journal of Beihang University, The Paper, Initium Media, and SINA News. Zifeng Liu is currently a doctoral candidate in Africana Studies at Cornell University.
About The Radical Black Women Series:
Black women leaders such as Charlotta Bass, Williana Burroughs, Angie Dickerson, Shirley Graham Dubois, Lorraine Hansberry, Claudia Jones, Una Marson, Charlene Mitchell, Louise Thompson Patterson, Eslanda Goode Robeson, and more have always been at the forefront of radical political organizing. Their political and intellectual productions have catalyzed, sustained, and transformed movement building in both historical and contemporary aspects. However, oftentimes their activism have been siloed due to a lack of the intersectional interrogation of their lives and leadership.
How do we honor the lives, leadership, and legacies of these radical Black women? What are ways to interrogate their political memories as integral to the Black radical tradition? How do we incorporate their political and intellectual productions in our own praxes? What are ways to ensure their work will not be lost among present and future radical organizers?
A collaboration between Black Women Radicals, the Claudia Jones School for Political Education, and Paul Robeson House and Museum. This online political education series pays homage to historical radical leftist Black women.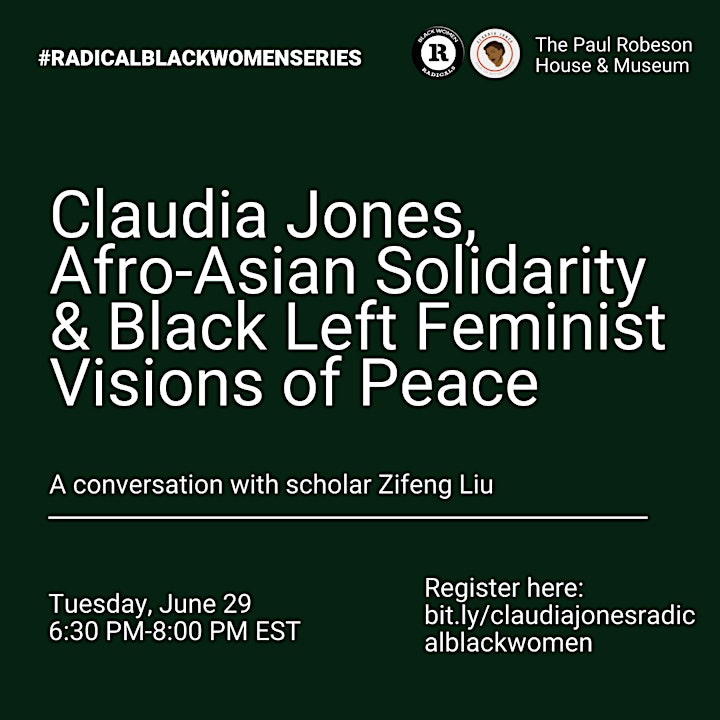 Organizer of RADICAL BLACK WOMEN: Claudia Jones & Black Left Feminist Visions of Peace
The West Philadelphia Cultural Alliance owns and operates the Paul Robeson House and Museum. The alliance was established in 1984 to "stimulate community participation in the arts by cultivating an interest in, understanding of, and appreciation for the arts in the greater Philadelphia region."