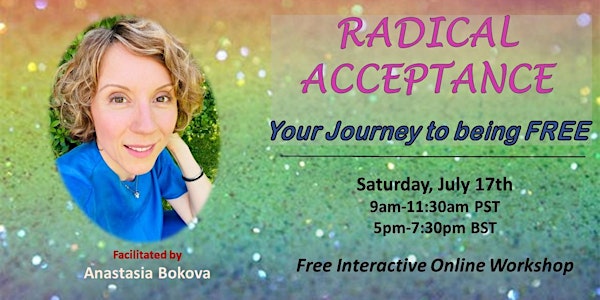 Radical Acceptance - Your Journey to being Free
Creating Freedom through Radical Self-Acceptance
About this event
What if you discovered a way to accept yourself unconditionally as who you are and let go of who you think you are supposed to be?
Join us for this Inspiring 2.5 hour experiential workshop where we will explore what lies beneath Unconditional Self-Acceptance and how it paves the road to being Free. Through this process you will be liberated and will walk away knowing and embracing your true authentic self. The event will be filled with powerful activities of connection, reflection, and inspiration.
What to bring to the event:
- Open mind, Open Heart, Curiosity
- Pen and Journal or Paper
- and be ready to have a Good Time!
You are invited to keep your cameras on throughout the whole workshop to have a fully interactive experience. I look forward to seeing you!
NOTE: This program will be recorded for "assessment purposes only."