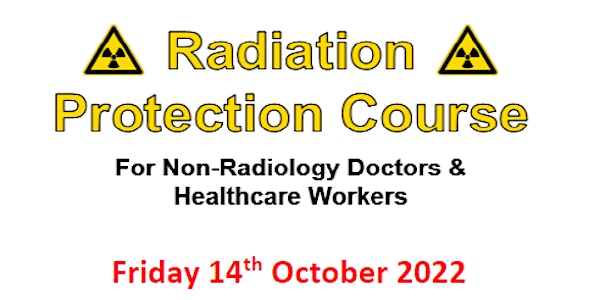 Radiation Protection Course
Radiation Protection Course for Non Radiology Doctors & Healthcare Professionals
Refund Policy
Contact the organiser to request a refund.
About this event
About this event
S.I. 256 2018 is concerned with the health protection of individuals against the dangers of ionising radiation in relation to medical exposures. Article 22.3 of S.I. 256 explicitly states that Practitioners and individuals to whom the practical aspects of medical radiological procedures are delegated to must have successfully completed training, including theoretical knowledge and practical experience in medical radiological practices and radiation protection, as prescribed by the Medical Council
This online course will cover the material required in the legislation and is specifically aimed at non-radiologist doctors who may be directing investigations with ionising radiation. The course has been approved by the Faculty of Radiologists and is recognised by the Medical Council of Ireland. The names of attendees will be forwarded to the Medical Council for inclusion in their register. The Medical Council offers all course attendees who are on the general register of Medical Practitioners a certificate of attendance. See www.medicalcouncil.ie for more information.
The course is also of considerable benefit to nurses and other healthcare professionals who encounter ionising radiation in the workplace and will give a good introduction to the issues involved in radiation protection.
Please register by scanning the QR Code provided below. The course is free of charge for Saolta staff. Non-Saolta staff will be required to pay a fee of €100.
Program
08:45 - 08:50 Introduction (BT)
08:50 - 09:30 Introduction to Ionizing Radiation (CK)
09:30 - 10:00 Effects of Radiation (EOH)
10:00 - 10:45 Legislation � Your Obligations under the Law (EH)
10:45 - 11:00 Coffee Break
11:00 - 11:20 Referral Guidelines in Radiology (SMcN)
11:20 - 11:50 Practical aspects of radiation protection
-incl. High Dose procedures (PD)
11:50 - 12:20 Radiation Protection: A Clinical Perspective (TBC)
12:20 - 12:50 Demo and Panel Discussion (DL, HK, BT)
12:50 - 13:20 Lunch Break
13:20 - 13:50 Radiation Protection in Nuclear Medicine (TBC)
13:50 - 14:20 Radiation Protection in Radiotherapy (MM)
14:20 - 14:50 Principles of DEXA (BT)
14:50 - 15:00 Course close (BT)
Course Faculty:
Prof. Gerard O Sullivan, Consultant Radiologist, Chair Person of Radiation Safety committee, Radiology Dept, Galway University Hospital (GUH)
Mr. Brendan Tuohy, Chief Physicist & Registered RPA, Dept. of MPCE, GUH
Ms. Margaret Moore, Principal Physicist, Dep of MPCE, GUH
Mr. Zdzislaw Zuchora, Senior Physicist, Dept. of MPCE, GUH.
Ms. Helen Kelly, Senior Physicist/RPA, Dept. of MPCE, GUH
Ms. Emerald House, Senior Physicist, Dept. Of MPCE, GUH
Mr. David Lavin, Principal Physicist/RPA, Mayo University Hospital
Mr. Stephen McNulty, Radiation Safety Officer, GUH
Ms. Eilis O Halloran, Physicist, Dept of MPCE, GUH
Dr Philip Doyle, Principal Physicist/MPE, Letterkenny and Sligo University Hospitals