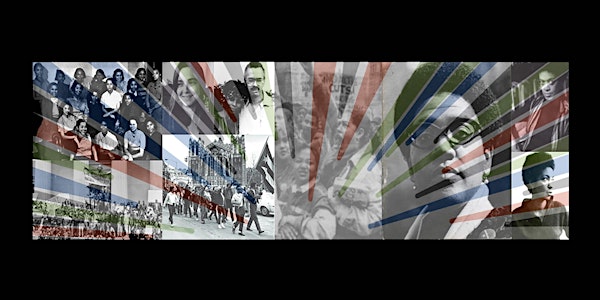 Radiating CUNY Black~Puerto Rican~Feminist Studies to Americas & Caribbean
Radiating Black~Puerto Rican~Feminist Studies from the City University of New York to the Americas and the Caribbean
Refund Policy
Contact the organizer to request a refund.
Eventbrite's fee is nonrefundable.
About this event
Wendy's Subway is pleased to present Radiating Black~Puerto Rican~Feminist Studies from the City University of New York to the Americas and the Caribbean, a series of public programs organized by Conor Tomás Reed. This residency will share archives and learning/organizing lessons on the entwined legacies of Black~Puerto Rican~Feminist Studies and movements at CUNY in the 1960s and 70s, in order to nourish bridges between community organizers, cultural workers, educators, and students in the United States, the Caribbean, and Latin America.
These radiant histories will be broadcast through a three-month series of seven online public dialogues on the lives of Toni Cade Bambara, June Jordan, and Audre Lorde; explorations in Black~Puerto Rican~Third World Feminist Studies at CUNY now; histories of how CUNY movements created Open Admissions and Ethnic Studies; and present efforts to decolonize CUNY and New York City.
~
Esta residencia compartirá archivos y lecciones de aprendizaje/organización sobre los legados entrelazados de los estudios y movimientos afro-descendientes~puertorriqueñxs~feministas en CUNY en las décadas de 1960 y 1970, con el fin de alimentar puentes entre organizadores comunitarios, trabajadores culturales, educadores, y estudiantes en el Estados Unidos, el Caribe y América Latina.
Estas radiantes historias se compartirán a través de una serie de tres meses de siete diálogos públicos en línea sobre las vidas de Toni Cade Bambara, June Jordan, y Audre Lorde; exploraciones en Estudios Afro-descendientes~Puertorriqueñxs~del Tercer Mundo~Feministas en CUNY ahora; historias de cómo los movimientos CUNY crearon Admisiones Abiertas y Estudios Étnicos; y presentar esfuerzos para descolonizar CUNY y la ciudad de Nueva York. La mitad de las presentaciones contarán con interpretación en vivo en español. La residencia culminará con la creación de materiales digitales e impresos para distribución gratuita en Wendy's Subway.
Thursday, November 12, 3:30-5pm EST
June Jordan's Life Studies: Notes, Conversation, and Workshop / Activando los Estudios de la Vida de June Jordan: notas, conversación, y taller
Maryam Parhizkar, Conor Tomás Reed, and Talia Shalev
Zoom registration link: https://bit.ly/31h4JnC
Friday, November 13, 6-8pm EST
CUNY Black~Puerto Rican~Third World Women's Studies Now / Estudios Afro-descendientes ~ Puertorriqueñxs ~ del Tercer Mundo~Feministas en CUNY Ahora (interpretación en español)
Johanna Fernández, Carmen Kynard, and Vani Kannan
* Spanish interpretation available
Friday, November 20, 6-8pm EST
Reading Audre Lorde in Community / Leyendo Audre Lorde en la comunidad
Nimo Ali, Joy Gutierrez, Suzanne Herrera li Puma, T Wilkins, and Jillian White from the Audre Lorde Reading Group
Monday, November 30, 6-8pm EST
Translating Audre Lorde Now / Traduciendo Audre Lorde Ahora (en español con interpretación en inglés)
Diarenis Calderón Tartabull, Julián González Beltrez, AnouchK Ibacka Valiente, Tito Mitjans Alayón, and Geo Videllia
* In Spanish, English interpretation available
Tuesday, December 15, 6:30-8:30pm EST
The School of Toni Cade Bambara / La Escuela de Toni Cade Bambara (interpretación en español)
Linda J. Holmes, Makeba Lavan, Thabiti Lewis, and Louis Massiah
* Spanish interpretation available
Wednesday, January 20, 6-8pm EST
Transforming CUNY Admissions, Studies, Movements / Transformando admisiones, estudios y movimientos de CUNY
Tami Gold, Pam Sporn, Gisely Colón López, Ricardo Gabriel, Amaka Okechukwu, and Anna Zeemont
Friday, January 29, 6pm-8pm
Decolonize CUNY and NYC! / ¡Descoloniza CUNY y NYC! (Interpretación al español)
American Indian Community House, Brooklyn College Anti-Racist Coalition (ARC), Free CUNY, North Bronx Collective, and Rank and File Action (RAFA)
* Spanish and ASL interpretation available
This residency's events actively welcome working-class Black, Indigenous, Asian, Caribbean, Latinx, Middle Eastern, Pacific Islander, and beyond (BIPOC)—especially women, gender non-binary, and queer and trans—individuals and groups to participate. The events will be available for all, but will intentionally center these participants in our process.
~
Damos la bienvenida activamente a la clase trabajadora afro-descendiente, indígena, asiática, caribeña, latina, del Medio Oriente, de las islas del Pacífico y más allá (BIPOC)—especialmente mujeres, género no binario, y queer y trans—individuos y grupos para participar. Los eventos y materiales estarán disponibles para todos, pero centraremos intencionalmente a estxs participantes en nuestro proceso.
Conor Tomás Reed is a Puerto Rican/Irish multi-gendered street scholar and freedom maker who teaches Africana Studies and American Studies at Brooklyn College. Conor is a contributing editor with LÁPIZ Journal and Lost & Found: The CUNY Poetics Document Initiative, and a participant in Free CUNY and Rank and File Action (RAFA). Conor is developing a book about the rise of Black, Puerto Rican, and Women's Studies and movements at the City College of New York and in New York City from 1960 to the present, as well as a quadrilingual anthology of Black Feminist Studies in the Americas and the Caribbean during this period.
~
Conor Tomás Reed es un puertorriqueñe / irlandés de múltiples géneros erudito callejero y creador de la libertad que enseña Estudios Africanos y Estudios Americanos en el Brooklyn College. Conor es editor colaborador de LÁPIZ Revista y Lost & Found: The CUNY Poetics Document Initiative, y participa en Free CUNY y Rank and File Action (RAFA). Conor está desarrollando un libro sobre el surgimiento de los estudios y movimientos de afro-descendientes~puertorriqueñas~feministas en el Colegio Ciudad de Nueva York y en la ciudad de Nueva York desde 1960 hasta el presente, así como una antología quatrilingüe de estudios de feministas afro-descendientes en las Américas y El Caribe durante este período.
Support
The Wendy's Subway Residency Program is made possible through a Shelley & Donald Rubin Foundation Art and Social Justice Grant, and through public funds from the City of New York Department of Cultural Affairs in partnership with the City Council, and the Decentralization Program of the New York State Council on the Arts, administered in Kings County by the Brooklyn Arts Council.