Description
Every 9 seconds a woman is assaulted in the U.S. Refuse to be a statistic. Will you be ready if it happens to you? You SHOULD do this. You CAN do this.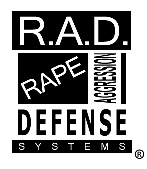 Join The Higher Edge Fitness of Southington as we present a Rape Aggression Defense (R.A.D.) Women's Self Defense Series. Just 4 hours a week can help you gain skills to keep for and possibly save your life

Series Dates and Times:
Sep 26th (Monday) 6:30 pm - 8:30 pm
Sep 28th (Wednesday) 6:30 pm - 8:30 pm
Oct 3rd (Monday) 6:30 pm - 8:30 pm
Oct 5th (Wednesday) 6:30 pm - 8:30 pm
Oct 10th (Monday) 6:30 pm - 8:30 pm
Oct 12th (Wednesday) 6:30 pm - 8:30 pm

*Open To all females 16 yrs or older. Under 18 must be accompanied by an adult.
See a video of what you don't want to miss HERE

Space is VERY Limited so register today to save your spot!
The Rape Aggression Defense System is a program of realistic self‐defense tactics and techniques designed specifically for women. R.A.D. is not a Martial Arts program. R.A.D. courses are taught by nationally certified R.A.D. Instructors and provide each student with a workbook/reference manual. This manual outlines the entire Physical Defense Program for reference and continuous personal growth, and is the key to R.A.D.'s free lifetime return and practice policy for R.A.D. graduates. R.A.D. courses include lecture, discussion and hands on self defense techniques suitable for women of all ages and abilities.

R.A.D. is the only self-defense program ever endorsed by:

International Association of Campus Law Enforcement Administrators (IACLEA)
National Academy of Defense Education
National Self- Defense Institute (NSDI)
Frequently asked Questions:

How many people are in each class?
While there is no set amount of students for each class, we do maintain a small class size to ensure that each participant feels comfortable and is able to receive proper and personalized instruction.

Do I have to attend all classes?
Participation in all the classes of the program is not mandatory. However, since each class builds on the skills learned in the previous class, it is strongly encouraged to make a commitment to all classes. Committed this small amount of time can provide a lifetime worth of knowledge.

Do I need to be in good shape to participate?
You do not need to be in good physical shape to participate in R.A.D. Classes are designed so that the average person can take them. Students are encouraged to go at their own pace. You will never be asked to do something you can't or do not want to do.

Do I really get to hit someone in a suit?
You will get the chance to practice what is taught to you, on one of the instructors who will be dressed up in a well padded protective suit. This is called simulation training and is a valuable part of the class as it gives you a chance to see how your newly learned skills work in real life situations. This part of the class is optional, but is encouraged.