R.A.C.I.S.M vs Everybody Community Dialogue
Actions and Detail Panel
R.A.C.I.S.M vs Everybody Community Dialogue
Sat, February 18, 2017, 3:00 PM – 4:00 PM EST
Description
The Gallery at City Hall Artspace Lofts is hosting a unique community dialogue on race, featuring artists, comedians, and advocates, scheduled for Saturday, February 18, 2016, at 3:00 pm in Dearborn, Michigan. The event will take place in the Gallery of City Hall at the Lofts at 13615 Michigan Avenue and is open to the public. Tickets are $12.00 in advance and are available at https://www.eventbrite.com/e/racism-vs-everybody-tickets-31583972512 The Gallery at Dearborn Artspace City Hall Campus located off of Schaefer and Michigan Avenue on the 1st floor. Entrance thru outside 1st floor ramp ONLY.
Racism over the last five years or so has been the view from an outside - out perception. Discussions, workshops, and seminars have taught more on institutional racism than individual racism. Our most important question is whether or not we can get enough people to tackle it from the root system, which in many experience and as illustrated by history, is the dichotomy between white supremacy and black oppression. Other racial discrimination seems to fall somewhere within that spectrum. Our expectation is to challenge our audience goers and panelist to do an explicit self-reflection by taking it outside of that main context which seems ineffectual. Our community dialogue on racism will ignite personal truths/belief systems to emerge, invite a healthy safe environment evoke with humor and leave a positive rea life impressssion.
Among those scheduled to participate on the panel are LIA ROSE, PAUL JOHNSON JR, MOLLIE PATTERSON, and SHAFFWAN AHMED. The discussion is moderated by Comedians John Bell, Antonio Hall, Heather Kyle, Faygo Red, KJ Robinson.
"This is a once in a lifetime community dialogue. Nowhere has our conversations around race been supported with humor and personal truths," said Denguhlanga Julia Kapilango, City Hall Artspace Lofts Resident, and Event Director.
In the wake of colored motivated killings, economic disparities with a high majority based on race in America there must be an innovative outlet for future leaders of the arts to commune in dialogue in our communities. Generation X and our Millennials will deep dive into examining, exposing and identifying real solutions to End Racism in our lifetime. The R.A.C.I.S.M vs. Everybody Discussion is intended for this very reason. Racism (based on the dark complexion of ones' skin) only still exist because we allow it to.
"I looking forward to learning more about how others see and seek to tackle racism. I'm hoping that being exposed to new ideas and perspectives will help me to tailor my own approach to social justice" Lia Rose, R.A.C.I.S.M. vs. Everybody Panelist
R.A.C.I.S.M vs Everybody expands thru a three part panel series.
RVE Panelists and audience members must remain open to listening to what other people are expressing, and respond by being respectful of those views.
"As an artist, we are motivated to act when social issues plague our society. From art activist like Jessica Care Moor, Kendrick Lamar, Nina Simone, Damon Dash, Common, Ossie Davis, Spike Lee to Denguhlanga Julia Kapilango, many continue on the oratorical and visual legacies of being the voice of Americans consciousness." Jason Clark, RVE Panelist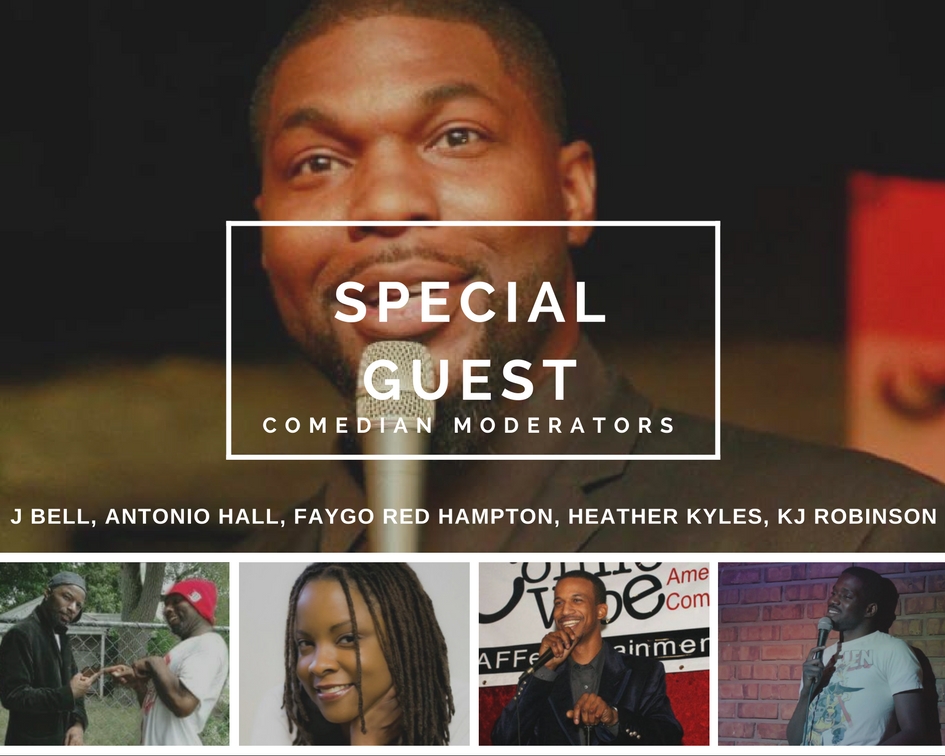 J Bell is an up and coming comedian from the City of Detroit and who has been able to not only open for local stars but also for national acts such as Rickey Smiley , Mike Epps, Joe Torry, Damon Williams and Toney Roberts. As a 10 year comedian the road has been his friend with show across the country featuring at some of the hottest and world famous comedy clubs in New York, Chicago , and LA. With the rise in the attention of comedy J Bell is a comedian that is sure to be seen and heard with his quick style and word play is sure to leave crowds laughing well after he performs. You can catch JBELL and his amazing wife Peace host every Thursday at They Say for the Open Mind Mic Series. To contact J Bell is simple: Jbellcomedy@gmail.com Twitter: @jbellcomedyb Facebook: John Jbellcomedy
Antonio Hall implements social justice humor by way of Unk baby / squirt 2 funny characters that brings laughter to the community instead of drugs, racism, and gun violence .
Heather Kyles Detroit based comedian/actress is a phenomenal talent! She has worked with a plethora of seasoned comedians such as Funnyman Coolaide, Mike Bonner, Toney Roney, Josh Adams, and Heather Jay just to name few. Her improvisation and stage experience has been seen at the Music Hall Jazz Café, Toney Roney's Comedy Night at Starter's Comedy Room, Tangent Art Gallery/Hastings Street Ballroom, and various venues throughout the city. Her comedic topics span from her personal and professional aspects of life: being an educator, relationships with family and friends, or just poking fun at herself! Great person…great talent!!!
Dajuan 'Faygo Red' Hampton a born humorist first began cultivating his talent in the lunchroom, on the playground, and in the hallways at school. He started doing amateur nights at CoCo's House of Comedy so that he wouldn't have to pay a cover on his dates. Although a cheap move on his part, it helped him to exercise his comedy chops. Years later Faygo Red began attracting a following while working with the improv sketch comedy group Shitz N Giggles. They performed 10 shows to sold-out audiences and Faygo found himself as the break out artist of the group. Recognizing his passion for addressing an audience he revisited the art of stand-up comedy. He regularly frequented the amateur nights finally making a name for himself, comedian Faygo Red had arrived. After only a short while he began hosting and operating his own room weekly where he featured many talented comedians and gained respect as a worthy adversary in the entertainment world. Adding to his accomplishments writer and actor, most recently Faygo Red has been branding his unique style of comedy as The Principal's Office, hosting and featuring at many shows across the region while working with some of the heavy hitters in the industry and attracting national attention.
Kijana KJ Robinson is a young up and coming stand up comedian who hales from Detroit Michigan. With the stage name KJ you'll soon see this guy is a cool conversational comedian. Bringing the audience in close with his great personality you'll feel as though your watching your snazzy friend or witty brother tell jokes that tickles your funny bone and social brain. KJ has done a lot in his short career like opening for acts like Al Jackson, Godfrey, And Gary Gullman to CO-producing the Hashtag Comedy Showcase. A variety comedy show that showcases comedians all over the US and throws in some improv and pop-culture based comedy segments. KJ also has a Bachelors in Social Work and is currently working in the mental health field as a DCW and a Crisis Home Client manager. Anyway you look at it KJ is a versatile rising star and your gonna love this guy as soon as u see him.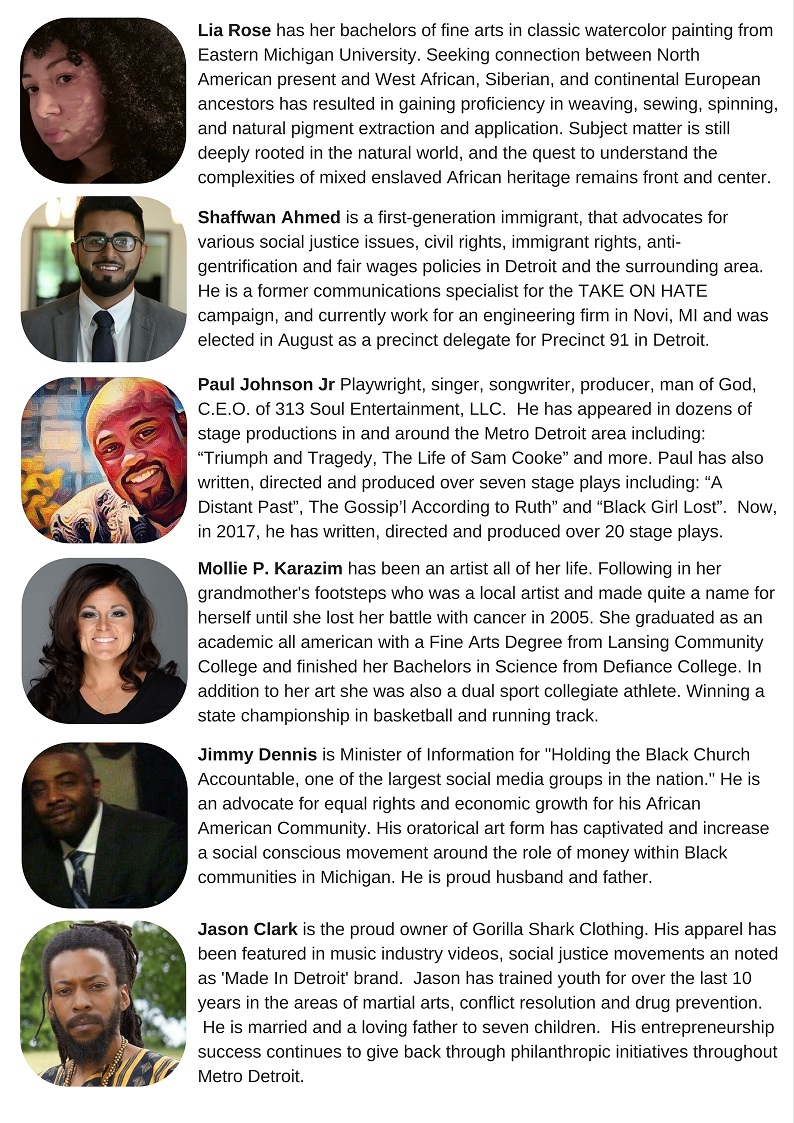 About City Hall Artspace Lofts
City Hall Artspace Lofts is a mixed-use, community arts campus, featuring 53 affordable live/work units and gallery and event space for low-income artists and their families located in two historic buildings – the former Dearborn City Hall and the West Annex. The campus will also feature nearly 20,000 square feet of commercial space in the Concourse Building that connects the residential areas. This unique, expansive space will become a center for creative entrepreneurship, artistic and cultural collaboration. It will feature an artist-in-residence unit, a business incubator, work studios, corridor galleries, and office space for creative businesses. Follow Artspace City Hall Lofts on Facebook at www.facebook.com/ArtspaceDearborn.
Date and Time
Location
13615 Michigan Avenue
The Gallery @ Dearborn Artspace City Hall Campus
1st Floor - Outside entrance ramp off Schaefer Rd
Dearborn, MI 48126