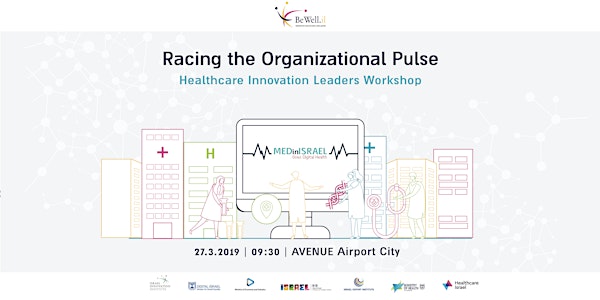 Racing the Organizational Pulse - Healthcare Innovation Leaders Workshop
When and where
Location
Avenue Conference Center, Airport City HaSharon 1 AirportCity Israel
Description
INVITATION ONLY EVENT
**This event is part of the MED in Israel conference on March 25-28, 2019 - event registration will be done separatly**
Being an innovation leader in healthcare organizations is often a mix of enthusiasm, opportunities, and plenty of challenges. We all probably face similar challenges - changing the innovation culture, navigating in the organizational maze, integration, implementation, and more.
We invite you to join other innovation leaders from all over the world, in a unique hands-on workshop to share experiences about how to navigate through numerous hurdles, to learn about what works and what doesn't work, to share your success stories and pain points, to network and explore collaboration opportunities, and to find new ways to race your organizational pulse.
Agenda:
09:00 Gathering and snacks
09:20 Challenge round-tables: Deep-dive into challenges and solutions: best practice and success stories
10:00 Interactive networking work session: Exploring solutions with your healthcare innovation counterpart
A unique opportunity to meet and collaborate with innovation leaders from a variety of health organizations worldwide!
**This is a closed workshop for health organizations **