Join Endo Black, Inc. x She Talks Movement as we discuss Racial Justice x Health Equity in America in honor of Juneteenth.
About this event
Endo Black Incorporated has a mission of advocating for African American women and women of color affected by endometriosis. We are here to connect you with women who look just like you and who battle with endometriosis just like you. Endo Black, Inc. believes in creating opportunities for education on health and wellness in the community.
Endo Black, Inc. and She Talks Movement will be teaming up to bring you a discussion on Racial Justice and Health Equity on June 17, 2021, at 7:00 pm EST. Join us, Lauren Kornegay, Maia Brown-St. Aude and Kelly Collins while we discuss how it feels to be battling racial injustice and a chronic illness. Our moderator for the evening will be Elizabeth Smith, an American radio personality, media correspondent, producer, and writer.
See you June 17, 2021, at 7:00 pm EST.
To learn more information about Endo Black, Inc., please visit www.endoblack.org.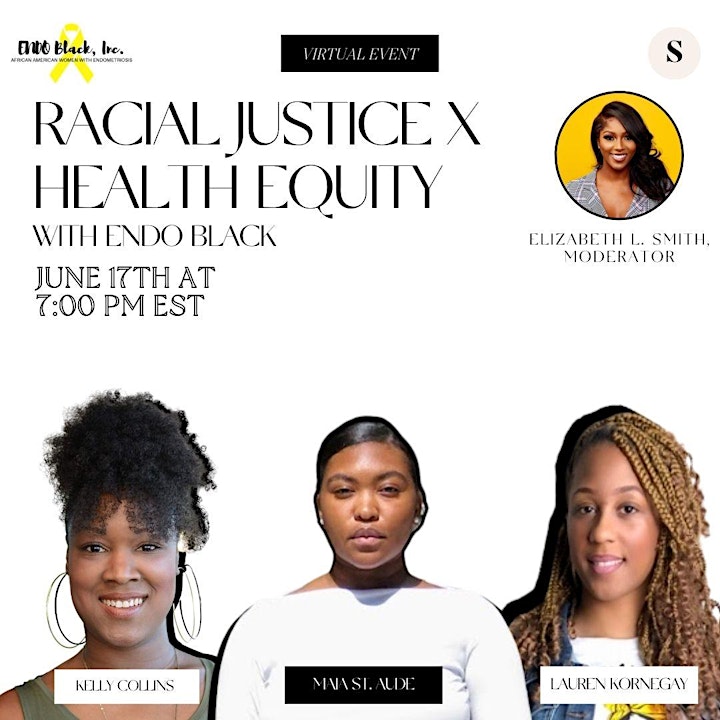 Organizer of Racial Justice x Health Equity