Actions and Detail Panel
Racial Justice: The Courage to Act
Sat, April 1, 2017, 8:30 AM – 4:00 PM CDT
Description

A Workshop Featuring Chris Crass, Racial Justice Activist and Trainer
Now is the time to build collective liberation! This workshop will provide you with tools, action items and courage to combat racism and stand on the side of love and help you:
Get motivated, stay motivated and take action: Turn your passion for equity into productive, positive,racial justice actions.
Build broader relationships and coordination between cross-divisions of race: Learning different perspectives and different experiences creates synergy and excitement while exposing you to new approaches and solutions.
Heighten the conversation around systemic racism: By understanding systemic racism isn't about you but about the system, you will be better positioned to "spread the word" and challenge the status quo.
Program suitable for youth 12 and above.
PROGRAM OVERVIEW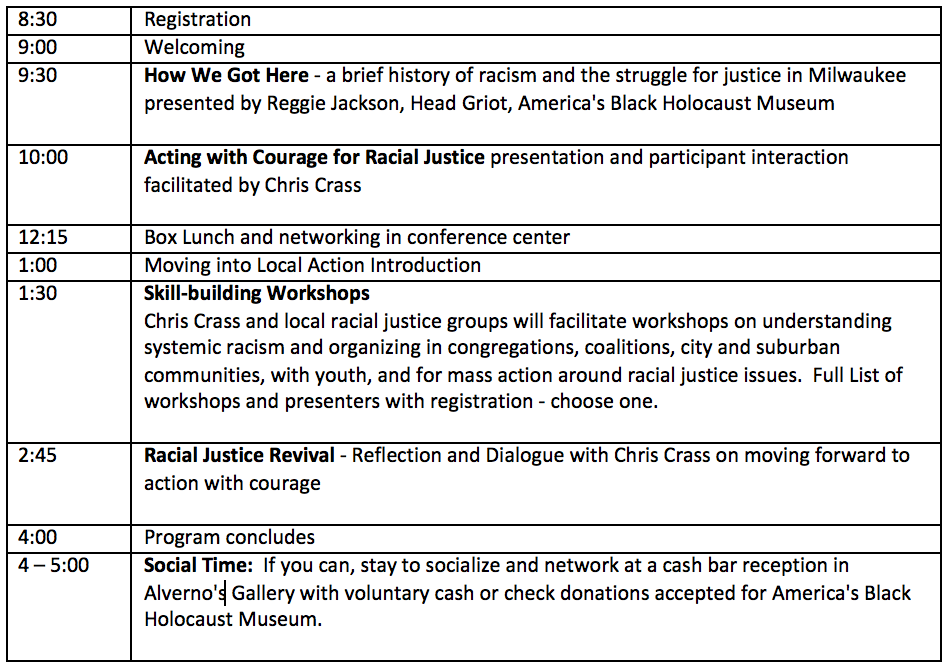 Workshop Convener:
Black Lives Matter to WI Unitarian Universalists*
Partners:

YWCA Southeast Wisconsin*, Alverno College*, Southeast Wisconsin Association United Church of Christ Mission Team*, UU Fund for Social Responsibility*, First Unitarian Society*, Unitarian Universalist Church West*, United Unitarian Universalist Congregation*, Greater Milw. Synod of Evangelical Lutheran Church in America*, Mid-America Region, UUA Chalice Lighters*, Human Concerns Commission of Cathedral of St. John the Evangelist*, America's Black Holocaust Museum, SURJ MKE, Ex Fabula, MICAH, All Peoples Church, RidRacism MKE, UBLAC, ACLU of WI, Lake Country Unitarian Universalist Church, Unitarian Church North.
*Financial Contributor
Questions? Contact Ann at 414-771-8099 or blm2wuu@gmail.com

Registration needed by 3/27 or tickets sell out (use Tickets button above to register)
Cost to Attend* (Includes lunch)
Earlybird - Sign up by March 15

Youth and Students: $10
Adults: $20
*Pay-what-you-can between $10 and $20 available.
After March 15

Youth and Students: $10
Adults: $25
*Pay-what-you-can between $10 and $20 available.
Please consider adding a donation to help cover the costs of below cost youth, student, and pay as you can options.
Cancellation/Refund Policy: If you need to cancel your registration, please contact blm2wuu@gmail.com so your space will become available to others. Full refunds will be available through March 22nd but please consider donating the price of your ticket to help subsidize the below cost youth/student registrations. After 3/22 no refunds will be offered. In event of workshop cancellation, full refunds will be given to all.