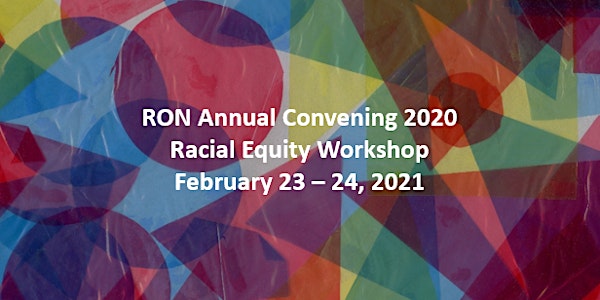 Racial Equity Workshop | RON Annual Convening 2020
This year, the RON Annual Convening will be a virtual event and our focus will be on racial equity in the workforce system.
About this event
The Not So Fine Print!
The Racial Equity Workshop is capped at 70 people and will run over the course of two days for seven hours each day. Given this unique structure:
Only register if you are able to fully attend both days of programming
You must have attended the January 12, 2021, Groundwater Approach and Workforce System Workshop or have read the Groundwater Approach paper in order to attend this workshop
Your organization must be a RON member
Description of Workshop
During the February session of the Annual Convening, The Racial Equity Institute (REI) will lead us on a two-day racial equity workshop. REI's two-day Phase 1 training is designed to develop the capacity of participants to better understand racism in its institutional and structural forms. Moving away from a focus on personal bigotry and bias, this workshop presents a historical, cultural, and structural analysis of racism. Topics covered include understanding and controlling implicit bias; race, poverty, and place; markedness theory; institutional power arrangements and power brokers; importance of definitions of race and racism; history and legacy of race in American economic and policy development; racial identity and its interaction with institutional culture. With shared language and a clearer understanding of how institutions and systems are producing unjust and inequitable outcomes, participants should leave the training better equipped to begin to work for change.