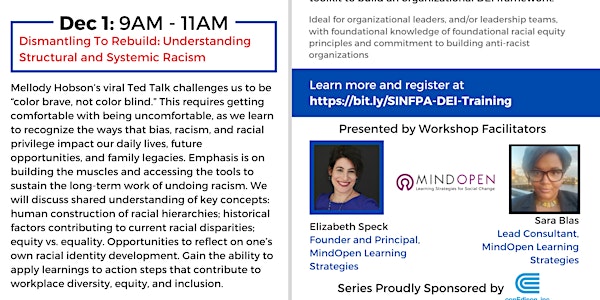 Racial Equity & Justice Training for Staten Island Nonprofits
A workshop series to help you begin, deepen, and/or transform bringing equity and inclusion to your nonprofit organization and leadership
Refund Policy
Contact the organizer to request a refund.
Eventbrite's fee is nonrefundable.
About this event
Nonprofit Racial Equity and Justice Workshop Series, a Training for Member Organizations of the Staten Island Not for Profit Association
Overview:
The Staten Island Not for Profit Association (SINFPA) is currently investing efforts to develop a common understanding of and commitment to diversity, equity, inclusion, and justice among its members, in order to advance the positive impact of the sector throughout all Staten Island communities. With the support of funding from Con Edison, we are working with external consultants MindOpen Learning Strategies to support and accelerate progress, empowering leaders to build awareness, understanding and capacity to begin to implement an equity lens into the work of their organizations, their boards and leadership, staff, programs, and operations. This workshop series will currently be offered virtually online.
*Attend 1, 2, or all 3 sessions based on your learning interests and goals.*
If the registration fee is a barrier to your participation and your organization will not cover the cost, please contact admin@sinfpa.org as we may have funding available to help make the sessions more accessible.
Register: https://bit.ly/SINFPA-DEI-Training
Workshop Series Learning Goals:
● Key concepts around equity, justice, and belonging
● Knowledge, tools, and resources to facilitate change within their organizations/communities
● Action planning for undoing barriers to belonging and securing equity for people living with stigmatized social identities
● Cultivation of allies in change efforts to address inequities; contributing to a community of practice where ideas, experiences, and resources come together to foster equity and belonging on Staten Island
See below for descriptions of each workshop. Participants are encouraged to sign up for the series. Members receive promotional pricing. Presentation materials, resources, and other tools will be shared with participants. Zoom links for respective sessions will be provided upon registration.
Session 1: Becoming Part of the Solution: Recognizing Internal Bias and Racism
If we can't recognize it, we can't change it. This session is designed as a starting point for personal reflection and interpersonal conversations about unconscious bias and racism. Experiential activities allow participants to gain awareness of personal biases, without raising unproductive defensiveness. Emphasis is on taking accountability for applying learning to action steps that make a positive difference.
Learning goals:
● Shared understanding of key concepts of unconscious (implicit) bias; levels of racism; microaggressions; allyship; and intersectionality
● Ability to plan action steps that contribute to workplace diversity, equity, and inclusion
Ideal for participants new to or desiring an introduction to racial equity work
Session 2: Dismantling So We Can Rebuild: Understanding Structural and Systemic Racism
Mellody Hobson's viral Ted Talk challenges us to be "color brave, not color blind." This requires getting comfortable with being uncomfortable, as we learn to recognize the ways that bias, racism, and racial privilege impact our daily lives, future opportunities, and family legacies. Experiential activities allow participants to consider multiple experiences and perspectives that are different from their own. Emphasis is on building the muscles and accessing the tools to sustain the long-term work of undoing racism.
Learning goals:
● Shared understanding of key concepts: human construction of racial hierarchies; historical factors contributing to current racial disparities; equity vs. equality
● Opportunity to reflect on one's own racial identity development
● Ability to apply learnings to action steps that contribute to workplace diversity, equity, and inclusion
Ideal for participants who have taken an introductory racial equity workshop, through SINFPA or elsewhere
Session 3: Build to Bloom: Developing and Strengthening Your Organization's Racial Equity Strategy
This session builds on existing DEI frameworks to expand the evaluation of your organization's equity journey from a leadership perspective, creating a community of practice to explore and overcome personal blindspots and structural barriers to meaningful organizational change. Through case study discussions, participants will have the opportunity to grow the skills needed to become a disruptor in systemic racism within the workplace and with external partners.
Learning goals:
● Understand the history of the origins of nonprofit organizations in the U.S. and their impact on BIPOC (Black, Indigenous, People of Color) communities
● Identify blindspots in current DEI framework
● Leave with with a comprehensive toolkit to build an organizational DEI framework
Ideal for organizational leaders, and/or leadership teams, with foundational knowledge of foundational racial equity principles and commitment to building anti-racist organizations
About the Facilitators:
MindOpen Learning Strategies provides transformative consulting, training, and coaching experiences to help organizations move from intention to outcomes in achieving social justice goals. Founded in 2017, MindOpen is a certified Woman-owned Business Enterprise in New York City and State, and has designed and implemented customized engagements with over 20 New York City nonprofit agencies and government departments. Staten Island repeat clients include the New York Center for Interpersonal Development and Staten Island Partnership for Community Wellness. Currently, MindOpen is engaged to provide Diversity, Equity, and Inclusion consultant to the District Attorney of Richmond County.
Elizabeth Speck is the founder and principal of MindOpen Learning Strategies, a training, consulting, and coaching firm that helps people and organizations learn new ways to work in order to better serve social justice. A Licensed Creative Arts Therapist, Elizabeth has worked within and across New York City's complex public service systems in direct service, management, and capacity building for 25 years. Prior to founding MindOpen, Elizabeth led large-scale organizational and systemic change efforts as the Chief Learning Officer for the Workforce Professionals Training Institute in New York City, and as Senior Training Director for Safe Horizon, the nation's largest victim assistance organization. Her own experience with vicarious trauma and burnout ignited a passion for building health and equity in the workplace, leading to earning a Ph.D. in Organizational Development. In partnership with M.A.D.E. Transitional Services, Elizabeth trains businesses nationally on best practices for fully including the largely untapped talent pool of working age adults impacted by a criminal record (Fair Chance Employment). As a community member, scholar-practitioner, and entrepreneur, Elizabeth is active in multiple networks working towards racial justice and equity in education, health, employment, and economic opportunity.
Sarah Blas is a NYC resident, seasoned non profit professional, public speaker and thought leader. Sarah is the Founder and Executive Director of Staten Island Therapeutic Gardens. She serves as Director of Diversity, Equity and Inclusion for Staten Island Women Who March as well as the Director of Health for House of Community, Baituljamaat. She is currently employed as the Lead Consultant with Mind Open Learning, LLC advancing Diversity, Equity and Inclusion work within public and private sectors. She is the recipient of Congressional and Assembly citations for Community Impact in 2019 and the Harriet Tubman Society leadership award in 2021. In her spare time she can be found advocating for food justice, and consulting for equitable initiatives across NYC.
Additional notes:
Member and Non-Member tickets may be purchased here via credit card. If you would like to pay by check, please contact admin@sinfpa.org as soon as possible.
Please note for events held in person, all safety and hygiene guidelines and mandates in effect at the time will be followed and enforced. Participants will be required to show proof of COVID-19 vaccination or negative test result within 48 hours. Masking and social distancing guidelines will be in effect as recommended.
Contact admin@sinfpa.org with questions or accessibility requests as soon as possible.
*Registration is required. Please be advised that by registering for this event, unless we hear from you otherwise, we will include you as part of our regular mailing list. Please also be advised that the event may be recorded by the Staten Island NFP Association, Inc. By enrolling for this event, you hereby: (1) give consent for the Association or any third parties to use recording of you in its online and video publications; (2) release the Staten Island NFP Association, Inc. its employees and any outside third parties from all liabilities or claims that you might assert in connection with the above-described uses; and (3) waive any right to inspect, approve or receive compensation for any materials or communications, including audio recordings, videotapes, website images or written materials, incorporating recordings of you. To revoke this waiver, please email admin@sinfpa.org.