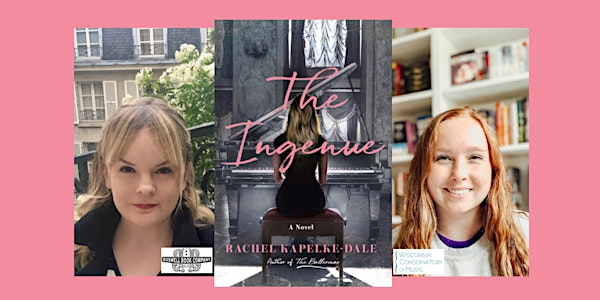 Rachel Kapelke-Dale, author of THE INGENUE- an in-person event
Rachel Kapelke-Dale, author of THE INGENUE- an in-person Boswell event
When and where
Location
Wisconsin Conservatory of Music 1584 N Prospect Ave Milwaukee, WI 53202
About this event
Boswell Book Company presents an evening with Rachel Kapelke-Dale, author of The Ingenue. In conversation with Brynn Teaman. This event will take place at Wisconsin Conservatory of Music, 1584 N Prospect Ave.
When former piano prodigy Saskia Kreis returns home to Milwaukee after her mother's unexpected death, she expects to inherit the family estate, the Elf House. But with the discovery that her mother's will bequeathed the Elf House to a man that Saskia shares a complicated history with, she is forced to reexamine her own past - and the romantic relationship that changed the course of her life - for answers. Can she find a way to claim her heritage while keeping her secrets buried, or will the fallout from digging too deep destroy her?
From Ashley Winstead, author of In My Dreams I Hold a Knife: "The Ingenue is a beautiful fever dream of a story, a genre-blending mix of mystery and fairytale that metamorphizes into different stories as you're reading: an intimate look at the bonds between mothers and daughters, a searing exploration of who you are when you're no longer exceptional, a knife-edged tale of vengeance. A book for anyone who was told they were special and is still clawing their way back."
Rachel Kapelke-Dale is the author of The Ballerinas and co-author of Graduates in Wonderland, a memoir about the significance and nuances of female friendships. Kapelke-Dale grew up in Milwaukee. She received a BA from Brown University, an MA from the Université de Paris VII, and a PhD from University College London.
Click here to order your copy of The Ingenue. Signed copies and personalization available on pre-orders. Please note that signed copies will not be shipped until after the event.