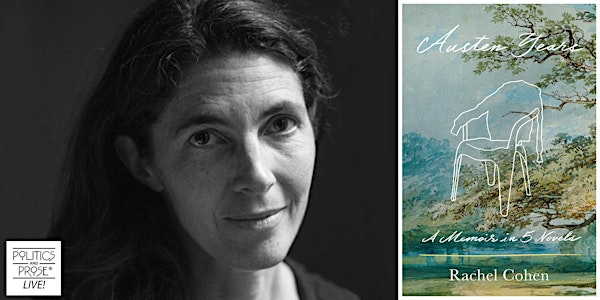 Rachel Cohen | AUSTEN YEARS with Claire Messud
Rachel Cohen discusses her new memoir, AUSTEN YEARS, with Claire Messud and in partnership with Dumbarton House.
Refund Policy
Contact the organizer to request a refund.
About this event
This event is presented in partnership with Dumbarton House.
In the turbulent period around the birth of her first child and the death of her father, Rachel Cohen turned to Jane Austen to make sense of her new reality. For Cohen, simultaneously grief-stricken and buoyed by the birth of her daughter, reading Austen became her refuge and her ballast. She was able to reckon with difficult questions about mourning, memorializing, living in a household, paying attention to the world, reading, writing, and imagining through Austen's novels.
With unusual depth and fresh insight into Austen's life and literature, and guided by Austen's mournful and hopeful final novel, Persuasion, Rachel Cohen's Austen Years is a rare memoir of mourning and transcendence, a love letter to a literary master, and a powerful consideration of the odd process that merges our interior experiences with the world at large.
Cohen will be in conversation with Claire Messud, author of five novels including The Emperor's Children, a New York Times Book of the Year; The Woman Upstairs; and, most recently, The Burning Girl, a finalist for the LA Times Book Award in Fiction. She is also the author of a book of novellas, The Hunters. A memoir-in-essays, Kant's Little Prussian Head & Other Reasons Why I Write, will be published in the fall of 2020.
Rachel Cohen is the author of A Chance Meeting: Intertwined Lives of American Writers and Artists, which won the PEN/Jerard Fund Award and was a finalist for the Guardian First Book Award, and Bernard Berenson: A Life in the Picture Trade, which was longlisted for the Jewish Quarterly-Wingate Literary Prize. Her essays have appeared in The New Yorker, The New York Times, The Guardian, The London Review of Books, and other publications, and have been anthologized in The Best American Essays.
Click here to pre-order your copy of the book from Politics and Prose!