Description
Shakti's Den Productions is proud to present!!
Rachel Brice!!!
Honolulu, Hawaii, Weekend Intensive!

Aloha Dancesport Center

350 Ward Ave. #200, Honolulu, HI
Friday, August 24, 10am-1pm
Twitch
All Levels
Contrasting fluid technique with quick isolations + musicality = WHOA.
In this workshop we'll learn how to develop the contrasting qualities of fluid and percussive. We'll experience two different types of practice: One to build both flexibility and control for slow movements, and one for speed for clean hip-work and locks.
This 3 hour workshop has two segments of 90 minutes each:
Part One: We'll learn learn how to gain speed and clarity for locks, hip-work, and several shimmies through a carefully constructed practice sequence.
Part Two: We'll learn phrases that integrate both slow and fast movements, and serves up a heavy dose of musical interpretation. You can use these combos for practice or performance.
Please be warmed up for this class. Bring water.
6pm-10pm: Performance Showcase, details TBA
Performance applications will be available to workshop participants
​Saturday, August 25, 10am-2:30pm
Dissolve: Learning to Let Go: Intermediate to Advanced
In this class, you're going to dance. A lot.
We'll start with a yoga flow sequence to get us relaxed and all yoga-ey, then RB will guide you through an hour-long, non-stop improvisation with a playlist that'll move through several tempos.
Basically we'll dance until the voices in your head stop talking, or you stop believing them. Whichever comes first. Please bring a yoga mat.
​Sunday, August 26, 10am-2:30pm
One Hip Wonder with a Twist
Intermediate to advanced: Learn an intermediate combo with as much hip work variation as we can stuff into 4 phrases, including complimentary finger cymbal patterns and good old-fashioned tribal style posture and presentation.
Please bring water, zils, and a willingness to keep your arms up!
​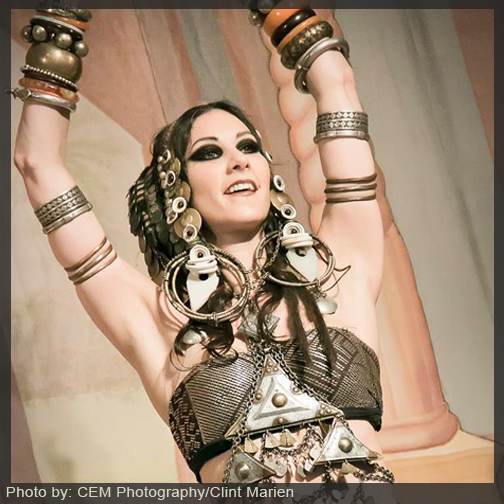 About Rachel Brice:
Rachel Brice first fell in love with Belly Dance at 16 years old, when she saw The Gypsy Moor Dancers (who later became Hahbi'Ru) at a Renaissance Faire, and started classes with Atesh immediately. Soon after, she discovered a video of Suhaila Salimpour which she obsessively studied. She began making her living by performing American Cabaret Belly Dance at restaurants and teaching yoga while putting herself through school.
A decade later she discovered Carolena Nericcio's American Tribal Style, which shifted her aesthetic from nightclub to nomad, and Jill Parker became her technique inspiration. She then studied several world and contemporary dance forms as she earned a Bachelor's Degree in Dance Ethnology. The fresh immersion in these dance forms and exposure to San Francisco culture began to mix with her 10 years as a restaurant dancer, and she (unwittingly) started to blend these influences and create something new.
In 2001 she was accidentally discovered by rock mogul Miles Copeland, and toured for several years with his company, The Bellydance Superstars. Through The BDSS, Rachel had the opportunity to work with the incredible Mardi Love, who quickly became her hero and muse. Mardi had also started with Cabaret before discovering Tribal, and as they made dances and costumes together for BDSS, a new style, influenced by the late 1800s to 1920s, emerged. These international tours, along with the newly born YouTube, sparked a global interest in this emerging style of Belly Dance, which has gone on to grow, change, and evolve. Rachel and Mardi rode that li'l wave with their old pal Zoe Jakes, and together the three of them created a show called Le Serpent Rouge (which was as much of an excuse to drink whiskey as it was to dance together).
Today, Rachel studies with her teachers Carolena Nericcio and Gary Kraftsow. Whenever possible, she takes classes with her colleagues.
When not teaching on the road, she teaches at her home studio Datura, and regularly films classes for Datura Online, located in Portland Oregon.