| | |
| --- | --- |
| Rachel Brice in NYC: Feb 18th - 20th, 2011 | |
Event Details
SOLD OUT!
Waitlist open...
Little Scarab Presents a Special NYC Weekend of Workshops with Rachel Brice:
The Foundation of Tribal Belly Dance
In this weekend workshop, we will explore two of Rachel Brice's 8 Elements™ approach to Tribal Belly Dance.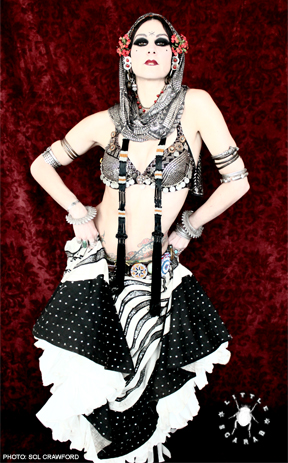 Friday February 18th: 7pm - 9:30pm - Pearl Studios NYC
2.5 hours
Serpentine, Smoky, and Sinous Belly Dance Phrases
This workshops focus will be on the smooth and meditative isolations that Tribal Fusion Belly Dance is known for. Rachel will lead a practice that safely prepares the spine and the joints for snake-like bodywaves, undulations, arm patterns and level changes, and will teach combinations that combine these movements for participants to use in their practice to achieve effortless movement. All levels are welcome to attend this fun and challenging class.
Saturday, February 19th: 2pm - 6pm - Merce Cunningham Studio
4 hours
Element Three: Building Phrases from Fundamental Shapes
Each phrase in a belly dance "move" has between 5 and 8 elements. In this workshop we will learn and interlock these simple elements to create complex movements.  Bring a sense of adventure and playfulness, as things start simply and build very quickly. A fun, high energy, and very challenging class for most participants.  All levels are welcome, from the experienced beginner to the seasoned professional. 
Sunday, February 20th: 11am - 3pm - Merce Cunningham Studio
4 hours
Element Four: Creating and Manipulating Motifs to Create Endless Combinations
In this workshop, we will work with 4 or more simple manipulations to make a single motif the basis for an entire dance. Participants will work with partners (to be chosen in-class) and present their combinations at the end of class. Please bring a notebook to record the steps used in these dance-building exercises.  
Each class includes Yoga for your spine, Dance Preparation for the joints, and simple, high-energy combinations to warm up the muscular system and engage your cardio-vascular system. We then turn our attention to the focus of the day, finishing with compensatory yoga to bring your body back to neutral and help you transition to the rest of your day. 
Please bring a yoga mat, a water bottle (re-usable recommended), and layers of clothing for warming up and cooling down. Stretchy pants and a form-fitting tank-top are recommended for the Yoga portion of class. Feel free to bring skirts or dance belts to layer for the dance portion of class.
Regular Pricing:
Sat + Sun Workshops: $250*
*plus eventbrite ticketing fee
Location for Friday:
Pearl Studio NYC
500 8th Avenue
12th Floor, Studio 1212
New York, NY 10018
Location for Saturday and Sunday:
Merce Cunningham Studio
55 Bethune St.
New York, NY 10018
Show Information:
Kaeshi of Bellyqueen presents a show during this weekend with Rachel Brice as guest performer. Details and tickets at this link.
BellyQueen presents Tough Love Valentine's Show with Rachel Brice
Peridance Capezio Theatre, NY
Saturday Feb 19th
8:30 pm, $30
Connect with other workshop attendees on the Facebook event page here.
---
All registration spots are non-refundable, non-exchangeable, and classes can not be split or shared between more than one person. If workshop sells out please sign up for the waitlist and try to post your interest on the Facebook event page wall. Waitlist is not for public use. Thank you.
Organizer
Little Scarab
Little Scarab is an arts and entertainment management and production company presenting workshops, retreats, educational media, merchandise and performance events featuring Rachel Brice.
Little Scarab also manages Datura, a belly dance studio in Portland, OR and Datura Online, a resource for online belly dance classes and fitness videos.
Connect with Little Scarab here.