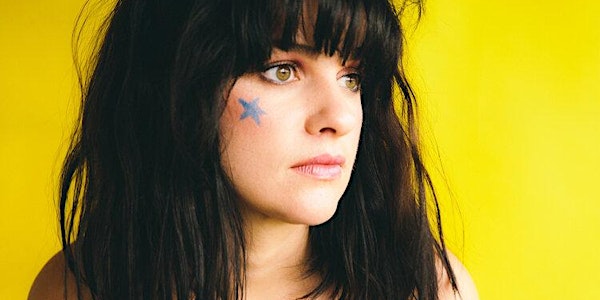 Rachel Baiman with special guest Adam Klein
Rachel Baiman at Eddie's Attic in Decatur, GA!
When and where
Location
Eddie's Attic 515 B North Mcdonough Street Decatur, GA 30030
About this event
Rachel Baiman
THIS SHOW WILL REQUIRE PROOF OF VACCINATION OR NEGATIVE COVID TEST 72 HOURS PRIOR TO SHOW FOR ENTRY.
With her 2017 debut Shame, Americana songwriter and multi-instrumentalist Rachel Baiman emerged as a fearless voice of the American female experience. "Shame" was featured on NPR's "Songs We Love", called a "Rootsy Wake-up Call" by Folk Alley, and described by Vice's "Noisey" as "flipping off authority one song at a time." On her new full-length album Cycles, Baiman has found a grittier musical medium for her signature unabashed and defiant songwriting, employing a majority-female team including co-producer Olivia Hally, known as the front woman of Indie-pop band Oh Pep!
Cycles is a collection of songs encompassing the many ways that we destroy and rebuild as people, as families, and as a country. Songs about the cycle of life inspired by the birth of a nephew and the loss of a grandmother, songs about internal mental cycles of ambition and self-doubt, the cycle of progress and regression in our country's political journey, and the cycles of growth and reinvention that relationships take on. At times heartbreaking, at times celebratory, the album is a reflection of a lot of life experienced in a relatively short amount of time, a desire to hold fast to the people we love in the wake of so much uncertainty, and an exploration of the immense and unique strength of women in the face of adversity.
Originally from Chicago, Baiman moved to Nashville at eighteen, and has spent the last decade working as a musician in a wide variety of roles, from session musician (Molly Tuttle, Kelsey Waldon, Caroline Spence), to live sidewoman (Kacey Musgraves, Amy Ray), to bandmate and producer. Fiddle music was her first love, and she is known in the bluegrass and old time world for her work with progressive acoustic duo 10 String Symphony with fiddle player Christian Sedelmyer. Her first solo album Shame, was produced by Andrew Marlin of Mandolin Orange, and established her role as part of a new generation of political songwriters. Since 2017, Baiman has toured her solo project internationally with appearances at the Kilkenny Roots Festival in Ireland, the Mullum Music Festival in Australia, and the Kennedy Center Millennium Stage in Washington, DC. She has also released a variety of small scale projects; her 2018 Free Dirt EP Thanksgiving, which read as a sort of epilogue to Shame, a duet project with singer Mike Wheeler, which is a more stripped down nod to her acoustic roots, and a 2020 single, Wrong Way Round, which shows more sonic experimentation and hints at musical direction of Cycles.
Inspired by the burgeoning grunge rock scene in Melbourne, Cycles was recorded in Australia in the glorified storage unit known as Purple Wayne Studios (Big Smoke) with engineer Alex O'Gorman (Angie McMahon). In addition to Hally on bass, piano and guitar, and Baiman on guitar, strings and banjo, other musicians include Melbourne drummer Bree Hartley, guitar players Cy Winstanley (Brandy Clarke) and Josh Oliver (Mandolin Orange), and guest vocalists Dan Parsons, Dan Watkins and Maggie Rigby (The Maes). The album was mixed by GRAMMY winning engineer Shani Gandhi, who is based in Nashville but originally from Australia as well.
Adam Klein
"I killed a stray cat that had been hanging around my yard for a few days," says Atlanta-via Athens, Georgia singer/songwriter Adam Klein. "It was an accident. I had a hybrid car which was practically silent when it drove. One morning I pulled out of the driveway, and my wife found it dead on the ground. We figure it had crawled under the car, didn't hear the engine turn on, and I ran over it. I felt pretty bad about it."
The ensuing song Klein wrote about the incident and his likely role in the cat's death, is the title track to his new 3-song EP, Little Tiger, a collection of outtakes to be released on January 15, 2021, from the recording sessions for his 2019 album, Low Flyin' Planes.
For Low Flyin' Planes, Klein teamed up with his longtime producer and engineer Bronson Tew at Dial Back Sound in Water Valley, Mississippi, for their third straight record together (following 2013's Sky Blue DeVille and 2015's Archer's Arrow). Low Flyin' Planes features sometime Wild Fires guitarist Crash Cason, former Wild Fire Tew on drums, guitar, and harmony vocals, and the sound is capably filled out with Matt Patton (Drive-By Truckers) and Stuart Cole (ex-Squirrel Nut Zippers) on bass, Eric Carlton (Jimbo Mathus) on keys, Kell Kellum (Young Valley) on pedal steel and guitars, Will McCarley (Fat Possum Records) on drums, Hank West (Squirrel Nut Zippers) on sax and trumpet, Schaefer Llana and Anne Freeman on harmony vocals, and other ace players from the Oxford, MS, scene. The result is a strong, sincere collection of folk rock songs featuring Klein's signature warm vocals colored by a lush, textured sound. The songs on Little Tiger were recorded at Dial Back Sound, and produced, mixed and mastered by Tew at Sleepers Mountain in Portland, Oregon.
Both "Little Tiger" and "Take It (On Faith)" were recorded during the LFP sessions. The band stretches out on the latter, this collection's closing number, an energetic song with sweeping harmony vocals which straddles the line of serious and playful as Klein details hopeful and alarming visions alike of a possible individual and collective future. Written in 2015, the song seems to portend the current state of national affairs ("I take it that all this hatred / I take it that all this strife / is gonna get worked out one day / on a field with guns and knives / I take it on faith"), while noting the cyclical nature of things — that which has been will once again come to pass ("I take it that it's all been said and done and done and said before / writ upon the rocks and sand and the ice and dirt and the ocean floor / I take it on faith"). Ultimately, as is usually the case in Klein's songs, the listener is left with a feeling of hope, as he declares: "I take it that goodness and graciousness are gonna have the final say."
"It's just a straightforward three chord song," says Klein, "and you sure can have a good time with that. That may have been the first song we recorded, and I'm pretty sure it was the first take. Great, raw energy. We played it one more time, but quickly realized we caught it right out of the gate."
"Little Tiger", although shelved from the original album, stood out as the favorite track among many of the players on the session, and was rounded out by mellotron compliments of Jay Gonzalez (Drive-By Truckers). "I've always sequenced my albums, but this time Bronson recommended we let Patton do it for LFP," says Klein. "That's one of his favorite parts of the album creation process, and I definitely trust his instincts and thought it'd be neat to see what he came up with. He drove around with it in his car for a few weeks and sent in a track order that he couldn't see go any other way. It didn't include "Little Tiger" or "Take It (On Faith)", but I think it was a fitting sequence and the 10-song album was already a 45-minute or so listen."
The EP kicks off with "Halfway to Heaven", a song intended for inclusion on LFP but which wasn't recorded during the album sessions. "It was always a key song for me from the collection, and a companion piece to the title track," Klein offers. "I thought we'd just put it on the opposite side of the record from the song "Low Flyin' Planes", but given its similarities in terms of the tuning, the sound, and even the progression, we decided to no even record it at the time and kick it down the road a bit."
Recorded on a subsequent visit to Dial Back Sound and to the Mississippi Delta, "Halfway to Heaven" features Klein on acoustic guitar and vocals, Tew on acoustic and electric guitars, bass, drums, and harmony vocals, and Gonzalez on Wurlitzer. The song directly expresses the main themes and questions of Low Flyin' Planes. "I had been playing music, traveling a lot, and was generally trying to find my footing," Klein recalls. "I hit the point where I faced a fundamental question— do I keep pursuing music, solely, risking the end of a long-term relationship, perhaps failing to develop myself more broadly, and likely remaining financially unstable, or do I settle in a bit to a domestic life, strengthen my relationship with my then-girlfriend (now wife), and quietly tinker away at creative works in music and other areas? I chose what felt like more stable footing. We now have a young daughter and it's been fulfilling in a lot of ways. I may not be as hungry and endlessly hustling, but the creative well is far from dry, and I expect to always be plugging away at songwriting, other writings, performing and acting."
It feels a bit strange, Klein notes, to release these songs amidst the tumult and political backdrop of this period of time, but the downtime of quarantine and the pandemic seemed like the right time to clear the deck of this material and close out the Low Flyin' Planes cycle. "I worried momentarily that it's somewhat tone deaf to release songs right now that make no reference to racial inequities, the increasing division in our country, the suffering amidst coronavirus, and the great reckoning of 2020," he says. "But people need music and art now. We all need something to move us, uplift us, and to commune with the ineffable power of music and song."
And as far as material more suited to the times, Klein's been busy at work. "I've written a lot since the killing of George Floyd and recorded an album this past summer grappling with this moment of American history, our past, and our inequities. The songs are in production as we speak, and will hopefully get out there as soon as possible."
In the meantime, though, Klein offers this Little Tiger EP, which has the signature, evocative production of his records made with Tew, the talents of all the excellent players who graced the songs, and a heartfelt journey through an empathetic life seeking stories, fulfillment, aliveness, and awe, accompanied by a soundtrack of folk rock n' roll.