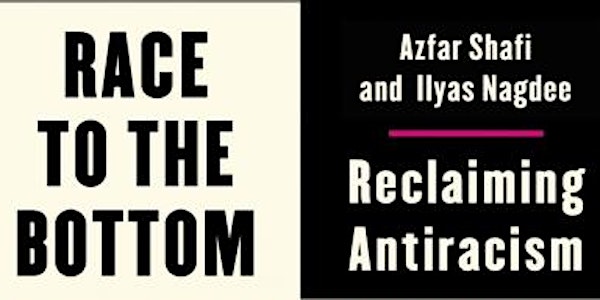 Race to the Bottom: Reclaiming Antiracism - online book reading and Q&A
Come and join us for an online book reading and Q&A with Azfar Shafi and Ilyas Nagdee, authors of Race to the Bottom: Reclaiming Antiracism
About this event
Race to the Bottom traces the rise of Britain's Black Power movement in the twilight of the post-war settlement, as it confronted the racism of both the right and the Labour movement through independent, radical community organising.
In showing how Black Power was repressed, fragmented and ultimately co-opted into the very institutions it critiqued during the course of the 1980s, the book is a parallel history to the oft-told story of the rise of Thatcherism and neoliberalism, and shows how by containing Black Power and the threat to the status quo that it represented, the Thatcher government were able to clear the way for the rest of its attack on the British left.
Azfar Shafi is a researcher and organiser with a focus on policing, counter-terrorism and imperialism. He has been published by the Transnational Institute and Novara Media, and organised in movements against racism, state violence and for the Palestinian liberation struggle.
Ilyas Nagdee is an activist and writer focusing on anti-racism, civil liberties and policing. He has written for the Independent, Guardian and HuffPost, and has appeared on BBC, ITV and Sky News.
Azfar and Ilyas will be joining members of the Abolition Feminism for Ending Sexual Violence collective and others, for an online book reading and Q&A. All welcome!
Buy the book from Pluto Press at https://www.plutobooks.com/9780745344676/race-to-the-bottom/