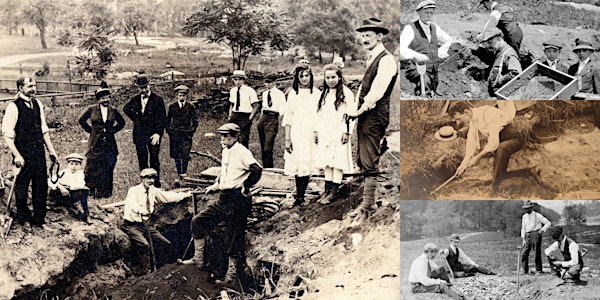 'Race to Dig: The Amateur Archaeologists Who Saved NYC's Past' Webinar
Can't make it live? Register and get access to the full replay for one week! New York Adventure Club | www.AdventureClub.com
About this event
Near the turn of the 20th century, New York City's housing, street grid, and subway infrastructure were about to reshape the bucolic landscape of Northern Manhattan, from one of verdant farmland to flat cityscapes. But this urban revolution was to come at a steep price: not just at the cost of a couple of million dollars, but to the ancient and invaluable relics belonging to the Lenape people, Dutch settlers, and Revolutionary War still buried beneath the area's untouched soil. This is the incredible story of a rag-tag group of amateur archeologists who joined forces in a race to save the history of Manhattan before it was gone for good. 
Join New York Adventure Club as we explore the remarkable legacy of New-York Historical Society's Field Exploration Committee — described by The New York Times as "emergency historians," this group raced to sites around Northern Manhattan to preserve buried items before they were destroyed by urban expansion projects.
Led by uptown historian and best–selling author Cole Thompson, our virtual experience surrounding these historical treasure hunters and protectors — celebrities of their day — will include:
The origins of the Field Exploration Committee at the New-York Historical Society in the late 1800s
The members of the group, which consisted of photographers, artists, a subway engineer, a librarian, and an insurance publisher
Lenape era explorations that uncovered intact pottery, tools, and other artifacts associated with the daily life of Native people
A look at rare photographs documenting the methods employed in locating shell middens, Revolutionary War artifacts, and human burials
Stories from the team's missions, including the exploration of a forgotten Uptown cemetery where the bodies of enslaved humans were interred before slavery was abolished in New York
The 1916 discovery and reconstruction of a Hessian Hut behind the Dyckman Farmhouse Museum on West 204th Street and Broadway
Afterward, we'll have a Q&A with Cole — any and all questions about the archeology of Northern Manhattan are welcomed and encouraged!
Can't make it live? Don't worry, you'll have access to the full replay for one week!
See you there, virtually!
*Immediately upon registering, you will receive a separate, automated email containing the link to join this webinar
**For the best possible viewing experience, please ensure you're using the latest version of your internet browser — Google Chrome is the most compatible. Exact technical requirements and a webinar user guide will be shared in the automated confirmation email upon registration.
***A full replay of the experience will be available to all registered guests for up to a week
About Cole
An award-winning former television producer and best-selling author, Cole has hosted the popular uptown history blog MyInwood.net for nearly fifteen years. Cole has been profiled in the New Yorker in connection with his knowledge of Uptown history. In 2019 Cole co-authored a history of his neighborhood titled, Lost Inwood, with colleague Don Rice. Cole & Don often host a popular history series, also called Lost Inwood, before live audiences.
Testimonials
"What a wonderful story of a fun group of men. Cole had a great demeanor and made it so human and relatable." -Jessica
"I didn't expect it to be a specific group digging a specific area so it really focused on the experience of individuals. Excellent visuals especially the maps." -Sondra
"The presenter clearly knows his stuff and loves the research. As he spoke, I felt like he is not unlike those he reported about: while they dug in the dirt, he digs into the historical record, with the same desire to share history." -Pam
"FASCINATING history... I lived in Inwood about 45 years ago. I loved it up there. So this talk enabled me to imagine what it might have been like long ago. I will watch again, as I usually try to do these programs twice. absolutely fascinating. thank you" -Louise
"The visuals and commentary. Very well researched and SO interesting even to a person who has never been to Inwood. On my list now. Thanks." -Barbara
"This was an amazing and well-documented part of history that makes me want to learn more!" -Sharon
"Cole introduced new archeologists and gave insights into their unique lives. He showed both old photos and new ones to show the contrast in the neighborhood. It was an overall wonderful presentation about now forgotten Native American and Revolutionary War sites in Manhattan." -Gail
"Great archival photos and a very knowledgable host." -James
"I pride myself on knowing New York City history, but any time someone can show me something I did not know, like this webinar did, I would call that excellent." -George
"Presenter really was engaging and spoke of the topic with knowledge." -Mo
"Very well presented. I like the photos of the sites in the past and today. I also enjoyed all the biographical details." -Sheila
"I always love the "before and after" pictures. So interesting." -Ellen
"The presenter was very good, interesting." -Ann
"The speaker obviously knows his stuff, and can answer questions easily. Loved his cat!" -Beth
"Speaker was knowledgeable and had a nice presentation style." -Allan
"Cole Thompson's lecture made me curious and eager to visit the Dykman home in NYC! Fascinating times that allowed these men to retrieve archaeological finds without restrictions! Thank you!" -Jo Ann
"Cole is very enthusiastic and incredibly knowledgeable." -Lesley
"Exactly as advertised! very niche but if you were interested in that niche, it was great!" -Mark
"As usual with NYAC, the lecturer knew and lived his subject. So many great archival images as well as pictures of the same site that he took yesterday. "A lot of work that really paid off." -Helaine
Disclaimer
By attending a New York Adventure Club experience, you accept our terms of service.
Categories: Virtual, Moments in History