Historians and writers grapple with complex issues of race and slavery in New England, from colonial times to just after the Civil War.
About this event
Please join the Museum of Old Newbury, writers, and historians on Monday, October 11, 2021 at The Governor's Academy, Byfield, Mass., to explore the lives and work of Black New Englanders and abolitionists through a fresh examination of the historical record and recent research.
The historians and scholars assembled will bring various views and expertise to a scrutiny of New England's deep involvement in slavery. Read more about all the speakers and presenters here.
Topics include a detailed look at black civic life in Essex County, new scholarship on the abolitionist movement and detailed investigation of the lives of free blacks, as well as the enslaved and enslavers in the region.
This is an in-person event. See full agenda below.
• For admittance to the in-person symposium, proof of vaccination and a photo ID must be presented at the on-site registration table, and in-person attendees are required to wear masks indoors. Masks will be available.
• The Governor's Academy reserves the right to cancel the venue, at its discretion, for reasons of health & safety concerning the coronavirus.
Fees include all presentations, lunch (with vegetarian/non-vegetarian, vegan and gluten-free options), hot and cold refreshments throughout the day and access to all recordings.
Virtual/Zoom access is also available by donation on a sliding scale.
Individual Zoom links for each presentation will be sent to all participants on Friday, October 8, 2021.
Please click the "TICKETS" button and select your preference for registration. In-person ticket limit: 200.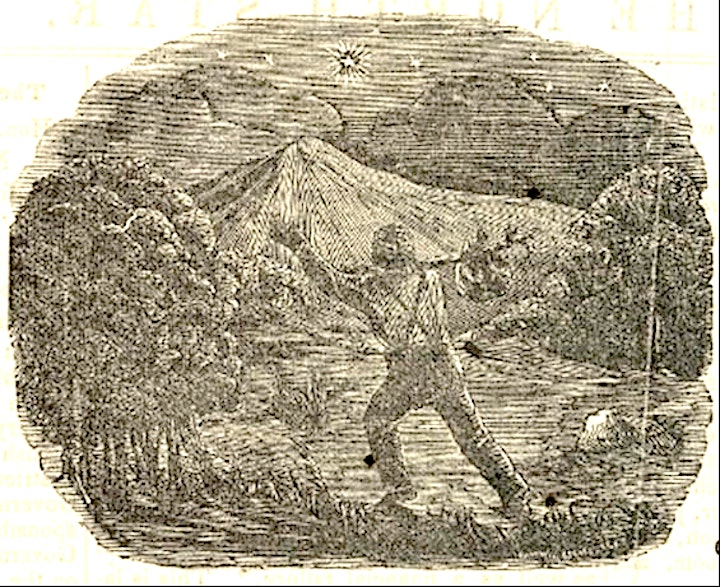 Image from The North Star, an antislavery newspaper first published on December 3, 1847, by African American abolitionist Frederick Douglass.
FULL AGENDA - Race & Slavery in New England (1700-1876)
8:00 a.m. - In-Person Registration Opens
8:30 - 8:40 a.m. - Introductory Remarks
Bethany Groff Dorau, Executive Director, Museum of Old Newbury; John Demos, Samuel Knight Professor Emeritus of History, Yale University; and the day's moderator, Edward Carson, Dean of Multicultural Education, The Governor's Academy.
8:45 a.m. - 9:45 a.m. - Morning Keynote Address
"The Abolitionist International"
— Manisha Sinha
Sinha explores how Garrisonian abolitionists built transnational networks of protest by aligning antislavery with pacifism, women's rights, and utopian socialism. Abolition overlapped with contemporary radical social movements, including the struggle for the rights of labor. The talk will address both the convergences as well as conflicts between these movements.
10:00 a.m. - 10:45 a.m. - Presentation
"Good Old 'Lection: Election Week and Black Civic Culture in Essex County, Massachusetts (1741-1831)"
— Kabria Baumgartner
Negro Election Day was a prominent Black cultural festival that took place in late May during election week in towns throughout Essex County, from Salem to Marblehead. This talk uncovers the history and legacy of Negro Election Day, focusing on Black women and children who, through storytelling, memory making, and joy, created an early Black civic culture.
10:55 a.m. - 11:40 a.m. - Presentation
"Tracing the Trade: What a Family Learned Wrestling with the Memory of New England's Role in Slavery and the Slave Trade"
— James DeWolf Perry
James will share his family's efforts to recover the memory of New England's role in slavery and the slave trade, through their PBS documentary, Traces of the Trade: A Story from the Deep North, as well as books, dialogues, workshops, works of art and political activism. He will also discuss the reasons this history became largely erased from our public memory and why remembering has proven so difficult. Why are even the simple facts involved so controversial to acknowledge? What are the roots of our resistance to remembering, and how can this nation begin to move forward honestly and in a spirit of healing?
11:40 a.m. - 12:40 p.m. - Lunch Break & Book Signings
12:45 p.m. - 1:30 p.m. - Presentation
"For Adam's Sake: A Family Saga in Early New England"
— Allegra di Bonaventura
For Adam's Sake is the story of two third-generation New Englanders and their interwoven families: Joshua Hempstead, a well-regarded shipwright, farmer and magistrate in New London, Connecticut, and Adam Jackson, an enslaved husbandman whom Joshua owned for more than thirty years. Hempstead's remarkable diary—kept from 1711 until 1758—forms the basis of this intimate narrative of domestic life and enslavement in the colonial North.
1:40 p.m. - 2:25 p.m. - Presentation
"David Walker's Neighbors: Maria Stewart, Hosea Easton and the Black Reconstruction of Enlightenment in New England"
— Keidrick Roy
Starting from the premise that early plantation life in the U.S. South retained the spirit of medieval feudalism, Roy shows how early black writers living in New England sought to bring slavery's Dark Age ideology to light. In so doing, Roy examines the relatively understudied work of Maria Stewart and Hosea Easton, two Black orators of the 1830s who—like their more well-known Boston area neighbor, David Walker—appropriated and transformed a plurality of American Enlightenment ideas. Their revision of Enlightenment philosophy combines faith in an active and just God with modern commitments to reason, humanism and progress. Through this synthesis, they began to redefine the concept of "human" in the age of positivism, liberalism and nascent secularism by promoting the sacred dignity of individuals while trumpeting the ongoing influence of a divine Creator who would intervene on behalf of the oppressed.
2:40 p.m. - 3:40 p.m. - Afternoon Keynote Address
"Abolitionism and the Power of Race"
— John Stauffer
Stauffer examines how New England abolitionists — notably Frederick Douglass, James McCune Smith, John Brown, Gerrit Smith, Charles Sumner, Thomas Wentworth Higginson, William Cooper Nell, David Walker, Harriet Jacobs and Lydia Maria Child — fought and grappled with American racism. While focusing on the Northeast, particularly New England, he contrasts racial conceptions in the Midwest, the South and in the British Isles.
3:55 p.m. - 4:45 p.m. - Panel Discussion with Questions from Moderator & Audience
4:45 p.m. - 5:00 p.m. - Closing Remarks - John Demos
Demos is the Samuel Knight Professor Emeritus of History at Yale University. He was awarded the prestigious Bancroft Prize for his book Entertaining Satan: Witchcraft and the Culture of Early New England (Oxford U. Press, 1982). He was awarded the Francis Parkman Prize for his book The Unredeemed Captive: A Family Story From Early America (Knopf, 1994).
5:00 p.m. - 5:30 p.m. - Mixer and Book Signings
Organizer of Race & Slavery in New England Symposium
The Museum of Old Newbury preserves and interprets the history of "Old Newbury" including Newbury, Newburyport, and West Newbury from pre-settlement to the present. Founded in 1877, the Museum carries out its mission through the preservation and administration of the Cushing House, the Perkins Engraving Plant, and other historic structures on its High Street campus and furthers its purpose through lectures, exhibitions, educational programs, publications, and research.