Race, Gender, Black Identities and African Women In the Workplace
Join to discuss RACE, GENDER, BLACK IDENTITIES & AFRICAN WOMEN IN THE WORKPLACE. This Panel is filled to the brim with HEAVY HITTERS!
About this event
BLACK WOMEN IN WORKPLACE. IT TAKES ONE VOICE TO MAKE A DIFFERENCE.Since the genesis of the #MeToo movement, and the proliferation of studies exposing gender pay inequality, sexual discrimination, and harassment in the workplace, women's voices are being heard louder than ever. But are those voices loud enough when it comes to career advancement, especially for women of color? And are men in those positions of power to promote more women of color into leadership roles really listening? Black women are excluded from full and equitable participation in institutions because of not only their gender, but also a multitude of other issues, including their religious ideology, race, social status, and even sexual orientation. They are left to deal with societal problems without the support, resources and dignity every human being was granted by their Creator. The event will features various inspirational black women speaking about their identities; experiences and images of Black women in corporate America. Is a time to : challenge gender norms, empower each other, celebrate diversity, break stereotypes, reject the binary, mobilize and take action. BLACK WOMEN's VOICES COUNT!
GROUP ONE: First Panel moderated by:
Ijeoma Obilo FaisonVice President Human Resources, Employee Engagement, JP Morgan chase
Panelists:
Nubia MurrayGlobal Marketing Manager McDonald Corporation
Morongwe MokoneCo- founder Mo's Crib, Creative director, Origami artist + HR background
Ayofemi KirbyIntegrated Communications Consultant President & Founder, Kirby Media Group LLC
Katleho Paballo MakupuAward-winning Philanthropist and Consult-ing Manager
Jumoke K. DadaTechnologist. Entrepreneur. Storyteller, Tech Women Network & HUE Tech Summit
GROUP TWO: Second Panel moderated by:
Farai GundanFounder, M.D, Ivyard Inc. Harvard Mason Fellow & Young Global Leader, WEF
Panelists:
Bojane Segooa CA (SA)Brand South Africa Play your Part Ambassa-dor, Levelsapp Edu-Tech co-Founder
Bulelwa MabasaAttorney, Partner, Member of Presidential Advisory Panel on Land Reform.
Michelle MokoneCo- founder Mo's Crib, Agricultural Econo-mist + International Trade Attorney
Ntsiki MkhizeFounder and Chief Social Entrepreneur at MentHer.
Aurelia NxumaloLegal Practitioner, Play Your Part Ambassa-dor and Content Creator
THE TROUBLING NEWS ABOUT BLACK WOMEN IN THE WORKPLACE:
THE PROBLEMBut there are several factors that limit women of color from being promoted into leadership roles, including double standards, micro aggressions, and unconscious bias. But there's more.According to HBR, "despite representing about 18 percent of the U.S. population, women of color represented only 4 percent of C-Level positions in 2018, falling far below white men (68 percent) and white women (19 percent). In one study, women of color were found to be the group most likely to experience harassment in the workplace, while in another study, black women, in particular, are "often held to a much higher standard than their white and male peers and presumed to be less qualified despite their credentials, work product or business results," states the HBR report.Managers are obviously to blame for many of the roadblocks affecting women of color. In a McKinsey and Leanin.org study, women of color are less likely to receive mentoring and sponsorship critical for advancement and typically report to bosses who fail to promote their work contributions to others. These obstacles often leave women of color out of the "informal networks that propel most high-potentials forward in their careers."
THE SOLUTIONWhile there is a general need for workforce to address gender biases that negatively impact the advancement of women, there are challenges that uniquely impact Black women and women of color in the workplace. As a result, we must address both gender and racial bias when working to create access and opportunities that allow Black women and women of color to thrive. We will have an opportunity to converse with women who are thriving in their careers and want to share the do's and don'ts of advancing Black women and women of color in the workplace and beyond. During the moderated Q&A we will discuss: Systemic and cultural barriers that inhibit progress, policies and practices that have supported Black women and women of color in their career, tips for both employers and employees on centering the advancement of Black women and women of color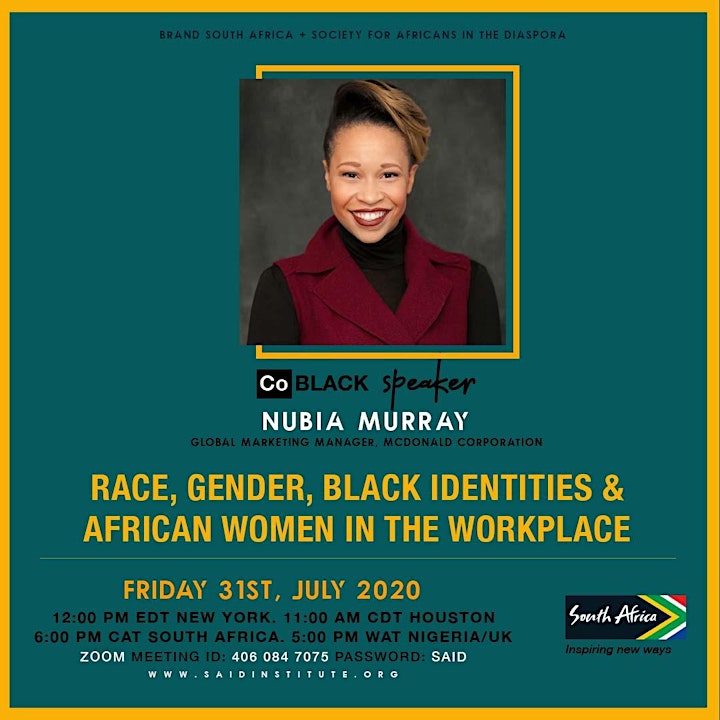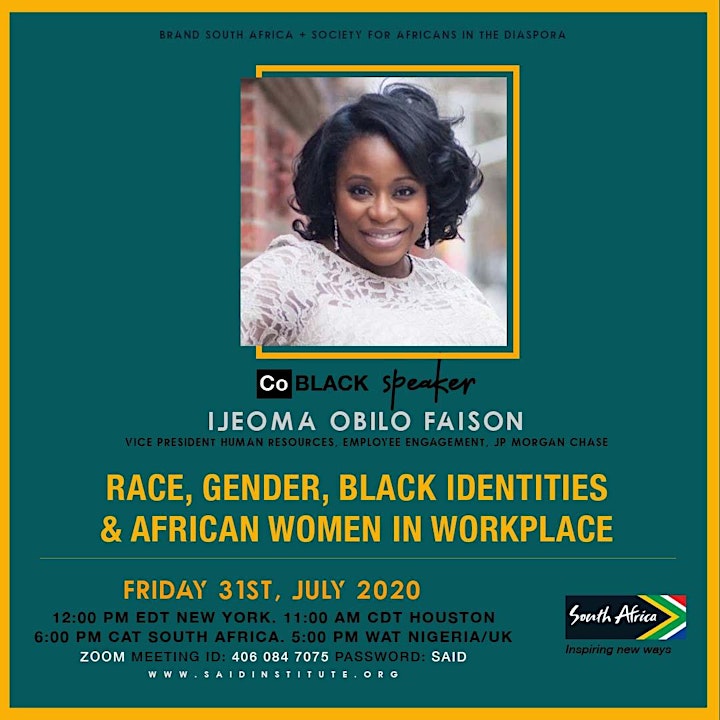 Organizer of Race, Gender, Black Identities and African Women In the Workplace
Society for Africans in the Diaspora (SAiD) is a non-profit American organization. Through various activities and our educational program, we are dedicated to to promoting mutual understanding and strengthening partnerships among peoples, leaders, and institutions of Africa and the United States in a global context. Across the fields of business, culture, arts, education, and policy, the Society provides insight, generates ideas, and promotes collaboration to address present challenges and create a shared future. We also foster Africa-America friendship and cross-cultural exchange through select tours in Africa and the US, lectures, conferences, awards and other events on both side of the Atlantic. 
Society for Africans in Diaspora has worked tirelessly to raise awareness about Africa among Americans and strengthen relations between Africa and the United States. At a time when the eyes of the world are on Africa, Society for Africans in Diaspora is indispensable.