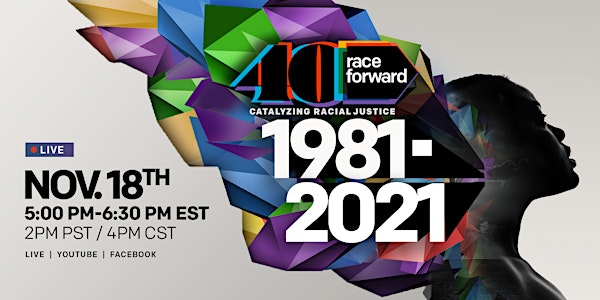 Race Forward's 40th Anniversary Virtual Gala
Join Race Forward on November 18th, 2021 for a celebration of 40 years of racial justice movement making!
About this event
Join Race Forward November 18, 2021 on FaceBook Live & Youtube Live for a celebration of 40 years of catalyzing the racial justice movement! This 2-hour event will feature host Kat Lazo, radio personality for Spotify's Morning talk show and creator of the Kat Call; Race Forward's founder Gary Delgado, current president Glenn Harris, and former president Rinku Sen; and many other leaders, organizers, culture bearers and artists working for racial equity. Don't miss this memorable event full of history, humor, and cultural performances!
For 40 years, Race Forward has played a critical role in the movement for racial justice. But we haven't done this alone. Throughout our journey, we've been able to build collective power, resources, and networks alongside grassroots organizers, cultural leaders, activists, and government partners. Together we are working toward a just, multiracial democratic society, where people are free from exploitation and oppression and thereby, are able to thrive with power and purpose.