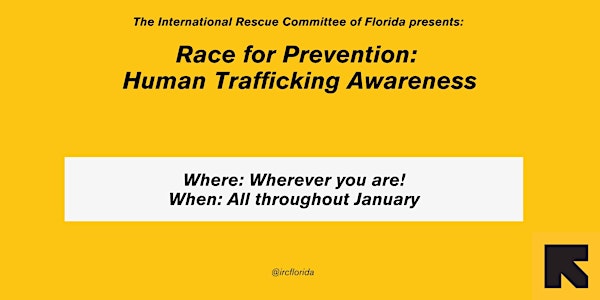 Race for Prevention: Human Trafficking Awareness
The International Rescue Committee in Florida is hosting a virtual race for Human Trafficking Awareness Month.
About this event
There are estimated to be more than 24.9 million people - adult and children - subjected to human trafficking around the world, including in the United States.
The International Rescue Committee would like to thank you for joining us in acknowledging Human Trafficking Prevention Month by participating in our virtual race!
Race for Prevention is 100% free to participate, but there will be an opportunity to fundraise and donate. All donations are greatly appreciated by IRC staff and used in the effort to support clients. All proceeds go toward our assistance with housing, food, clothing, donations, and more for survivors of trafficking in Florida. Please send in the funds you raise or are donating to our Venmo @ IRC-Florida (QR code in attachments), and please ensure that your name is in the description (EX: John Smith – Race for Awareness). Your name in the description of the Venmo must correlate to the name you registered your Strava account with. This allows us to match your funds raised to your account. Keep an eye out on social media platforms for different fundraising ideas! A winner for most funds donated will be awarded by the end of the race!
As mentioned, this event is free. Our goal is to spread awareness regarding the impact human trafficking has on our communities. We encourage all participants to follow us on social media (Instagram @ IRCFlorida) in order to follow along throughout the month, share your activities, and repost our posts! We will be circulating facts and information on trafficking, fundraising and activity updates, shoutouts, fundraising ideas, and more via our social media. We would love to see what area all of our incredible supporters will be tracking their miles from so do not be afraid to post your activity and tag us!
Download the app "Strava" and follow this link: https://www.strava.com/athletes/111277212 to follow us or scan the QR code below (IRC Florida)! Once you follow us, we will invite you to join a challenge and all you have to do is hit "accept." Next, when you are ready to exercise, hit "record" and choose your activity and all of your activity throughout the month of January will count toward the challenge! When you want to check where you stand in the challenge, hit the "groups" button and the challenge will be there. You got this! 😊
There will be two winners announced at the end of January. Individuals with 'Most Miles Tracked' and 'Most Funds Raised' will get a surprise box from IRC for their efforts and assistance in informing our communities on the pervasiveness of trafficking. If you have any questions regarding the race or technical issues, please contact us at shauna.ghorbani@rescue.org and/or tabetha.reynolds@rescue.org.
Thank you again!
Join the fight. Together we can raise awareness.