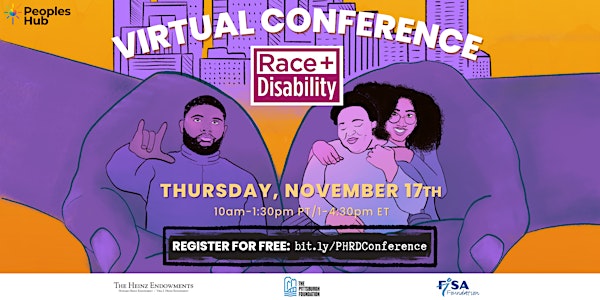 RACE + DISABILITY virtual conference 2022
Half-day virtual conference on Race + Disability, featuring keynote by Dustin Gibson, PeoplesHub
About this event
RACE + DISABILITY: Continuing The Conversation
a virtual conference
Thursday, November 17, 2022
1:00-4:30pm ET
No cost to attend.
Live Captioning and ASL will be available.
AGENDA:
1:00-1:15 pm Why Are We Still Talking About Race and Disability?
A conversation among FISA Foundation, Heinz Endowments, The Pittsburgh Foundation
1:15-2:15 pm Keynote and Q&A: Understanding Disability as Political in Anti-Ableism Work
Dustin Gibson, Director of Access, Disability and Language Justice at PeoplesHub. See below for Dustin's bio.
DESCRIPTION: Disability is typically understood as an identity marker rather than a political class of people. Operating from the latter provides us a different set of questions and opportunities by incorporating how disability is manufactured, created and exploited. This is the basis in which we build power amongst disabled people and develop relationships of solidarity across issues and groups.
2:15-2:25 pm Break
2:25-3:20 pm Panel Discussion: Strategies to Fight Ableism in a Moment of Opportunity and Despair
DESCRIPTION: Black Disabled organizers, advocates, and cultural workers have continued to build on legacies of activism. Grounded in the reality of the conditions disabled people are facing, the panelists will share insight into their strategies to combat ableism, lift questions they have, and offer what it would look like to accomplish the goals of disability justice.
Moderator: Dustin Gibson
Panelists: Azza Altiraifi, Cyrée Jarelle Johnson, Lorrell Kilpatrick
3:20-3:30 pm Break
3:30-4:30 pm Developing Analysis and Shifting Culture: The Journey of Practicing Disability Justice
PeoplesHub has led a year-long cohort of movement organizations in the Pittsburgh region focused on integrating a disability justice framework into their work. They participated in workshops, strategy clinics and coaching sessions to develop strategies to counter ableism, support disabled people, build and implement a set of access-centered practices, and shift the culture of access in organizing circles. Coaches and organizers will reflect on the shape this work has taken over the past year.
Moderators: Dustin Gibson and Alyssa Cypher
Panelists:
Cheryl Stephens, Community Organizer, Pittsburghers for Public Transit
Jordan Malloy, Pittsburgh Lead Organizer, Radical Youth Collective
Ahmed (Tacumba) Turner (he/him/his), Farm Manager, Oasis Farm and Fishery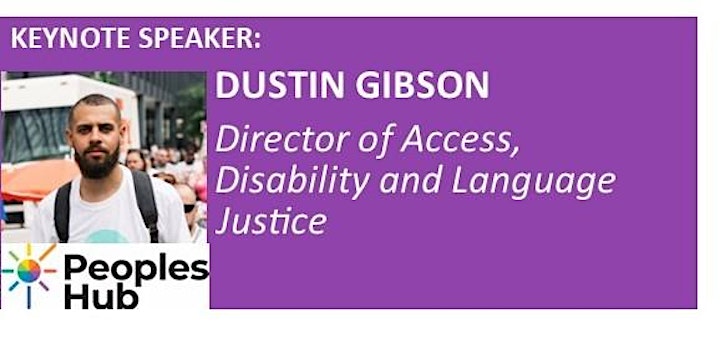 Image Description: Dustin, a light skin Black man, stands in the middle of the photo looking directly into the camera. He has dark hair, a low cut fade with a part and a dark beard. He is wearing a backpack and a white tee-shirt that has an aqua blue circular shape on it. Behind him is a blurry crowd of people and a delivery truck.
DUSTIN GIBSON (he/him) joined PeoplesHub in May of 2020 to support disabled movement workers and implement a framework of disability justice. He's a peer support trainer with Disability Link in Georgia, a board member with Straight Ahead and HEARD, and a co-creator of the Disabled Elders and Pittsburgh Without Police Funds. He's also a founding member of the Harriet Tubman Collective, Us Protecting Us in Atlanta, GA, and the Policing in Allegheny County Committee. He previously worked on-the-ground with Centers for Independent Living (CIL) in Southwest Pennsylvania with a focus on deinstitutionalization and youth self-determination. His work in the national CIL networks supported youth peer support networks and police abolition. He teaches courses about abolition and disability justice in communities, high schools, universities, and law schools.
Participants in the Panel Discussion
Azza Altifaifi
Azza Altiraifi (she/they) is an abolitionist organizer and movement strategist living on unceded Manahaoc lands or northern Virginia. In their full-time capacity, Azza works as a senior policy manager at a national advocacy organization focused on economic justice. Previously, Azza has worked in senior research and policy advocacy roles delving into issues spanning the political economy of disability, carceral surveillance, and concentrated corporate power.
In addition to her full-time work, Azza has been engaged in various community-level organizing formations and campaigns, including campaigns to fight Amazon's expanding footprint in northern Virginia, and more recently volunteering to support public sector workers in Alexandria, VA bargaining to secure their first contract. Born to Sudanese parents, Azza's passion for community organizing and cross-movement solidarity stems from her upbringing. Over the past few years, Azza has immersed herself in deep learning, organizing, and advocacy rooted in Disability Justice, and is committed to movement approaches that value rest, sustainability, and joy.
Cyrée Jarelle Johnson
Cyrée Jarelle Johnson (he/they) is the author of SLINGSHOT (Nightboat Books, 2019), winner of the Lambda Literary Award for Gay Poetry. Johnson's writing has appeared in Poem-a-Day, Poetry, Prompt Press, Apogee, Boston Review, The Root, and The New York Times among other outlets. In 2020, Johnson received a Ruth Lilly and Dorothy Sargent Rosenberg Poetry Fellowship from the Poetry Foundation. He is Social Media and Community Engagement Specialist at Sins Invalid.
Lorrell D. Kilpatrick
Lorrell D. Kilpatrick has been involved in social justice activism for most of her adult life, starting with an environmental justice organization in her Northwest Indiana hometown in 2000. She is inspired by a tradition of human rights activism and justice oriented fight-back formed by her family and their community. Currently, Lorrell is a co-organizer with Black Lives Matter NWI-Gary, Saving Our Families, and NWI Anti-Sexist ACTION and works as a disability justice advocate. Lorrell stresses that a movement committed to collective international action against racism, all forms of sexism, ageism, and ableism will secure a true quality of life for everyone.
Participants in Developing Analysis and Shifting Culture: The Journey of Practicing Disability Justice
Alyssa "Lyss" Cypher (they/them)
Lyss is a an educator, consultant, and coach in radical mental health and disability justice, based in Pittsburgh, Pennsylvania with virtual offerings.
They are also a writer and artist, focusing on self-expressions of trauma, madness, and neurodiversity through the arts and somatics. Their work centers agency over our own narratives and stories, through the mediums of poetry, hand-cut collage, movement, and cross-stitch.
Lyss currently serves as the Director of Liberatory Education at Write Pittsburgh and works as a Tech Support Lead / Disability Justice Educator + Coach at PeoplesHub.
Cheryl Stephens, Community Organizer, Pittsburghers for Public Transit
Growing up in Pittsburgh and an avid public transit rider, Cheryl has seen the developing landscape of transit and understands firsthand how access to transportation can have a life-changing impact on opportunity outcomes. Civic engagement, public outreach, and service to others run at the heart of her previous experiences, beginning with her as a resident assistant and serving as a senator in the Student Government Association in college. After graduating with bachelors degrees in History and Political Science from Penn State University, she worked as an organizer with NextGen America to increase young adult voter registration and electoral participation in State College, PA. In her free time, Cheryl enjoys going to the museum (any museum) and taking walks in the park.
Jordan Malloy, Pittsburgh Lead Organizer, Radical Youth Collective
Ahmed (Tacumba) Turner (he/him/his), Farm Manager, Oasis Farm and Fishery
Tacumba Turner is a culture worker and land steward who serves as the program manager of The Oasis Farm & Fishery, which is a black-owned and led urban farm in the Pittsburgh neighborhood of Homewood. Oasis' mission is to grow food, grow people, and grow the community. We exist to teach and apply urban farming techniques and equip youth and adults to grow their own food and cook healthy recipes using fresh produce. Tacumba became interested in agriculture as a young teenager growing up in the inner city of Pittsburgh. His educational path convinced him that he wanted to do work in his community around food and food access - "I think it's important because we are so alienated from our food and we have an impaired relationship with food that I think manifests itself in a lot of the health outcomes you see."
--Being able to reconnect not only with the land but where your food comes from, learning about our heritage, as it pertains to both things, I think it's very important. I currently serve as the program manager of Oasis Farm and Fishery in Pittsburgh, which offers hands-on educational programming for Homewood residents and others about urban farming, the role of nutrients and beneficial bacteria in the soil. In addition, Oasis works with the University of Pittsburgh using a greenhouse that utilizes reclaimed rainwater and has both aquaponic and hydroponic food production systems. SO, that, in addition to growing vegetables, he sells at Farmers Markets and through a CSA is part of his day job. He is also is: -a member of the local food policy council, -a member of the Homewood Food Access working group -a board member of the local Sankofa Village Community Gardening Project, -an advisor to the Pennsylvania urban agriculture council. -And this year he will also facilitate a young farmers' leadership convergence and speak at the Urban Farming Academy farm incubator project. Homewood is classified as a food desert a term he dislikes because "Desert implies that it's natural," he says. "But food deserts are created through very deliberate policy decisions." Like so many urban farmers, the need to have access to or ownership of land is part of their very being. I hope someday to own my own land, farm for his community and to continue educating others about food sovereignty and his understanding of the agrarian legacy of people being able to feed themselves, their community.