This workshop is the launch of the RACE + DISABILITY series sponsored by FISA Foundation, The Heinz Endowments and The Pittsburgh Foundation
About this Event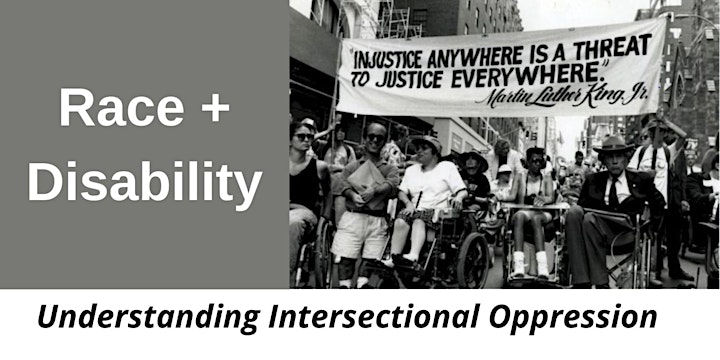 (image above includes text: RACE + DISABILITY: Understanding Intersectional Oppression and a historical photo of a protest led by people using wheelchairs and holding a banner that reads Injustice anywhere is a threat to justice everywhere - Martin Luther King, Jr.)
Disability as both a construct and experience has historically been presented as a "white person's experience," but this couldn't be further from the truth. Studies show that 1in 4 people have a disability, with representation in every ethnic and racial group. In other words, where there's conversation about race, there's conversation about disability. This 90-minute workshop will explore disability as an intersectional oppression by digging into why we should consider ableism a social justice issue. We'll also discuss why historical figures of color have often had their disabilities overlooked and what topical struggles disabled people of color experience today.
NOTE: This session will be recorded.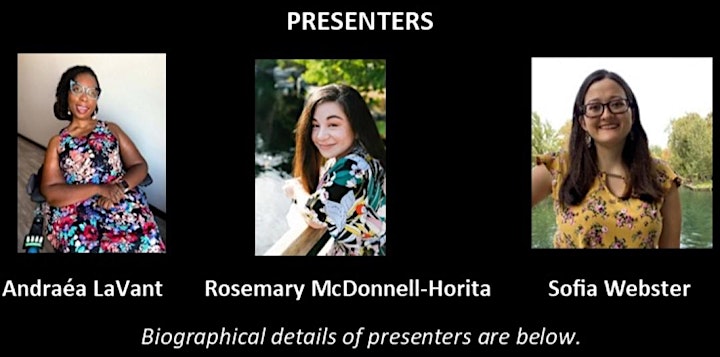 (Image description: includes photos and names of three presenters and "Biographical details of presenters are below." Andraea LaVant's photo shows a smiling Black woman using an electric wheelchair and wearing a colorful flowered dress that complements her purple cat-eye shaped glasses. Rosemary McDonnell-Horita's photo shows a smiling Japanese woman in with long dark hair, wearing a flowered dress in a park overlooking water. Sofia Webster's photo shows a smiling woman with medium complexion and long brown hair, wearing a yellow flowered blouse standing in front of a lake in a park-like setting.)
ABOUT THE PRESENTERS
Andraéa LaVant is founder and president of LaVant Consulting, Inc. (LCI), a social impact communications firm that offers cutting-edge corporate development and content marketing for brands and nonprofits. LCI's specialty is helping brands "speak disability with confidence." As a communications consultant and inclusion specialist, Andraéa has over a decade of experience working with programs that support youth and adults with disabilities and other underserved populations. Her professional roles and personal advocacy have presented her with a variety of notable opportunities to share messages and prompt change for people with disabilities across the globe. She currently serves as the impact producer for Netflix's feature-length documentary, Crip Camp, where she is charged with leading the campaign's efforts to promote understanding of disability as a social justice issue and build across lines of difference. Andraéa is a strong advocate for exploring disability from an intersectional lens and offers a unique perspective on the initiatives that she supports.
Rosemary McDonnell-Horita, Impact Officer - Programs, LaVant Consulting Inc. Rosemary grew up in San Diego, California and currently lives in Denver, Colorado. As a disabled Japanese American queer woman, she approaches her work with a critical intersectional lens. She began her career as a youth-organizer in California and was raised in the disability movement. Her years of community organizing and implementing accessible programming prepared her for this newest chapter working in the social impact field. In 2018, she was honored to play an instrumental role in starting Colorado's inaugural Colorado Youth Leadership Forum. Through her organizing work, she's facilitated trainings and workshops on various topics such as inclusive disability history, accessible sexuality education and disability etiquette. Her proudest achievement has been working with the Crip Camp team, alongside phenomenal leaders/ancestors. She's committed to continuing this work as a way to honor those who came before me and leading the way for future generations to make change in this world.
Sofia Webster, Impact Officer - Media, LaVant Consulting, Inc. Sofia is an Ecuadorian-American woman living in Sacramento, California. Her multi-ethnic identity colors her personal experiences with race, disability, and gender, while also informing the ways she understands intersecting forms of oppression. Her love of and appreciation for the disability community on the Internet acted as kindling for her work creating accessible social media experiences for people with disabilities. She feels called to do disability-focused social impact work, having been a part of Sins Invalid, the Crip Camp impact campaign, and chronic illness advocacy groups.