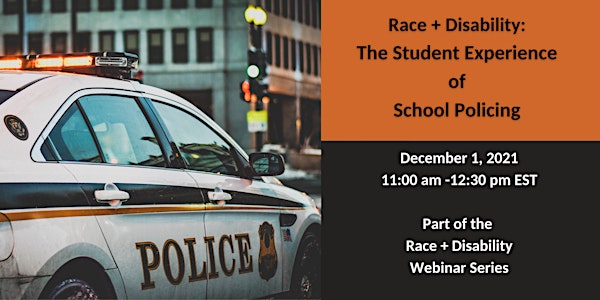 Race + Disability: The Student Experience of School Policing
Part of the RACE + DISABILITY webinar series, co-sponsored by FISA Foundation, The Heinz Endowments, and The Pittsburgh Foundation.
About this event
Race + Disability: The Student Experience of School Policing
DESCRIPTION:
When police are present in schools, what are the consequences for students of color and students with disabilities? This webinar will focus on the experience of students who are disproportionately impacted by school policing and the external efforts to elevate their experiences. Dr. Claire Cohen, who has practiced child and adolescent psychiatry in Pittsburgh for over 30 years, will discuss the psychiatric trauma that students of color face when police are present in schools. West Resendes, from the American Civil Liberties Union, will showcase the Disability Rights project, which aims to dismantle the school-to-prison pipeline and advocates for additional school-based support.
PRESENTERS:
Dr. Claire Cohen is an African American child and adolescent psychiatrist who has been practicing in the Pittsburgh since 1984. She grew up in Philadelphia, PA and attended Hahnemann Medical College (now Drexel University Medical School) there. She did her General Psychiatry Residency at the University of Chicago. She then moved to Pittsburgh to do her Child and Adolescent Fellowship at the University of Pittsburgh's Western Psychiatric Institute. She fell in love with Western Pennsylvania and has practiced here ever since. She has worked in a variety of settings, including community mental health clinics, partial hospitals, school-based settings and, currently, an inpatient hospital setting. Recently she co-authored a paper in an open access journal on racial inequities in Medicaid programs across states in the United States and how a national single payer program could contribute to addressing the issue.
In addition to her career, Dr. Cohen has always been very active in her community. In the late 1980s, she was involved in supporting the strike of the Pittston coal miners and the anti-apartheid struggle. In the 1990s, she was a member of the group that fought to get a Civilian Police Review Board in Pittsburgh, Women of Color for Reproductive Freedom, and participated in the anti-war movement. More recently she has been involved in efforts to stop the school-to-prison pipeline on the Pittsburgh Public Schools, a member of Pittsburgh Green New Deal, on the advisory board of the Pittsburgh Black Worker Center, and fighting for improved Medicare For All as a member of Physicians For A National Health Program and the Western PA Coalition for Single Payer Healthcare.
West Resendes is a Legal Fellow in the Disability Rights Program (DRP) and a Policy Fellow in the National Political Advocacy Department, where he uses disability rights litigation and community-centered advocacy tools to advance the ACLU's affirmative vision for reducing the role, power, presence, and responsibilities of police in schools and communities. West is engaged in ongoing litigation to reform the statewide carceral and parole systems in Georgia for deaf and hard of hearing people. West began his work at the ACLU as a Skadden Fellow in DRP. West is the first culturally deaf person to work at the ACLU since its co-founder, Helen Keller, and sits on the ACLU's Equity, Diversity, and Inclusion Council.
Prior to joining the ACLU, West earned his J.D. at Yale Law School where he was a member of the Veterans Legal Services Clinic (VLSC). While at VLSC, West worked on a nationwide class action lawsuit seeking relief for less-than-honorably discharged veterans from the Iraq and Afghanistan era with psychiatric disabilities. Through Make the Road Connecticut, West advocated for language access for immigrant families in Bridgeport Public Schools. West has also worked on the Senate Judiciary Committee. West holds an A.B. from Harvard College and was a Henry Russell Shaw Fellow.