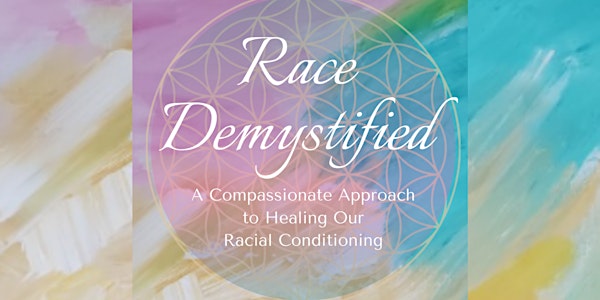 Race Demystified 2-Day Immersion
A Compassionate Approach to Healing Our Racial Conditioning
Refund Policy
Contact the organizer to request a refund.
Eventbrite's fee is nonrefundable.
About this event
Do you shut down the moment someone wants to talk about race and racism?
When it comes to race, do you struggle with anger, rage, guilt, or shame?
Are you someone who believes in justice and equity, but when it comes to race do you struggle to understand what can be done to make change happen?
Do you dream of a world where everyone counts, everyone holds value and everyone can contribute their unique gifts?
500 years in the making and passed through generations, racism is a historical wound in need of healing. While racism is not our generation's fault, we all carry historical wounds from the conditioning of the race myth that need to be healed.
Race Demystified is a 2-day course with a 20-year track record of success.
Grounded in history, science, research, and storytelling, this program will help you understand the complexities of race and racism as it exists today.
You'll receive information that fills in the missing pieces to the race puzzle and its impact on your personal and work relationships, communities, nation, and our world.
The program's grounded, whole-person approach includes your mind, body, spirit, and emotions to help you heal from the inside out.
In just two days you will quicken your process of understanding race, racism, and racial conditioning in a way that traditional DEI training takes years to achieve.
"Milagros uses words and stories to transform and uplift understanding of race AND our deepest core beliefs. She transformed and simplified how I look at my own history and shadow work." - Riva B.
Race Demystified is Milagros' Signature Course
An expert educator, healer, speaker, and author on the topic and history of race and racism for over 35 years, Milagros will lead you through a groundbreaking process that moves you from the historical context of our racial conditioning through the stages of healing to a plan of inspired action.
Is this anti-racism work?
No. While both anti-racism work and healing racism open you to the realities of racism and the need for change--healing racism is a grounded, whole-person approach (mind, body, spirit, and emotions).
Healing is for tending to the 500-year-old wound, opening it, cleaning it, and finally, perhaps for the first time, allowing it to heal!
Race Demystified is ideal for you if:
You're dealing with anger, and are sick and tired of having to deal with race.
You experience guilt, frustration, or shame when race is mentioned.
You want a better understanding of the history of race.
You want to feel more present and aware in the race conversation.
You want to be a better ally and support to people of color and aren't sure how.
You are a person of color who doesn't feel safe, or that you belong.
You want to learn how to talk about and handle racial issues more effectively in your work or everyday life.
You want to start or deepen your own personal healing journey around racism.
You want to contribute effectively to DEI initiatives in your workplace.
You want a better understanding of how racism impacts your organization and your bottom line.
"We specifically sought out Milagros as part of a DEI series to build awareness for our employees. We received a lot of positive feedback, not only about how Milagros brought a greater, more global, historic perspective around race and trauma, but also how she incorporated healing in her practice." - Allison Warren-Barbour VP Human Resources, Premera Blue Cross
You will leave this course with:
A new awareness of race.
Greater comfort with the race conversation.
An understanding of how and why race affects your organization, your job, and your relationships.
Information that leads beyond diversity and inclusion to belonging, strengthening your DEI initiatives.
An understanding of the nine layers of healing and how it applies to other areas of life.
A stronger sense of connection to yourself and others.
A personal or group plan of action.
A new sense of hope and vision for the future.
A feeling of wholeness and a renewed connection to the whole human race.
In this program you will be encouraged to be authentic in all of your emotions because healing requires vulnerability and we are most vulnerable when we feel safe.
​Healing peels away layers of racial conditioning. It sets you firmly on your path of liberation, and ignites inspired action.
Now is the time.
People of color have been experiencing racial trauma since the first Africans were trafficked to work in the Caribbean sugar cane plantations.
Our modern technology has given us access to witness this violence in a way that we haven't had before. We have collectively experienced that trauma on a global level and it has touched our hearts in such a way that we are finally ready to awaken and heal.
Join us to create a new vision today that can change our collective tomorrow
Event Schedule
TUE (November 2nd): 9:00 am - 4:30 pm Eastern Time
WED (November 3rd): 9:00 am - 4:30 pm Eastern Time
***Upon registration, you will be sent an email from Eventbrite with details. If it landed in your Spam or Promotions folder, please move it to your inbox.***