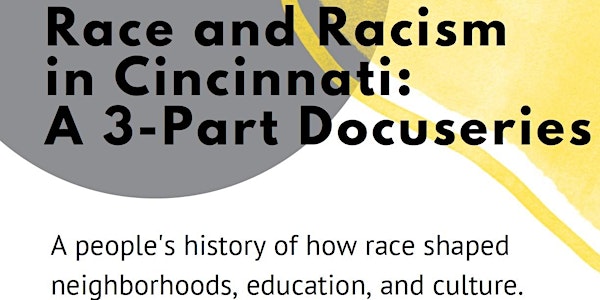 Race and Racism in Cincinnati
Cincinnati's history told from the racial margins, a history that is not often told in school curriculums or in mainstream (White) culture.
When and where
Location
Immaculate Heart of Mary Church 7820 Beechmont Avenue Cincinnati, OH 45255
About this event
THREE-PART SERIES
September 13, September 27, October 11
Racism in Cincinnati is a three-part docuseries that shares a people's history, placing storytelling authority in the hands of common people, rather than political leaders or other figures of power who have crafted narratives to benefit their agenda.
The docuseries features three separate hour-long videos that each tackle a different time span, starting from Cincinnati's birth and bringing us to the present day. Each viewing will be followed by a discussion session.
Registration is required. Tickets are free; however, donations are happily accepted. One ticket will suffice for all three sessions. Participants are strongly encouraged to attend all three sessions, Tuesdays, September 13, September 27, October 11. Each session will run from 7:00 PM to 9:00 PM, Immaculate Heart of Mary Church, 7820 Beechmont Avenue, Anderson Township. Campus location will be emailed prior to each session.