Race and Blackness in the Latinx Community: Unpacking AfroLatinidad
Sales Have Ended
Registrations are closed
Thank you for your interest in this event! We have reached the maximum number of registrations. If you are an alum or student we invite you to follow us on LinkedIn, Instagram, and Facebook for upcoming events: https://www.facebook.com/HarvardLatinoAlumni/
Sales Have Ended
Registrations are closed
Thank you for your interest in this event! We have reached the maximum number of registrations. If you are an alum or student we invite you to follow us on LinkedIn, Instagram, and Facebook for upcoming events: https://www.facebook.com/HarvardLatinoAlumni/
Join our HLAA webinar events to connect with fellow Latino alumni and to learn valuable skills in community, open to students and alumni.
About this event
Race and Blackness in the Latinx Community: Unpacking AfroLatinidad
Saturday, 10/10 @ 2pm EST / 11 am PST
One in four Latinxs are Black, yet this racial diversity is seldom acknowledged. Join us for a conversation celebrating and unpacking Blackness within the Latinx community with Professors Zaire Z. Dinzey-Flores (AB '95), Tanya Katerí Hernández, and Pablo José López Oro. This event is part of HLAA's Hispanic Heritage Month celebration. Please RSVP by registering for this Eventbrite event.
Speaker Bios:
Zaire Z. Dinzey-Flores
Zaire Z. Dinzey Flores is an Associate Professor of Sociology and Latino &Caribbean Studies at Rutgers University. Her research focuses on understanding how the urban built environment mediates community life and race, class, and social inequality. Her book, Locked In, Locked Out: Gated Communities in a Puerto Rican City (University Of Pennsylvania Press: 2013), winner of the 2014 Robert E. Park for best book in urban and community sociology, investigates race and class inequality as negotiated through and codified in the architecture and community gates of public housing and private subdivisions.
She is working on a few projects focusing on race, housing and neighborhood design in the United States and the Caribbean. Among them, is an examination of race and class distinctions in the production of urban residential spaces in real estate markets and a survey on race among Latinxs. She is a member of the Afro-Latin@ Forum, and a founding member of the Black Latinas Know Collective. Dr. Dinzey-Flores also served as a mayoral appointed Board Member for the New York City Housing Authority. She holds a Ph.D. in Public Policy and Sociology and a Masters in Urban Planning from the University of Michigan, a M.A. in Sociology from Stanford University, and a B.A. in Sociology from Harvard University.
Tanya Katerí Hernández
Tanya Katerí Hernández is the Archibald R. Murray Professor of Law at Fordham University School of Law, where she teaches Anti-Discrimination Law, Comparative Employment Discrimination, Critical Race Theory, The Science of Implicit Bias and the Law: New Pathways to Social Justice, and Trusts & Wills. She received her A.B. from Brown University, and her J.D. from Yale Law School, where she served as Note Topics Editor of the Yale Law Journal.
Professor Hernández's scholarly interest is in the study of comparative race relations and anti-discrimination law, and her work in that area has been published in numerous university law reviews like Cornell, Harvard, N.Y.U., U.C. Berkeley, Yale and in news outlets like the New York Times, among other publications including her books Racial Subordination in Latin America: The Role of the State, Customary Law and the New Civil Rights Response (including Spanish and Portuguese translation editions), Brill Research Perspectives in Comparative Law: Racial Discrimination, and Multiracials and Civil Rights: Mixed-Race Stories of Discrimination. Beacon Press is publishing her forthcoming book On Latino Anti-Black Bias: "Racial Innocence" and The Struggle for Equality.
Paul Joseph López Oro
Paul Joseph López Oro is an Assistant Professor of Africana Studies at Smith College. His research interests include Black politics in Latin America, the Caribbean and U.S. AfroLatinidades, Black Latinx LGBTQ movements and performances, and Black transnationalism. He is working on his first book manuscript, Hemispheric Black Indigeneity: The Queer Politics of Self-Making Garifuna New York, which is a transdisciplinary study analyzing oral histories, performances, social media, film, literary texts and visual cultures to unearth the political, intellectual, cultural and spiritual genealogies of Garifuna women and subaltern geographies of Garifuna LGBTQ+ folks at the forefront of Garifuna transnational movements in New York City.
López Oro received his doctorate in African and African diaspora studies from the University of Texas at Austin, his master's degree in African American studies from Northwestern University, his master's degree in Latin American studies from the University of New Mexico and his bachelor's degree in history from St. John's University.
Stay tuned for our other Hispanic Heritage Month events!
To join our newsletter, become a member, and learn more about our board please visit www.harvardlatinoalumni.org.
Follow us on Facebook and Instagram @HarvardLatinoAlum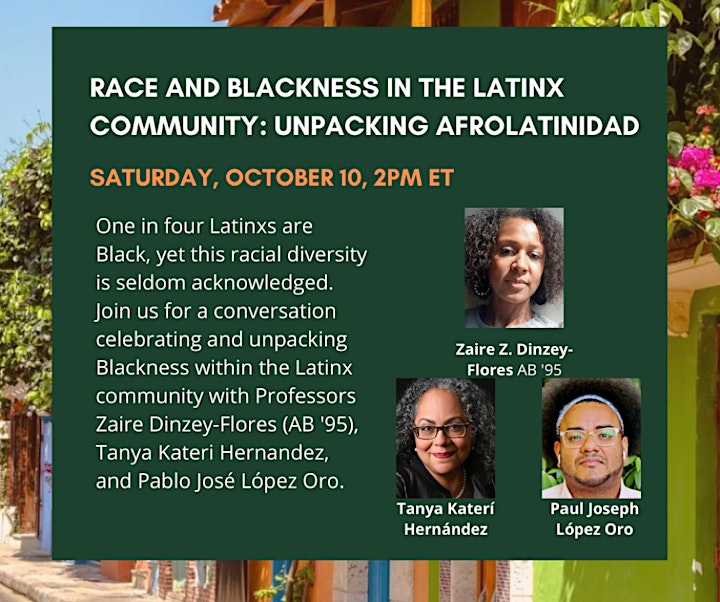 Organizer of Race and Blackness in the Latinx Community: Unpacking AfroLatinidad