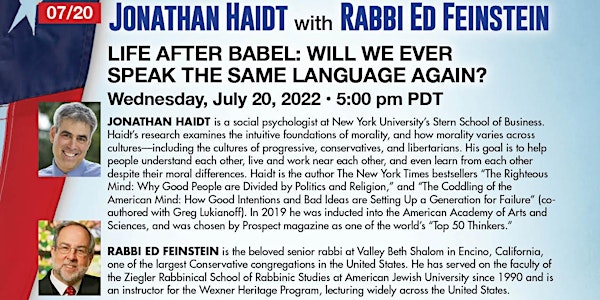 Rabbi Ed Feinstein & Jonathan Haidt: LIFE AFTER BABEL:Americans divided
Author & Psychologist Jonathan Haidt and Rabbi Ed Feinstein to discuss the psychology & morality of divisions in our political culture
About this event
Jonathan Haidt
Jonathan Haidt, social psychologist at New York University's Stern School of Business. He received his Ph.D. from the University of Pennsylvania in 1992, and taught for 16 years in the department of psychology at the University of Virginia. Haidt's research examines the intuitive foundations of morality, and how morality varies across cultures––including the cultures of progressive, conservatives, and libertarians. His goal is to help people understand each other, live and work near each other, and even learn from each other despite their moral differences. Haidt is the author The New York Times bestsellers The Righteous Mind: Why Good People are Divided by Politics and Religion, and The Coddling of the American Mind: How Good Intentions and Bad Ideas are Setting Up a Generation for Failure (co-authored with Greg Lukianoff). He has written more than 100 academic articles. In 2019 he was inducted into the American Academy of Arts and Sciences, and was chosen by Prospect magazine as one of the world's "Top 50 Thinkers."
Rabbi Ed Feinstein
Rabbi Ed Feinstein is the beloved senior rabbi at Valley Beth Shalom in Encino, California, one of the largest Conservative congregations in the United States. He has served on the faculty of the Ziegler Rabbinical School of Rabbinic Studies at American Jewish University since 1990 and is a popular instructor for the Wexner Heritage Program, lecturing widely across the United States.
Prior to coming to Valley Beth Shalom in 1993, Rabbi Feinstein served as founding director of the Solomon Schechter Academy of Dallas, Texas, building the school's enrollment from 40 to over 500 in eight years, and winning national recognition as center of educational excellence. In 1990, he assumed the position of executive director of Camp Ramah in California, the largest Jewish camp and conference center in the western United States. He came to Valley Beth Shalom in 1993 at the invitation of the renowned Rabbi Harold Schulweis, whom he succeeded as the congregation's senior rabbi in 2005.
Rabbi Feinstein is a member of the board of the Jewish Federation of Greater Los Angeles, a member of the school board of Milken Community High School and an active member of AIPAC. A survivor of two bouts of colon cancer, he speaks frequently to cancer support groups all over Southern California.
Rabbi Feinstein is the author of many books, most recently published is his dissertation which was published in 2019 entitled, "Rabbi Harold Schulweis and the Reinvention of the American Rabbinate."
THE ONLY WAY TO ENTER OUR PROGRAMS IS VIA A ZOOM LINK WHICH, IF REGISTERED, YOU RECEIVE SEVERAL TIMES IN THE 24 HOURS BEFORE THE PROGRAM. YOU DO NOT ENTER VIA EVENTBRITE. IF YOU HAVE NOT RECEIVED THE ZOOM LINK WITHIN THE 24 HOURS BEFORE THE PROGRAM, CHECK YOUR SPAM AND IF IT'S NOT THERE, EMAIL: JKREZNIK@GMAIL.COM