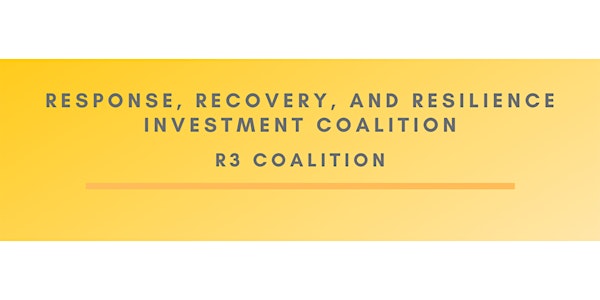 R3 Coalition | Virtual Co-Investment Convening | Food Security - Sept 3
This session is only open to accredited investors.
About this event
Overview
R3 Coalition Virtual Co-Investment Convenings are investor-only sessions designed to facilitate the acceleration of financing into investments addressing the negative effects of COVID. These investor-driven sessions aim to overcome the challenges faced by investors in sourcing opportunities that are investment ready. Investments showcased during these sessions are brought by investors motivated to attract additional co-financing to impactful opportunities.
During the convening, co-investment opportunities will be presented by investors already investing in or are undergoing conducting diligence on the investment. Each investment opportunity will have a 10-minute presentation and will be followed by ~10 minutes for follow-up questions. Descriptions of the investments being presented can be found below, along with the specific 20-minute time block for each investment presentation. Participants are welcome to hop in and out of this virtual meeting to attend the presentations that best align with their impact investing strategies.
Investors in attendance may indicate their interest in learning more about any of the investments presented. They will then be invited to a follow-up meeting later this month with the presenting investor and/or featured investee.
September 3 Virtual Co-Investment Meeting – Food Security Investments
This session will focus on the agricultural sector and will specifically showcase interventions seeking to address food security issues caused by disruptions to the agricultural supply chain resulting from the COVID-19 crisis. Below is the draft agenda for the convening, including the investors presenting co-investment opportunities and a brief overview of each of the investments.
AGENDA (EDT) (subject to change)
12.00 - 12.10pm | Welcome and Context Setting by the GIIN
12.10 - 12.30pm | AfricaEats Presented by Tim Crosby, Global Alliance for the Future of Food and Luni Libes, Fledge
Africa Eats is a holding company with a diverse set of 27 African food/ag companies supporting hundreds of thousands of smallholder farmers, feeding millions of Africans. In aggregate these companies earned over $7 million in revenues in 2019, up from $4.7 million in 2018, with 50% compounded annual growth since 2014. The expectations are to continue growing at that rate throughout the 2020s, with IPOs along the way to provide liquidity to our investors and to raise additional growth capital to power that growth. Details on each company and the holding company itself at africaeats.com
12.30 – 12.50pm | One Acre Fund Presented by Charles Coustan, John D. and Catherine T. MacArthur Foundation
One Acre Fund is a US-registered organization with operations in East and Southern Africa. One Acre Fund's mission is to improve the livelihoods of smallholder farmers by increasing agricultural yields and incomes. One Acre Fund currently works directly with over 1 million farmers per year (60% women), delivering seed, fertilizer, and solar equipment on credit to each client, and providing extensive training alongside. The approach has been proven to increase farmer profits from supported activities by 40%+. One Acre Fund is seeking at least $40 million of senior debt financing that will benefit from subordination from a group of philanthropic lenders. The combined capital will be used to on-lend to a growing client-base of smallholder farmers, to enable them to continue investing in their farms despite the economic and social disruptions of COVID-19, in turn ensuring food security in their communities at this difficult time.
12.50 - 1.10pm | Origo Commodities India Private Limited Presented by Vijaya Lakshmi and Srinivas Vobilisetti, Caspian Impact Investments
Origo Commodities India Private Limited (OCL) is an India-based company that was setup with mission to offer complete post-harvest management services that mitigate risks, minimize wastage, and add value at every stage in the agri-commodity supply chain. The Company work as an enabler in the agri-value chain by providing necessary infrastructure and marketing support to the stakeholders and facilitate access to credit to farmers and traders through its subsidiary, and also help farmers and producer communities for getting better price realization for their produce. The Company incorporated a subsidiary Origo Finance Private Limited (www.origofin.com) to leverage on Origo Commodities agri and rural expertise and with vision of becoming a leading financial services provider in rural India Origo Finance provide capital to MSME, diary and agri segment in rural and semi-urban markets. OCL plays an important role in minimizing the losses in storage of grains and other important commodities by using state of the art storage and fumigation processes. The Company actively works with different state governments in storing government-procured grains--most importantly with Punjab Government where it stores 2.7 million metric tons of grains in warehouses which are managed by Origo. The Company is seeking growth capital to enhance its reach in rural India and to serve more number of farmers, small traders, processors, and producer communities.
1.10 - 1.30pm | String Bio Presented by Ritu Verma, Ankur Capital
String Bio is a Bangalore based company that is enabling next generation ingredients for Animal Nutrition, Agriculture, Human Nutrition, and Personal Care sectors that are clean, traceable, and sustainable. As one of the world leaders in gas fermentation, String has a strong IP protected platform called SIMP (String Integrated Methane Platform) that enables production of high-quality ingredients from methane. The company is seeking equity financing towards commercialization of their product line.
Eligibility Criteria of Participating Investors
This session is strictly open to accredited or qualified investors only (or 'accredited' investor equivalents by jurisdiction, i.e. professional/sophisticated investors), seeking new investment opportunities to co-invest. There is no obligation to invest in the investments presented.
ABOUT THE R3 COALITION
Launched in May 2020, the Response, Recovery, and Resilience Investment Coalition (R3 Coalition) aims to streamline impact investing efforts that will address the large-scale social and economic consequences of COVID-19. This initiative is a collaboration across prominent impact investing networks – to be managed by the Global Impact Investing Network as the organizing body – and is supported by a group of leading foundations. Learn more about the R3 Coalition: thegiin.org/r3coalition