R2 Intro Webinar Podcasts Now Available!

Friday, November 26, 2010 from 1:00 PM to 4:00 PM (CET)
Event Details
Enjoy a dynamic session with Dr Robin Wood, Barbara Marx Hubbard and the Renaissance2 webinar team who offer a fast-paced, inspiring overview of the forthcoming webinar series: "Make a Living and Make a Difference".
This introductory teleconference brought over 40 people together for a lively, enjoyable learning experience where new friendships and connections were made and fresh insights gained. The feedback was enthusiastic- participants commented that they got a very clear view of the exciting topics included in the 8 part series, and that the technology was sophisticated and enabling.
Listen to these mp3 podcasts of the 3 key sections of the first global R2 teleconference for just €7.50 - if you decide to join us for the whole series or a part thereof you'll not only get your money back but also you will qualify for a further discount.
You also get a free copy of the powerpoint show that accompanies the introduction when you buy the 3 podcasts. See the podcast contents and action learning model below together with the webinar outline for a more in-depth look, then buy your ticket for this leading edge introduction to satisfying 21st century living and livelihoods.
Intro Webinar (3 x mp3 podcasts: 56 mins) – Contents
Purpose, Process & Payoff of these webinars
The Big Picture: Our Crisis is a Birth of Manifold Opportunities-
Featuring the legendary Barbara Marx Hubbard
The Perspective of the 7 R2 Innovation Crucibles: Seizing the Opportunities
• Part 1 – STARTING WITH YOU:
Passion, Personality, Principles & Capabilities
Breakout 1: A life that satisfies my highest self…
•  Part 2 – CONTEXTS FOR THRIVAL: 
Opportunities, Connections, Niches & Synergy
Breakout 2: The contexts I thrive in best are…
•  Part 3 – THE DYNAMICS OF THRIVAL
Exchanges
Business Models
Communities of Practice
Teams in Creation Spaces
Thriving Ecosystems
Close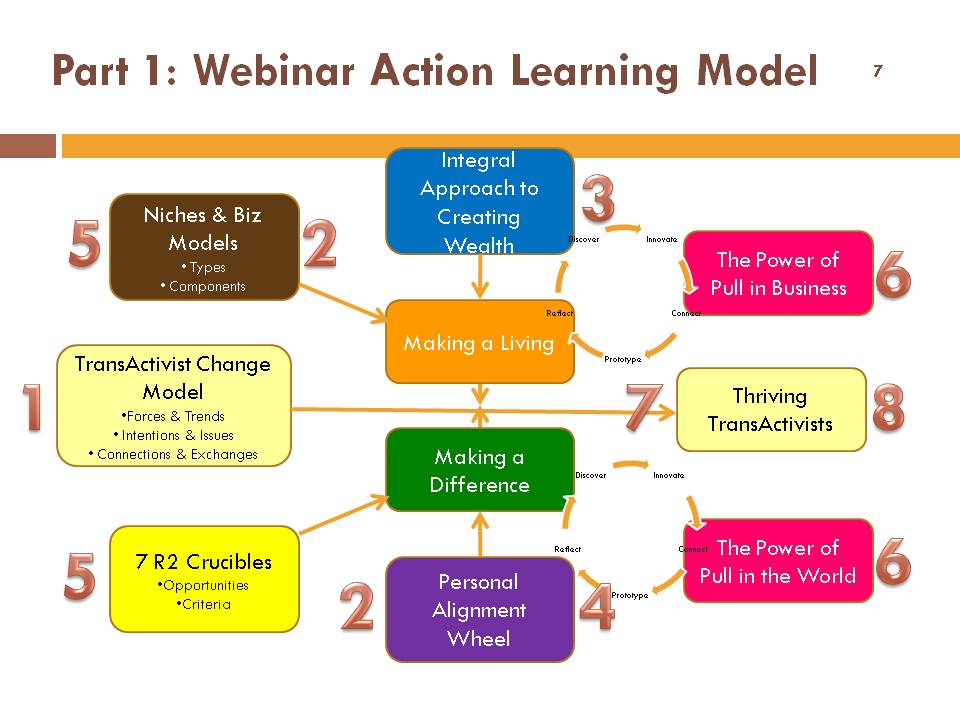 Organizer
Renaissance2 Foundation
Renaissance2 is an accelerator of social, business and cultural innovation, co-created by leaders with deep experience of social change, scientific, technological and business innovation. We are registered as a not-for-profit organization and funded by donations, member subscriptions, event fees and publications.
The Mission of Renaissance2 is to accelerate open-source innovation between business  design, the scientific and technology communities, governments and NGO's to address the most challenging issues facing human civilization today. 
Our strategic partners work together to shape the future design and direction of R2 through their participation in two major events and virtual collaboration between these events, using online tools including web-based video-conferencing and sophisticated online innovation forums. This model will evolve to serve as an ongoing open system of social, business and technological innovation for the next decade.