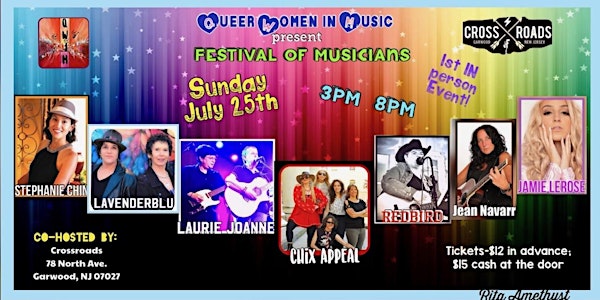 QWiM's 1st IN-person Festival of Musicians!!
We're finally getting out into the community and showcasing our fabulous and talented artists in real life at CROSSROADS, a music venue!
When and where
Location
Crossroads 78 North Avenue Garwood, NJ 07027
Refund Policy
Contact the organizer to request a refund.
Eventbrite's fee is nonrefundable.
About this event
In response to the pandemic that halted in-person events, Queer Women In Music (QWiM) was created to keep the music alive and help the artists who were no longer able to perform and make a living doing what they love. What started out being ONE 12 hour Pride Festival with 18 performers, became a music page year long that hosted over 20 virtual events highlighting queer women artists from all over the world. We're finally taking it out to the community for the first time and showcasing our fabulous and talented artists in real life!!
Won't you come out and help support these artists?!
CROSSROADS, a LIVE music & entertainment venue as well as restaurant will be hosting us!! http://www.xxroads.com/
Get your tickets NOW for $12 instead of $15 CASH at the door.
****Once you're purchased your tickets, contact the organizer to make table reservations to enjoy Crossroads' full menu to purchase from, so come hungry. https://www.eventbrite.com/e/qwims-1st-in-person-festival-of-musicians-tickets-158843885337 This event is also a fundraiser for the artists themselves. Crossroads is graciously allowing us to keep 100% of the proceeds from ticket sales as well as at the door admission sales.
Please visit the main music page of Queer Women In Music https://www.facebook.com/ThatAmethyst/ to see videos of song clips from each of the featured artists.
Can't wait to meet new fans and see friends again!
PS: This is an ALL AGES EVENT! This Link will take you to our Facebook Event page, where you can count yourself going: https://fb.me/e/MjBPBlwl
Music page Queer Women In Music page to see videos of all the performers:
https://www.facebook.com/ThatAmethyst
Without further ado, I present to you OUR artists in order of appearance!
Sunday July 25th 3pm-8pm
3pm-3:30pm: Stephanie Chin - With hints of everything from Norah Jones to Natalie Merchant in her voice, Stephanie Chin warms your soul with her beautiful tone. She's been dubbed as a soulful songbird and fans refer to her music and spirit as "healing." This singer/songwriter's mission is to inspire her listeners to be love, be present, and achieve their dreams.
Although music has been her passion since childhood (singing in church and school choirs, taking piano and guitar lessons), Stephanie didn't overcome her fears to start seriously pursuing it until 2013. In 2014, she started vocal training, joined a band, and started singing professionally. One of her YouTube videos caught the attention of NBC's The Voice and she was invited to an exclusive audition at a recording studio in NYC. Though she didn't make the show, it was definitely a boost of confidence and validation that she was moving in the right direction. She started her solo career in 2015, released her debut EP, Hold on to Hope, in 2018, and several singles thereafter. Hold on to Hope embodies her inspiring messages in a mix of pop, rock, and R&B songs. It features catchy tunes co-written with her pal Kristen Blum, her producer Bhauraw Avhad, and a few on her own. Stephanie's latest single is an R&B song entitled Vision of Us. With its marriage of sultry vocals and magnetic melody, Vision of Us creates a feel-good vibe about love triumphing any doubt. It marks a bold step in the direction of vulnerability since it's the first time Stephanie invites her listeners into her personal matters of the heart. Her next single, Pause, releases this summer. Pause is a reminder of the importance of practicing stillness and gratitude for the sake of our mental health. You can experience her electrifying spirit at live shows anywhere from Philadelphia, PA to Asbury Park, NJ. Follow her journey at www.stephaniechin.com
3:45pm-4:15pm: LavenderBlu- Jill Garrison began her singing career at age 17. Early on, she experienced professional recording and found her natural skill to harmonize. Her 18 year journey as lead singer led her through numerous bands with varying vocal styles. She co-formed Carson City Silver and was telecasted on the Grand 'Ol Opry. She also joined Leather Starship (all female top 40 band), Blue Stone (classic R&B), Roxy, The Fury (Rock) and Tatouage. After a 20 year hiatus, she has joined Sherry Tomaino returning to the music scene this time toting a guitar.https://www.facebook.com/jillgarrisonmusicGuitar in hand since she was 9yrs old, Sherry's early guitar influences included Frampton, Santana, Clapton and Bonnie Raitt. She currently gives guitar lessons and takes jazz lessons for inspiration. Sherry's band projects include original and cover songs. She has performed in NYC, Philly, as well as The Saint and The Stone Pony in Asbury Park, NJ. Her CD "Lessons" was released in 2001 and is available on iTunes.https://www.sixstringsherry.com/She joins Jill Garrison in their exciting new venture as LavenderBlu.Jill and Sherry began collaborating in June 2016. Their creative connection and strong skills resulted in LavenderBlu. Due to their vast musical interests, it allows them to perform a variety of genres and will customize their repertoire to your venue.https://www.facebook.com/LavenderBluMusicVenmo.com/LavenderBlu-Music
4:30pm- Joanne Calabrese- Lead Vocals, Rhythm Guitar, Joanne started writing songs and performing in 1967 with the group Motive Music, with the nunknown keyboardist Rupert Holmes. She released 2 singles for Scepter Records. She has worked with Dionne Warwick and B.J. Thomas. The group split in 1970. Joanne worked with various bands throughout the 1970s. In 1980, she met guitarist Laurie Swerlin. Together they formed Last Licks, a band comprised of all women. While playing the NY club circuit, they recorded and released an E.P. for the independent label Stonehenge Records. In 1984, Joanne split off from the group to do a solo album with ex-Scandal member Benjy King. The album contained the talents of artists such as guitarists Bobby Messano and Keith Mack (also of Scandal), Hugh McCracken, Ellen Folley, Lesley Gore, Frankie Previt and others. In 1986 Joanne rejoined Laurie Swerlin to write and record demos. They eventually drafted the personnel to create the group River Sane, which performed and recorded Joanne's original material. They performed in NY venues featuring original artists. In 1994, Joanne and Laurie established Where There's Smoke.
Laurie Swerlin- Lead Guitar, Accordion, Backing Vocals. Laurie began playing the accordion at age 5, which she soon sidelined for guitar. A gifted, self-taught musician, her musical roots lie in the sounds of the late 1960's, heavily influenced by the American Blues via the British Invasion. Early in her career, Laurie played guitar for bands such as Taboo and Ariel, and bass guitar for Nasty Rumours. She also played the NY/NJ club circuit with the band Raw Silk. In the early 1980's, Laurie met Joanne Calabrese and they formed Last Licks, later appearing with the group on The Uncle Floyd Show. During the last few years she has been writing, recording and creating exciting music with Joanne, as well as doing some session work. In 1989, while in England, Laurie connected with Rock school star, guitar player Dierdre Cartwright and also satisfied a lifelong desire to visit Liverpool. As their song list grew long, Laurie and Joanne began organizing a band to showcase their material and River Sane was born.In 1992, Laurie split off from the group to do session guitar work for Jan Corliss, whose demo of Crash My Car won first prize in the music industry's annual New Music Seminar awards. This track appears on the NMS 1993 compilation tape. In 1994, Laurie and Joanne refocused their efforts with the creation of Where There's Smoke.
5:15pm-5:45pm: Chix Appeal- is an all female rock band, pulled from all over the Tri-State area. With sweet leads and solid rhythm section and soulful singers, we always please the crowd. We play everything from Pat Benatar and The Go-Go's to classic rock and sweet originals! They've played all over the city, and most of the Pride Festivals in the Tri-State. Including the Asbury Park Pride Festival in June 2017 and opening up for Asbury Park's local favorite Christine Martucci at the Wonder Bar in June 2018 and 2019 for Women's Weekend.Chix's Appeal has recently received a grant from Staten Island Arts Organization to record their first 4 song EP!!! This 5 person band includes -Cece on vocals, Aileen on bass, Gulya on lead guitar, Mayna on keyboard and vocals, and Andrea on drums. While each member hails from a different part of the Tri-state area, they have one thing in common - a passion for cold, hard, kick-ass rock!http://www.reverbnation.com/chixappealpay.../andreaauerbach1
6pm-6:30pm: Redbird flying solo- A NJ native, Redbird flying solo (aka Danielle) is an acoustic act covering all genres of music throughout the years. Southern rock, oldies, classic rock, country, blues, Americana, pop and everything in between. She's a well established musician who plays guitar, piano and bass. Danielle has over 25 years of experience playing the circuit and has played many well known venues including the Stone Pony, The Fast Lane, Crossroads, Union County Performing Arts Center and Albert Music Hall as well as local clubs, bars and private parties. She also has performed at many festivals such as Red Bank Riverfest, , Central Jersey Charity Beerfest, , Wells Mills Jamborees, Asbury Park Porchfest. and the Allaire Americana Festival. Danielle performs for many benefits and charitable causes including the VFW, Musicians on a Mission, and hosts a benefit every year for the Alzheimer's Association. Being involved for many years on the local music scene has afforded her the opportunity to perform on local television programs and has had albums she's played on air on MTVs (undressed) and local radio.https://m.facebook.com/redbirdflyingsolohttps://www.instagram.com/redbirdflyingsolo
6:45pm-7:15pm: Jean Navarr- singer/Songwriter, recording artist and self taught musician since the age of 8. She's endeared by the LGBT community and plays around Asbury Park NJ and eastern PA.https://www.facebook.com/Jean-Navarr-696775553772282/
7:30pm-8pm: Jamie LeRose- is a naturally gifted performing artist who has been on stage since she was 3. she has written and about to release her 6 and 7 original songs and directs and co-produces her own music music videos. She has the innate ability to turn her emotions into art through music and visual artistry. She was born to create for the world. https://www.jamielerose.com/https://instagram.com/jamieleroseofficial...https://www.facebook.com/jamieleroseofficial/https://vm.tiktok.com/ZMJqG2RmD/