Qurtuba & Fawakih Present: Wonders of the Word Summer Tafsir Sessions

Tuesday, July 11, 2017 at 7:00 PM

-

Thursday, August 3, 2017 at 9:00 PM (EDT)
Event Details
Qurtuba Institute and Fawakih Institute have partnered to offer a special series of tafsir sessions after Ramadan. In conjunction with Fawakih's Quranic Arabic Intensive program, Qurtuba scholars and guest scholars will teach selected portions of Quran as they relate to the life of the Prophet, salla Allahu 'alaihi wa sallam. Take a glimpse into the Prophet's life and see what events lead to the revelation of specific sections of the Quran.
ALL SESSIONS ARE FROM 7-8:30PM @ ADAMS MAIN CENTER (STERLING)
DATE
 
INSTRUCTOR
 
TOPIC

Tues, 7/11

 

Imam Mohamed Magid

 

"The Beginning"




Sūrat al-'Alaq

Thurs, 7/13

 

Ustadh Omar Popal

 

"Command to the Call"




Sūrat al-Muzzammil

Tues, 7/18

 

Ustadh Shad Imam

 

"Persecution"




Sūrat al-Burūj

Thurs, 7/20

 

Shaykh Suheil Laher

 

"Dua & Faith"




End of Sūrat al-Baqarah

Tues, 7/25

 

Shaykh Mohamed Hussein

 

"Questioning"




Sūrat al-Mujadilah

Thurs, 7/27

 

Shaykh Samer al-Nass

 

"Dealing with Setbacks"




Surat āl-ʿImrān

Tues, 8/1

 

Ustadh Ovaimir Anjum

 

"Triump"




Sūrat al-Fath

Thurs, 8/3

 

Shaykha Zaynab Alwani

 

"Lasting Lessons"




Sūrat al-Nasr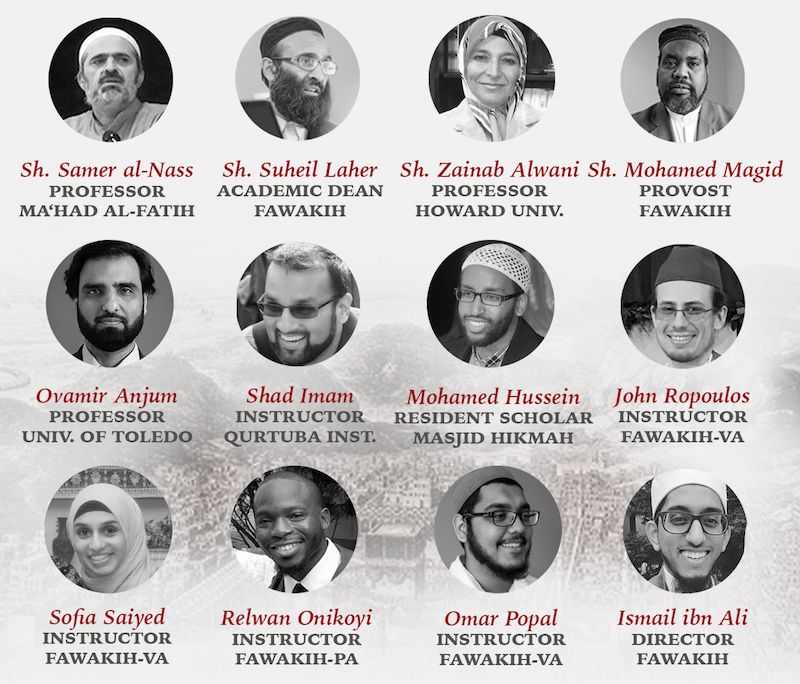 When & Where

All Dulles Area Muslim Society
46903 Sugarland Road
Sterling, VA 20164


Tuesday, July 11, 2017 at 7:00 PM

-

Thursday, August 3, 2017 at 9:00 PM (EDT)
Add to my calendar
Organizer
QURTUBA
The objective of Qurtuba Institute is to disseminate sound Islamic knowledge and learning grounded in an American Muslim reality to members of the ADAMS community and surrounding societies. The purpose of disseminating this knowledge will be to increase the level of Islamic literacy in the ADAMS community in order to gain a deeper understanding of how Islamic principles and ideals can be applied in one's daily life. The Qurtuba Institute strives to instill within the community a deep appreciation of the vast Islamic sciences while directing its members to ways in which they can become closer to Allah by serving as model citizens in the United States of America.
FAWAKIH INSTITUTE
Fawakih is a 501c3 established in 2008 which aims to promote Quranic Literacy among Muslims throughout the United States. It offers Quranic Arabic classes in over 15 cities across the US and online. Fawakih partners with local institutions to supplement the great work happening in our communities and hopes to enhance each partner's ability to provide quality services to their constituents. It also offers summer and winter intensives for students to accelerate their learning. On top of the Quranic Arabic classes, Fawakih offers tajwid and tafsir classes. For more information, visit www.fawakih.com.
Qurtuba & Fawakih Present: Wonders of the Word Summer Tafsir Sessions