Event Information
Location
Aloft Hotel
300 Ted Turner Dr NW
Atlanta, GA 30308
Description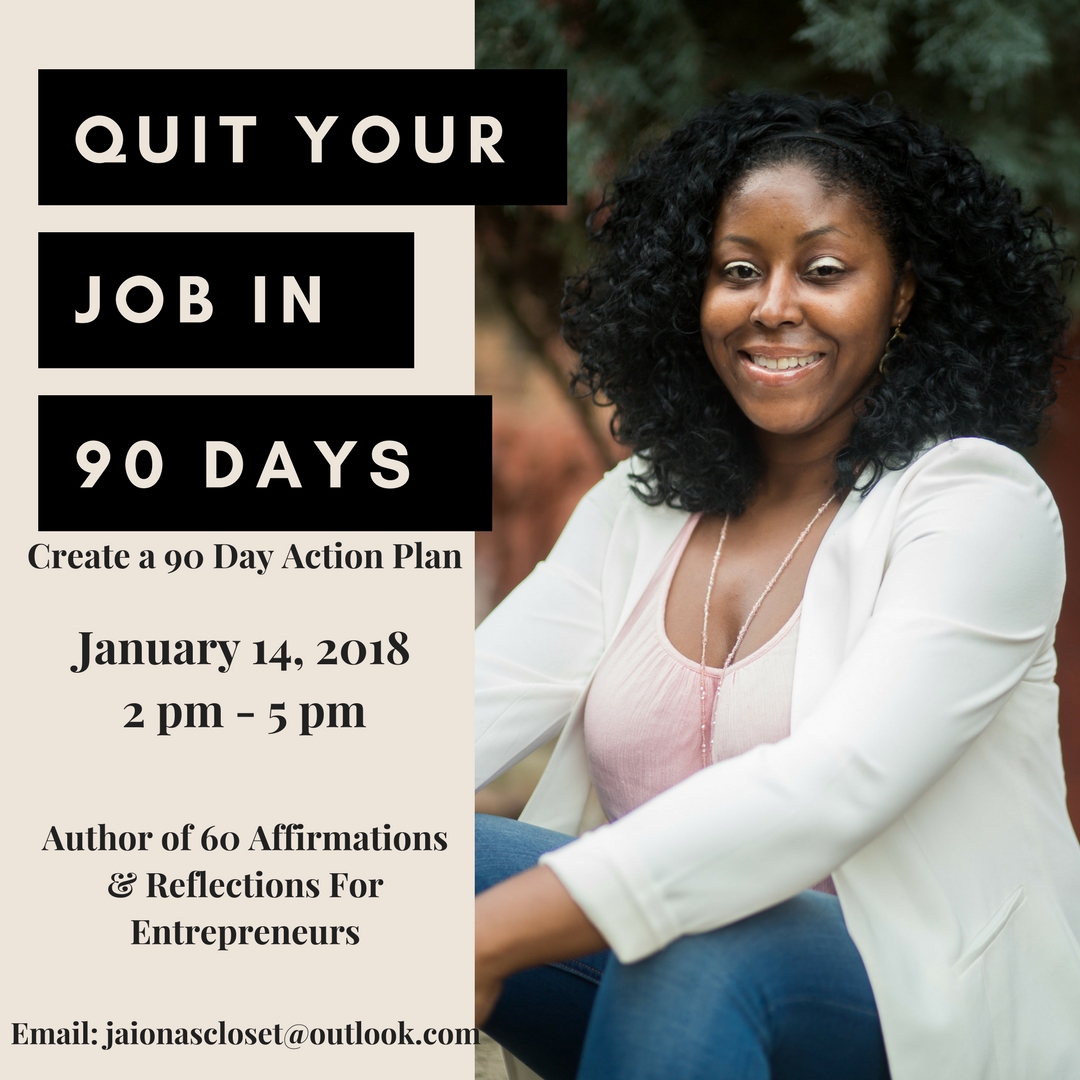 Quit Your Job in 90 Days Tour, is a women's empowerment workshop series designed for women in pursuit of finding their purpose, following their dreams, starting a new career or launching a business. Attendees will walk away with an actionable plan for leaving their current job in pursuit of a career more aligned with their core values and needs. Participants will also have an opportunity to attend a series of breakout sessions with subject matter experts in life/career coaching, marketing, business, health, and wellness services.
Includes
-Monthly Follow Up Business Conference Calls (subject matter experts in wellness, career and business services)
-Swag Bag
-Light Snacks

Hosted by Tiffanie Luellen, Owner of Jaiona's Yoga Closet and Author of 60 Affirmations & Reflections For Entrepreneurs. As a Former Accounting Manager and a Licensed CPA, Tiffanie Luellen is a multi-faceted professional and strategic visionary. After collecting a diverse set of professional experiences, she recognized that the solution to stability in one's professional and personal life was yoga and meditation. This realization prompted the creation of Jaiona's Yoga Closet, where Tiffanie's mission is to enhance the overall health and well-being of her clients through body awareness, breathing techniques, and yoga postures. Through yoga and meditation, she became aligned with her purpose and aspires for her clients to achieve the same. Prior to leaving Corporate America, Tiffanie created and followed a 90 Day Action Plan and Exit Strategy. Her intention is to share her insight with others in pursuit of a more aligned and meaningful career.
Breakout Speakers will be announced soon.
https://jaionascloset.com/
https://iamzetajoel.wordpress.com/2017/06/16/tiffanie-luellen-left-corporate-america-and-became-a-certified-yoga-instructor/
Email:jaionascloset@outlook.com
Date and time
Location
Aloft Hotel
300 Ted Turner Dr NW
Atlanta, GA 30308
Refund policy