Description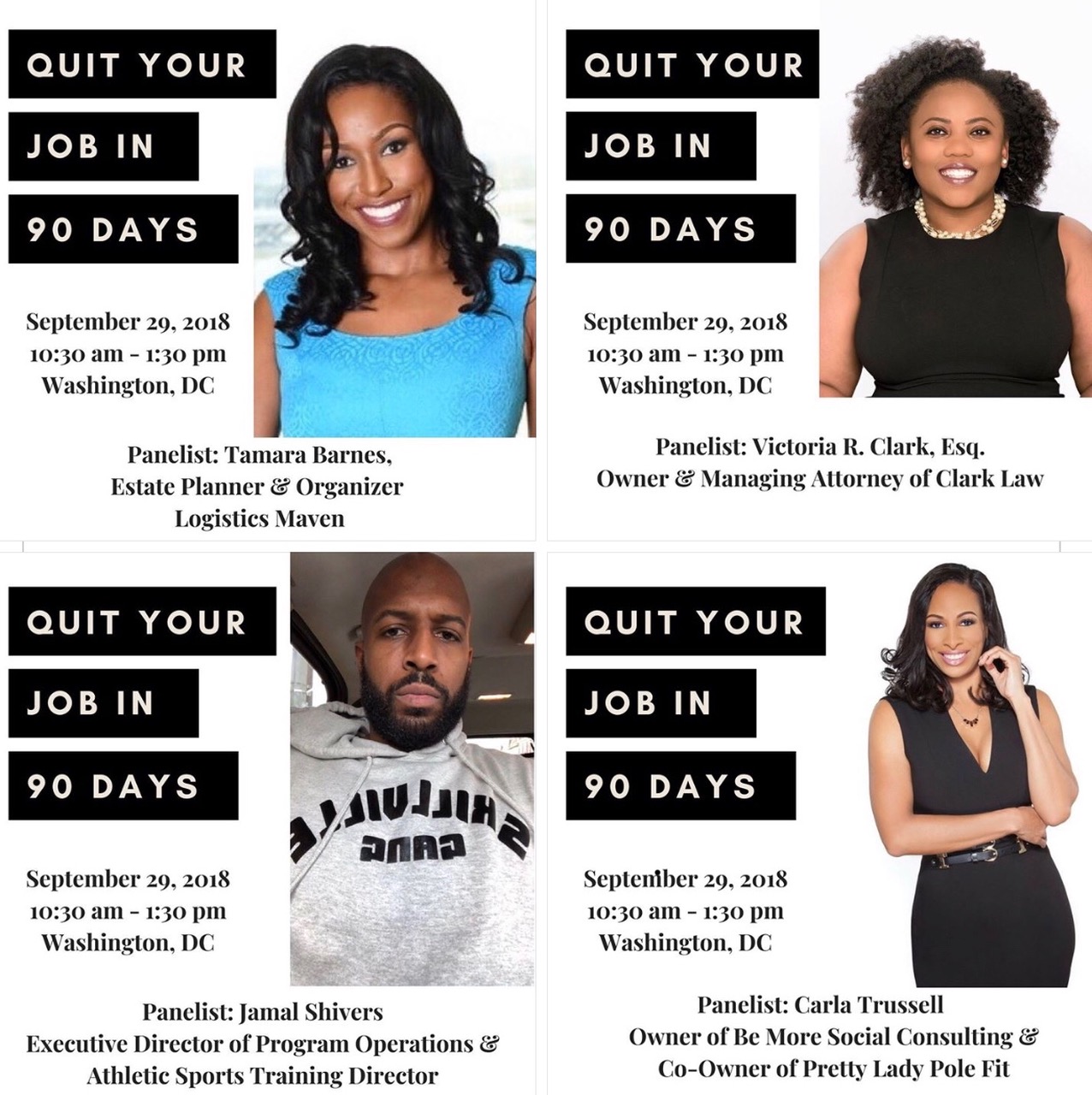 Quit Your Job in 90 Days Tour, is a women's empowerment workshop series designed for women in pursuit of finding their purpose, following their dreams, starting a new career or launching a business. Attendees will walk away with an actionable plan for leaving their current job in pursuit of a career more aligned with their core values and needs. Participants will also have an opportunity to hear from our Featured Speakers as well as a Panelist of subject matter experts in life/career coaching, marketing, business, health, and wellness services.
Includes
-Brunch
-Swag Bag
-Monthly Follow Up Business Conference Calls (subject matter experts in wellness, career and business services)
Panel Speakers
Tamara Barnes is a serial entrepreneur building her own empire while balancing her work as a Corporate employee for WR GRACE. Tamara launched her first business Sensual Desires in 2009. Sensual Desire is an online lingerie boutique designed to help women with their self-esteem. Then, Tamara launched TN Estate Organizer (formerly known as Mogul Logistic Solutions) which provide Family Care Plans, Debt Management, Retirement Plans, Life Insurance, Wills and Trusts.
Tamara also launched a life coaching service near and dear to her heart. Tammy B Coaching centers on veterans transitioning out of the military and entering the civilian workforce. Her main priority is to ensure our country's servicemen and women are trained for the road ahead when they retire or are discharged from military service.
https://www.facebook.com/mogullogisticsolutions
https://www.instagram.com/ceotamarabarnes
Victoria R Clark, Esq. is a Managing Attorney at Clark Law. Victoria is committed to pursuing justice for those in need and creating a fair and equal society for all. She accomplishes this in two ways: first through representing people accused of crimes and second through educating and engaging individuals and groups about important issues.
Victoria left her previous position in pursuit of her passion to launch her own law firm, Clark Law PLLC. She is committed to helping entrepreneurs realize their dream of owning their own business and advising them through any challenges that may arise. She helps entrepreneurs navigate the legal processes necessary in order to be successful. This includes setup, contracts, intellectual property, and other needs.
https://www.instagram.com/rayelle_esq
https://www.twitter.com/rayelle_esq
Jamal Shivers is a professional basketball development trainer/coach and a former professional basketball player, who has worked with players at all levels from grassroots to pros. Coach Shi is known around the DMV for his skills, drills, and original training methods. Based in Washington, DC area, players from around the DMV and a number of adjacent states travel directly to Coach Shivers for private training or just to attend camps and clinics where he's an instructor. In fact, Coach Shivers has hosted players from all over the USA and Canada working as a skills training/instructor at a number of National level events.
Coach Shivers is best known for players' skill and game enhancement which is best described by his innovative approach, using and leveraging "creative out of the box" methods to artificially simulate game for players. As a hard worker and dedicated trainer/mentor Jamal Shivers has continued to push and challenge himself with working a number of individual college and professional players in addition to Elite and Highly skilled camps. Coach Shivers not only provide training services but he manage camps in a Lead Directors role at High Profile Basketball Skill camps such as Portsmouth Invitational, Under Armour NEXT/Combine/Grind Session, DMV Elite , Middle School Elite, PAT.
https://www.instagram.com/shooterslife

Carla Trussell is the co-owner of Pretty Lady Pole Fit and owner of Be More Social Consulting. Carla is what some would call a serial entrepreneur with extensive knowledge of business development, strategic planning and social media marketing for small businesses. Carla opened her first business over 20 years ago and once she was bitten by the entrepreneurial bug she couldn't get enough. As a former Senior Scientist and Analyst Carla knows the hard work and dedication required to make any organization a success. Because she understands that time is precious and it should be spent "doing what you love", Carla left her six-figure job over two years ago to pursue her passions! She now juggles being a busy mother of two while being a full-time entrepreneur.
https://www.instagram.com/be_more_social
https://www.facebook.com/bemoresocialconsulting
https://twitter.com/BeMoreSocialNOW


Hosted & Moderated by Tiffanie Luellen, Owner of Jaiona's Yoga Closet and Author of 60 Affirmations & Reflections For Entrepreneurs. As a Former Accounting Manager and a Licensed CPA, Tiffanie Luellen is a multi-faceted professional and strategic visionary. After collecting a diverse set of professional experiences, she recognized that the solution to stability in one's professional and personal life was yoga and meditation. This realization prompted the creation of Jaiona's Yoga Closet, where Tiffanie's mission is to enhance the overall health and well-being of her clients through body awareness, breathing techniques, and yoga postures. Through yoga and meditation, she became aligned with her purpose and aspires for her clients to achieve the same. Prior to leaving Corporate America, Tiffanie created and followed a 90 Day Action Plan and Exit Strategy. Her intention is to share her insight with others in pursuit of a more aligned and meaningful career.
https://jaionascloset.com/
https://iamzetajoel.wordpress.com/2017/06/16/tiffanie-luellen-left-corporate-america-and-became-a-certified-yoga-instructor/
Email:jaionascloset@outlook.com
Instagram: @jaionas_closet_yoga
Facebook: @JaionasYogaCloset