Description
A Happy Healthy Women Special: Learn Exactly What Cherene Did to Get More Clients and Transition into Full-Time Business
How I Jumped from the 9 to 5 into My Full-Time Coaching Business Making $5000+ per month in less than 6 Months
*******Register Before October 1st, 2016 to Get a 30-Minute Bonus Laser Coaching Call with Cherene, so You Make the Quantum Leap!******

Can you believe that in less than 6 months I managed to quit my job and earn a full-time income while juggling a 1-year-old, being pregnant with my second baby, and taking care of my ill mother!
I bet you can imagine the pressure and fear I experienced in starting and maintaining my image transformation business. But I made the jump and it has already started to give me the life I desire.
Have you been struggling to make the jump from your dreaded full-time job into the business of your dreams?
You want to:
• Start making a full-time income and finally quit your job.
• Have more time freedom and flexibility to do what you love, spend more time with family and enjoy life.
• Turn your talent or hobby into a profitable business that can pay your bills and support your lifestyle.
• Scale your business to make a passive income, so you don't have to work around the clock.
But currently you're experiencing:
• The feeling of fear and the threat of failure. How can you know for sure your business will work?
• You don't see how to get consistent clients and sales, and you fear the uncertainty of entrepreneurship.
• You hear the negative self-talk of your partner, family members, co-workers and even yourself. "You can lose everything! What are you doing?"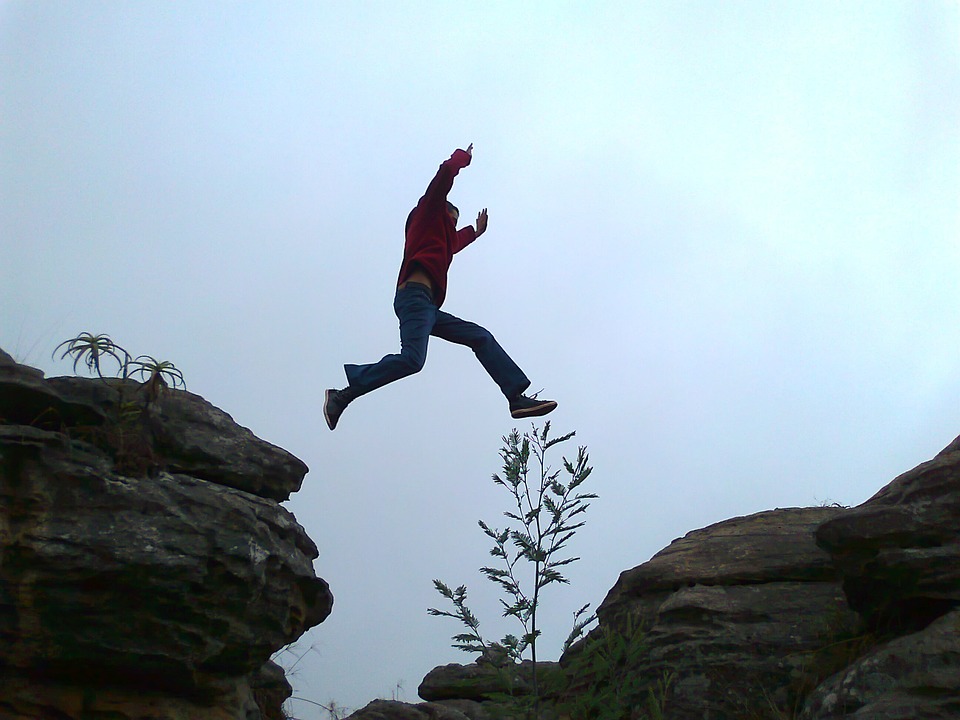 The Great Entrepreneurial Dilemma
Quite frankly, it seems like you're committing suicide if you leave your comfy job.
The nay-sayers around keep asking, "Are you out of your mind?"
Whether these voices are in your head or actual people around, in a sense they are right.
If you think YOU CAN'T DO IT, you're right. You can't.
But if you think YOU CAN DO IT, you're also right too.
The BIGGEST FEAR for Entrepreneurs is Failure. What if you take the leap across the chasm and fall into the pit? What if you quit your job and fail. You can lose your healthy salary, benefits, and security of the biweekly paycheck.
I can totally relate to you. When I was working my 9 to 5, all I could do is think about how I can quit my job and sustain my business.
I had a 1-year-old and a new baby on the way! Seriously? And I want to quit my job and go into my business full-time?
How can you make the transition within the next 3 to 6 months? How can you make the jump?
Once you get bit by the entrepreneurial bug, all you can do is obsess about how much YOU NEED THIS. You are willing to do ANYTHING to make it happen.
"If you think you can do a thing or think you can't do a thing, you're right."
- Henry Ford
Is 2017 the Year You Quit Your Day Job?
The game changer for me, was when I decided that I was not going back after mat leave to my 9-5.

I pledged that I would do whatever it takes. Wake up early. Meditate. Pray. Make cold calls and sell if I had to!
Luckily, I didn't have to go door knocking or make annoying calls to strangers.
All I needed to do was something that most business advisors wouldn't tell you up front.
The usual advice is to just "get business cards," "get a website," and "go networking ."
But I had been doing all of those things since I founded my business and 3 years later, I still wasn't making the money I needed to leave my job!
I soon found out that it wasn't about WHAT I needed to do to meet my goals.
It was about WHO I needed to become to be successful.
I needed to WORK ON MY MINDSET FIRST!
The Mindset Breakthrough that Changed Everything
After I decided that I was going to DO ANYTHING to make my dreams happen, it was like my prayers were answered.
I'm networking one day and someone hands me a FREE ticket valued at $150 to a full day networking event and transformational women's event.
And then, of course, when I go to that event, I win a $350 ticket to a business leadership seminar.
And that my friends, changed my life!
All they spoke about was MINDSET, how a successful CEO behaves and how to GUARANTEE MY GOALS.
I was totally floored....and changed for good.
Half way through that seminar, I closed my first $5000 client.
"This stuff works," I said to myself. And so, I signed up for more personal development.
Over the next 12 weeks, I am immersed in a quantum vortex that totally rips every limiting belief that was preventing me from transitioning into a successful business.
Would you believe that after all that mindset work that I closed my first $12,000 month?
Yes!! I kid you not!
I went from making $2500/month or less to making $12,500 in one month!
And all I had to do is UNDERSTAND HOW MY BRAIN WORKS and see the SCIENCE OF SUCCESS.
It's Your Turn to Breakthrough
I invested over $20,000 to experience my breakthrough. And to be honest, I am investing thousands of dollars into my personal development and mindset now because I know that PERSONAL DEVELOPMENT and MINDSET is THE KEY TO BUSINESS SUCCESS.
As a friend, fellow entrepreneur, successful mother, wife, and woman in business, I want to share with you EXACTLY WHAT I DID TO ACHIEVE MY SUCCESS and MAKE THE LEAP.
I know the personal struggle of being an entrepreneur and making money.
I know what it's like to feel unfulfilled and even ashamed to live in your mediocre day job.
And now I know the answer...
I'm Going to Share With You Everything I Did to Quit the 9-5 and Get High Paying Clients in 6 Months or Less
A heart to heart conversation about EXACTLY WHAT I DID to make the leap into a successful business.


YOU WILL LEARN:
- The techniques I used to blast out every limiting belief, so you can get your goals FASTER: Get to the root problem on the deep unconscious level that is keeping you from not getting enough clients to have a successful business. Find out what Mind-Body techniques I used to blast them out.
- Get UBER CLEAR on your Ideal Client and how to attract them into your life: Stop over complicating the process. I used a VERY clear system that helped me connect to my ideal client, who actually pays me what I'm worth.
- Learn the Actions that Get Results: There are ONLY 3 THINGS I do to market myself and turn prospects into clients. The rest is all gravy. No more fluffy wandering around at networking events or on social media. Get the essentials!


THE RESULT: WHAT YOU GET WHEN YOU'RE DONE
- A super clear, step by step road map on how you will transition from your current day job into a sustainable business.
- A daily ritual to keep you focused and at your peak state to create your desired results.
- The confidence to jump into fulltime business so you can finally fulfill your dreams, have more time for the people and things you love and be fullfilled.
Breakthrough into Business VIP Day

Date: Saturday, October 15, 2016
Time: 10 am - 4 pm
Location: 3 Delta Studio at 180 Shaw Street, Unit 207 in the Artscape Young place, Toronto, ON M6J 2W5
Investment: $197 +HST
*******Register Before September 30th, 2016 to Get a 30-Minute Bonus Laser Coaching Call with Cherene, so You Make the Quantum Leap!******
About Cherene Francis
Cherene Francis helps female entrepreneurs book high paying clients so they can achieve more money, success, and personal fulfillment. She is a Personal Transformation Expert, Business Success Coach, and Motivational Speaker who specializes in success psychology, personal branding, and advanced persuasion techniques. She is an Internationally Board Designated Practitioner of Neuro Linguistic Programming, NLP Coaching, and Hypnosis with a whole bunch of tricks up her sleeve with background in Religious Studies, Philosophy, Acting and Image Consulting.
*********Register Before October 1st, 2016 to Get a 30-Minute Bonus Laser Coaching Call with Me, so You Make the Quantum Leap!********