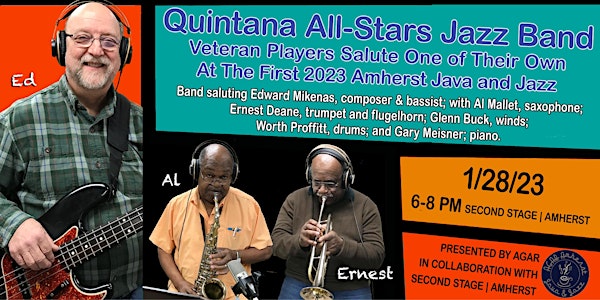 Quintana All-Stars Jazz Band: Celebrating One of Our Own
"We play a lot of jazz by others," says Ernest Deane, Quintana All-Stars' trumpet player. "It's time to salute Ed Mikenas, one of us!".
When and where
Location
Second Stage | Amherst 194 2nd Street Amherst, VA 24521
Refund Policy
Contact the organizer to request a refund.
Eventbrite's fee is nonrefundable.
About this event
On January 28, 2023, from 6 to 8 pm at Second Stage|Amherst, corner of 2nd and Washington streets in Amherst, the Quintana All-Stars will salute the work of Edward Mikenas, composer, vocalist and bassist for the group, whose original compositions will form the core of the concert. "We play a lot of tunes by other people," said Ernest Deane, artistic director of the group; "I thought we should play some really good songs by one of our own."
The Quintana All-Stars Jazz Band was formed late in their careers by Al Mallet, saxophonist, and Ernest Deane, who plays trumpet and flugelhorn for the group. These two have been playing together since the 1950s, when they attended Dunbar High School in Lynchburg. Mikenas said he has been playing with Ernest Deane since 1989 when he first moved to Lynchburg, and that he met and heard Worth Proffitt, youngest current band member, before then when he lived in Augusta County. "I like to say that we are the oldest living jazz group in Greater Lynchburg," says Mikenas, who has played bass with the group since 2016. The other current band members are Glenn Buck on winds, Worth Proffitt on drums, and Gary Meisner on piano.
Mikenas was brought up in rural Northern New York State and graduated from SUNY Potsdam with a BS in music education. He also has a Master's degree in Music Performance from the Manhattan School of Music, NYC. As a studio musician based in NYC, he toured with Skitch Henderson, Larry Elgart, Jay and the Americans, Scarlet Rivera, Esther Phillips, and the Alive Company. And he played venues that include Saturday Night Live, Carnegie Hall, Madison Square Garden, the Apollo, the Felt Forum, the Spectrum, and the Troubadour. Mikenas played in the orchestra pit for "Grease," "Pippin," "Godspell," and "The Magic Show" on Broadway and was a musician and actor off Broadway with the La Mama Experimental Theatre. He taught bass at Radford University for 19 years and now, when not composing or playing his own work, serves as adjunct Bass Professor at the University of Lynchburg, coaches a jazz ensemble at the Virginia Episcopal School, and is Organist and Choir Master of Amherst Presbyterian Church.
Among the songs featured at the Amherst Java and Jazz performance will be "Too Much," which was written in 1999 and dedicated to the memory of the late Henry Powell, a member of Piedmont Jazz and a teacher in Lynchburg. Mikenas says that Powell's favorite expression of appreciation was "That's Too Much;" so he wrote this song as a memorial for Powell for Ernest Deane to play on Flugelhorn.
Several pieces by Mikenas reference cooking and food. He says, "Early jazz parallels the kitchen. We say the band 'cooks' or that a group is 'hot' or 'smoking,' My tune 'Smoothie' refers to an old-fashioned candy bar, and I wrote 'Light and Crispy' as a salute to my wife Lu Ann, one day after she made some killer waffles for breakfast!" Opening the show will be "Terry's Groove," composed by another Quintana All-Star, Gary Meisner, a pianist, and arranger who arranged for the Hal Leonard Music Publishers in New York for about 40 years. Rounding out the concert are works of Charles Mingus, Tommy Wolf, A. Dubin, and Harry Warren.
Tickets are $12 for adults and $6 for students at the door (cash and checks only). Tickets may be purchased now via credit card from Eventbrite; there is a link to the site on AGAR's website at AmherstGlebeArtsResponce.org. Admission includes a free coffee or soda from Baine's Books & Coffee, which is located in the building. Food can be purchased from Baine's as well.