| | |
| --- | --- |
| Quinnie's Kitchen Learn & Dine: Eat Your Greens & Things | |
Event Details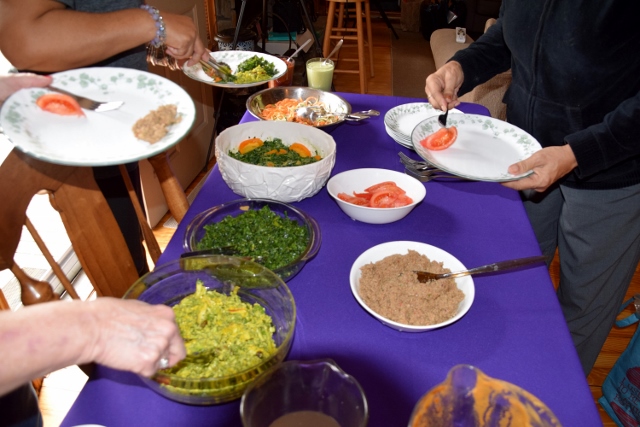 Learn & Dine is a fantastic class for the beginner chef or anyone wanting to incorporate food with the highest nutrient contents into their lifestyle that taste good and is good for you.
In this hands-on class will help prepare a dish and you'll also get to dine on the food we lovingly prepared as a group.
Learn & Dine Highlights:
Learn how to make 3 raw living sauces that will transform any dish into an amazing delicacy that will make you want to "eat your veggies".

Sweet & Spicy Greens

Sunflower Red Pepper Hummus

 Sunflower Taco Pate

Vegetable Pasta with Chuncky Marinara Sauce

Curried Brocolli Salad

Yummy Stuffed Collard Rolls

Nutritional benefits of a plant-based diet.

Smart Tips that will help you transform your health for life.

The difference between healthy food and food that is bad for you and why changing what you eat now can change your life.

The best kitchen equipment to get the job done fast and so much more

How to use common kitchen appliances making preparing raw foods quick and simple.

Learn how to incorporate medicinal spices into every meal that is scientically proven to reduce inflammation, immune function and imbalances. 
Class Description:
Nourish your body with rejuvenating plant-based dishes.  Join a group of like-minded individuals  exploring the art of preparing raw living plant-based and limited cooked foods that are  nutritionally healthy and tasty.   The two (2) hour class is a great starting point for introducing you to the art of making delicious easy-to-make plant-based foods as well as educating you on how they can prevent and reverse chronic diseases.  Additionally, the course is designed for those who are curious about or new to Raw Foods.  The Raw Food lifestyle does not have to mean living on salads, energy soups, and fruits.  Learn new ways to incorporate more Raw foods into your diet. .  You will walk  away from this class with an understanding of the basics of Raw Food and will be able to apply the knowledge you have learned.  Begin making gourmet Raw Food meals for yourself and others.  Prepare your taste buds for mouth-watering main dishes and entrées delight.   
You will leave the class with your very own purely delicious  dine in or take out meal,  recipes, suggested grocery lists, and a list of recommended kitchen gadgets  to help you prepare your plant-based meals.  
FEE:
One Person: $  64.99                                           
REGISTRATION INFORMATION:
Class size is limited, so please register in advance!
If someone cancels their registration within 24 hours, they may reschedule or apply the purchase value to another Healthy Raw and Cooked Food Preparation Class.  The American Clinics of Preventive Medicine (ACPM.NET) does not offer refunds.
Register Below or Call Today to Pay-By Phone
Would you like to have a plant-based cooking and raw food preparation class in your home for family and friends?    Click Here!
CLASS INFORMATION:
Class Level: All levels
Age Requirements:  18+ (unless special arrangements are made in advance with the Nutrition Coach.
Average Class Size: 10
Here's a class review from Dana:
Omg!! Yesterday, I attended class on preparing and eating raw! THE absolute best $45 I have spent in YEARS! Nothing could have told me that I would prepare, eat and most importantly LOVE, raw food. If you think you cannot eat without meat and enjoy the meal, you have another think coming! You have to try this for yourself! I cannot yet attest to the many benefits of a raw diet, but I can absolutely attest to the fact it is delicious! I am sick of wondering what I am going to "Cook" for dinner! So, I am challenging myself over the next 30 days not to "COOK" dinner and implement a RAW diet! I am excited and will post my progress! Thank you 

Quinnie Cook-Richardson and Dr. Richardson for opening my eyes and palate. Dana W

.
Join Quinnie Cook-Richardson, a certified Life/Nutrition Coach, Vegan and Raw Food Chef for all
 of her Green Living Training courses.  This Nutrition Education Series will teach you how to prevent and reverse many chronic diseases such as high blood pressure, heart disease, cancer, stroke, and diabetes through healthy eating.
When & Where

American Clinics for Preventive Medicine
1343 Terrell Mill Rd. Ste. 100
Marietta, GA 30067


Organizer
Quinnie Cook-Richardson of ACPM
Quinnie emphasizes a holistic approach to health and wellness with a focus on healthy lifestyle choices such as nutrition. She is health conscious, a certified Life Coach, a vegan and raw food chef and has been cooking and preparing high nutritional plant- based foods for her family and friends for over 20 years.  You will find her to be friendly, experienced, and extremely knowledgeable. Known for creating fun and engaging workshops to assist all in making transformational lifestyle choices, Quinnie incorporates the wisdom of healthy nutrition and more.
Enthusiastic about living a healthy and vibrant life and inspiring others to do so too, Quinnie is very familiar with the challenges and pitfalls that you may encounter as you try to embrace a healthier lifestyle.  Furthermore, as a mother of six (6) children, she is able to share recipes the whole family will enjoy. She will demonstrate and tell you about different recipes or basic and gourmet plant-based meals. You will love her Raw Banana Pudding and Raw Apple Pie.
In addition, Quinnie joyfully prepares vegan and raw preparation demonstrations and cooking classes for home-based parties and corporate events. Quinnie is committed to helping people find a path to optimal health and vitality.
Quinnie's Kitchen Learn & Dine: Eat Your Greens & Things