QUINN XCII - LIVE IN OAKLAND AT THE NEW PARISH!

Thursday, March 22, 2018 from 7:00 PM to 11:00 PM (PDT)
Event Details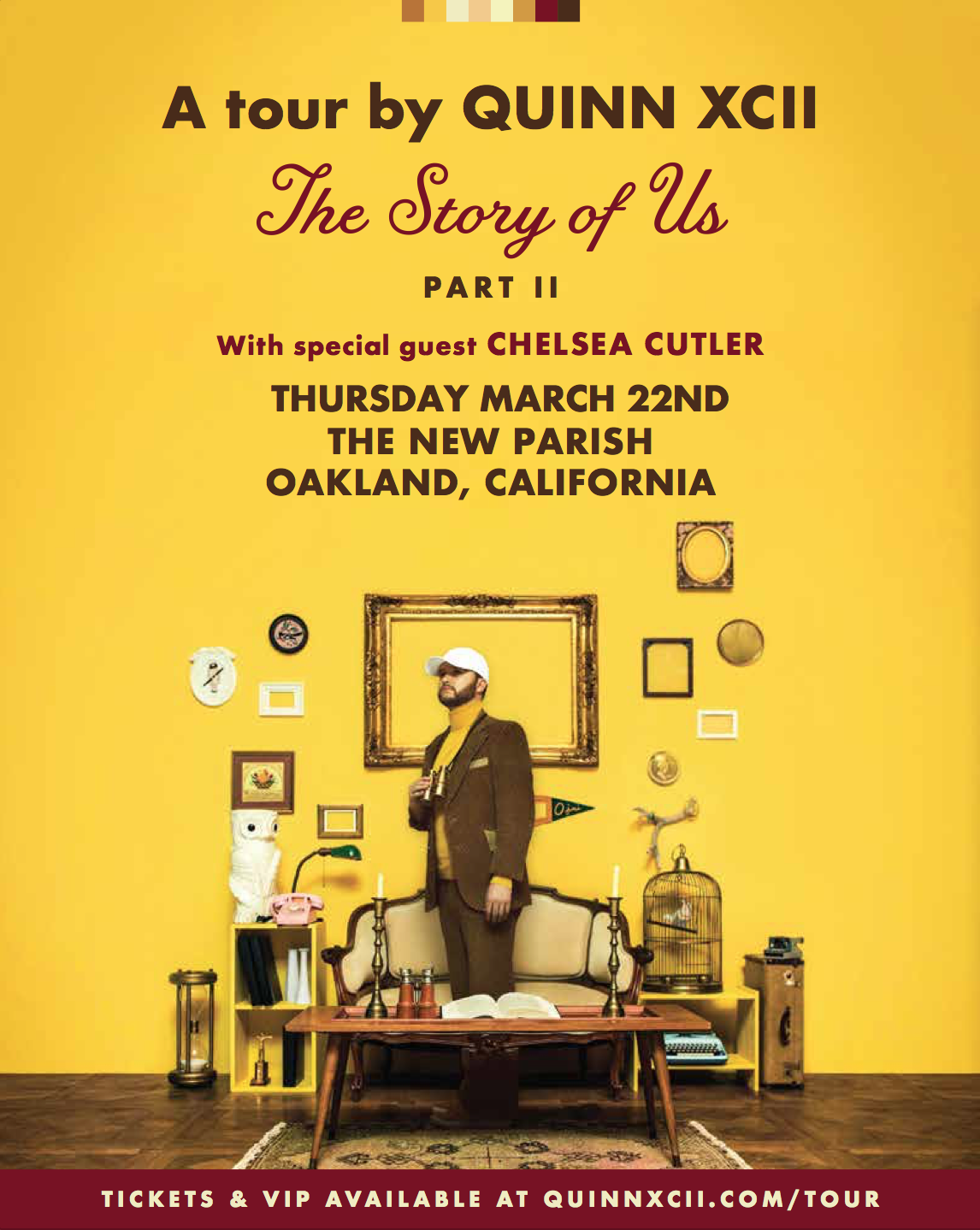 DJ DIALS PRESENTS at the NEW PARISH
THURSDAY, MARCH 22ND.
QUINN XCII LIVE!
with special guest:
CHELSEA CUTLER
all ages show.
On Sale 1/5/2018 at 10am
QUINN XCII
2017 has been a breakout year for the newcomer Detroit singer/songwriter, Quinn XCII.  With his ability to seamlessly blur the lines between pop, electronic, hip-hop, and soul music, he has quickly paved his own lane with his unique sound.
 An early mixtape release turned heads, but it was his debut EP Change of Scenery, released in 2015, that put Quinn XCII on the map, connecting with the blogosphere and snaring millions of online streams. His follow-up EP release, Bloom, cemented his ability to meld styles and write about more varied subject matter. Next it was his featured vocals on "Kings of Summer", a collaboration with longtime friend and producer ayokay (with whom he also exclusively worked with on his first two EPs), that started to bring him to the mainstream. The song became the sleeper summer hit of 2016, reaching #1 on Spotify's Global Viral Charts, #1 on HypeMachine, accumulating over 65 million plays on Spotify, and getting regular spins at Top 40 radio around the country.
 Quinn XCII's debut album The Story of Us, was released on September 15 via Columbia Records.  The album debuted at #6 on iTunes' Pop Chart and is led by his standout single "Straightjacket," which was named SoundCloud's "Song of the Month" and has accumulated more than 23 million streams on Spotify.  After selling out his entire 28-city national headline tour this Fall in support of the album, he will kick off 2018 by touring the album throughout Europe and across North America again this Spring.
CHELSEA CUTLER

A lot has changed for Chelsea Cutler in a year.  The 20-year old singer, songwriter, producer has come a long way from recording songs in her dorm room as she releases her debut EP.
 Chelsea started playing music at a very early age (she learned piano, guitar, cello, and drums by the time she was 10), but it wasn't until high school that she found a lane for her own sound as an artist.  She began uploading unique acoustic covers to Soundcloud, where she'd blend a medley of songs from different genres, carried by her dreamy voice which has the ability to grab the listener immediately. The covers quickly accumulated hundreds of thousands of streams and caught the attention of major blogs and artists.
 Shortly after, she wrote and recorded her first original songs "Wake Up" and "Anything For You" in her bedroom, which showcased her inapt writing ability.  Though it was her next single, "Your Shirt", that quickly brought Chelsea into the spotlight.  The song has garnered over 25 million Spotify streams to date, and went on to become the lead single from her self-written and self-produced debut EP, Snow In October, released on October 6.  The EP, which also features follow up singles "You Make Me" and "Sixteen", helped solidify her place as one of the most exciting emerging artists of 2017, being named part of Refinery29's "Next Generation Of Music Superstars" and cosigned by MTV.
The momentum already continues into 2018, as she will start the year on her first national tour supporting Quinn XCII, who she has collaborated with on the infectious stripped-back track "Giving Up Ground" from her EP, and the buzzing new single "Flare Guns" off Quinn's debut album.  In addition to these collaborations, Chelsea has also lent her vocals and writing on songs for Louis The Child, Adventure Club, Chet Porter, and ayokay.