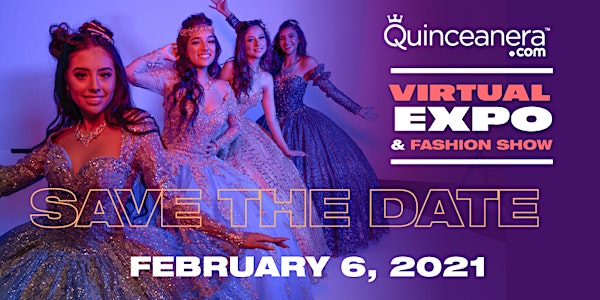 Quinceanera.com Virtual Expo & Fashion Show SFV
Check out our 1st Quinceanera.com Virtual Expo of 2021 for San Fernando Valley!
About this event
FREE VIRTUAL EXPERIENCE
VIEW NOW AT QUINCEANERA.COM/SFV-VIRTUAL-EXPO
Join us as we convert our annual expo events into a one-of-a-kind virtual experience.
Each session will be specially organized to answer all of your XV questions as well as provide useful tips and ideas to make planning easier for you and your familia. 👨‍👩‍👧‍👦
SAVE THE DATE February 6th, 2021 from 10:30AM-3PM, we'll be going LIVE on Quinceanera.com.
We'll be having an entire day dedicated to all of your needs! Expect LOTS of FUN, access to countless businesses in the events industry, a fashion show with the newest & trendiest dresses, giveaways, and more!
PLAN YOUR PARTY WITH XV.COM
Shop numerous Quinceañera vendors all in one place. Save time comparing party planning services and take advantage of our expo discounts!
Find gorgeous Quince dresses, venues, invitations, party favors, video & photography, transportation, travel packages, cake and catering services, and more in the Greater Los Angeles area!
For any questions about the expo call us at 855-491-1435
INTRODUCE YOUR PRODUCTS AND SERVICES AT THIS EXPO!!!
Promote your business at the #1 Quinceanera Expo in world with our Vendor Booth Options!
Questions?
Call (323) 278-5310 or email sales@quinceanera.com.
Register Now!
Stay in the loop following us prior to this awesome event!
www.Quinceanera.com
Facebook.com/QuinceExpo
Instagram.com/Quinceanera
YouTube @quinceaneraexpo
Snapchat @QuinceExpo