About this Event
During these challenging times, collective healing has never been more important and more absent from our culture. Please join us at the Gowanus Dredgers Boathouse on October 30th from 5pm-8pm to change that, as we celebrate 'Dia de los Muertos'. Together, we'll build a community ofrenda, or alter, and offer photos, keepsakes and memories of loved ones who have passed.
Tickets for the event range from $15-$35 for a ticket with a custom mask made by designer Scarlet Moreno, and a themed beverage. Similar to the mask offered at "Quince" but made especially for this event. All of the ticket sales will go directly to paying the artists involved in the event, and any remaining funds will go to the future production of "Quince" in Los Angeles 2021. Sliding scale tickets will be made available at the door, no one will be turned away for lack of funds.
Please note this is an outdoor event, and a properly fitted mask must be worn for admission. We will be following all city and state guidelines for outdoor arts and entertainment gatherings.
We are thrilled to partner with Domingo Comms for this event and officially kick off a series of programming for Ellie d'Eustachio's debut solo exhibition 'Made by Ellie' at the Gowanus Dredgers Boathouse. Read more about this event in the PR release below.
----
Domingo Comms is proud to announce the first in a series of program- ming for Ellie d'Eustachio's debut solo exhibition 'Made by Ellie' at the Gowanus Dredgers Boathouse. The 'Dia de los Muertos' event on October 30th from 5pm-8pm will welcome director Ellpetha Tsivicos and writer Camilo Quiroz-Vazquez of the New York Times and American Theatre reviewed production Quince.
Quince marked the first live theater event in NYC during the pandemic and took place at the People's Garden in August, co-produced by 15-year-old Brooklyn theater ensemble The TEAM. An outdoor, immersive comedy, the play concentrated on a queer Mexican-American girl confronting her sexuality, family, and religion, on the eve of her Quinceañera. The show played to a socially distanced audience and the team distributed 200 handmade Quinceañera themed masks by Tejana artist Scarlet Moreno, which will be made available again in limited quantities for purchase with a ticket at the October 30th Boathouse event. The performance was covered by the NYTimes, Washington Post, American Theatre, Playbill, Token Theatre Friends and Broadway World in the months that followed.
The event will feature an outdoor 'Dia De Los Muertos' ceremony, during which Tsivicos and Quiroz- Vazquez will build a community ofrenda, inviting guests to bring photos and items, and share memories of those they've lost with the intention to offer a space for collective healing in response to the tremendous loss experienced as a country and global community this year.
The night will kick off with a conversation between Tsivicos, Quiroz-Vazquez, and d'Eustachio, who met while attending NYU together and began collaborating for "Quince", where Ellie created her largest creation, a crochet photo wall for the performance. They will discuss their experience creating a live performance during the pandemic; grief, celebration, and theatre and art as an act of protest, before beginning the ofrenda ceremony which will be built around a visual artwork created by the speakers. The event will feature music by Latin American band LaMarNYC, fronted by Colombian-musician Nilko Andreas, who performed during Quince.
----
Sobre Este Evento:
Una celebración del Día de los Muertos para celebrar el ciclo de la vida y la muerte, creación de una ofrenda comunitaria, música latinoaméricana en vivo, máscaras y más.
Durante estos tiempos difíciles, la sanación colectiva nunca ha sido tan importante y a la vez ausente en nuestra cultura. Para cambiar esto, les invitamos cordialmente a que nos acompañen este 30 de octubre en el Gowanus Dredgers Boathouse de las 5 a 8 de la noche a una Celebración del Día de los Muertos.
Juntos construiremos un altar u ofrenda comunitario donde colocaremos fotos y recuerdos para honrar a nuestros seres queridos que ya han muerto.Este evento será al aire libre y se requiere que todos los participantes usen un cubre bocas. Seguiremos todos los requisitos establecidos para eventos artísticos y de entretenimiento al aire libre de la ciudad y del estado.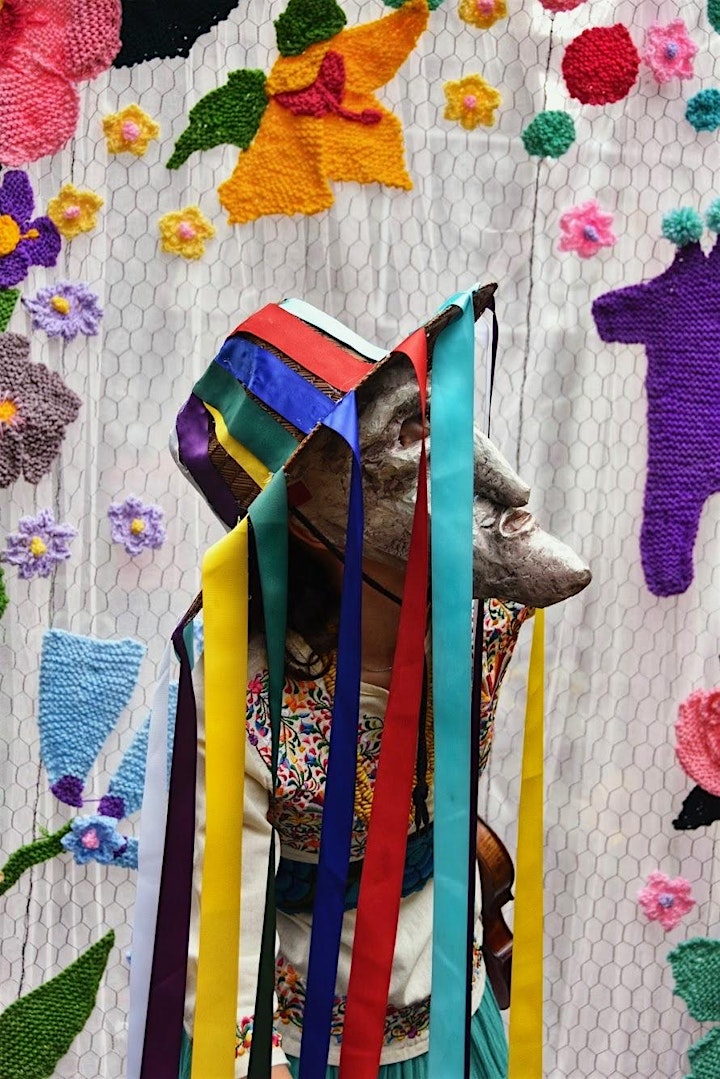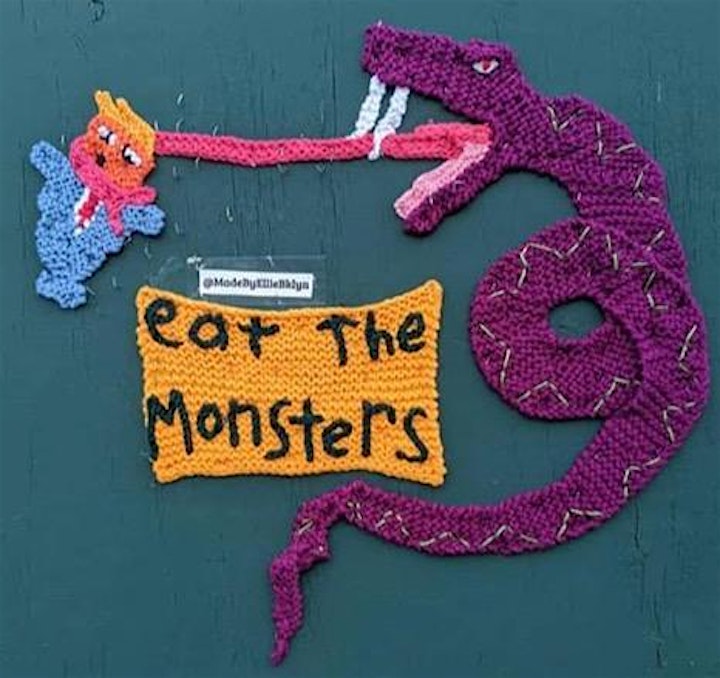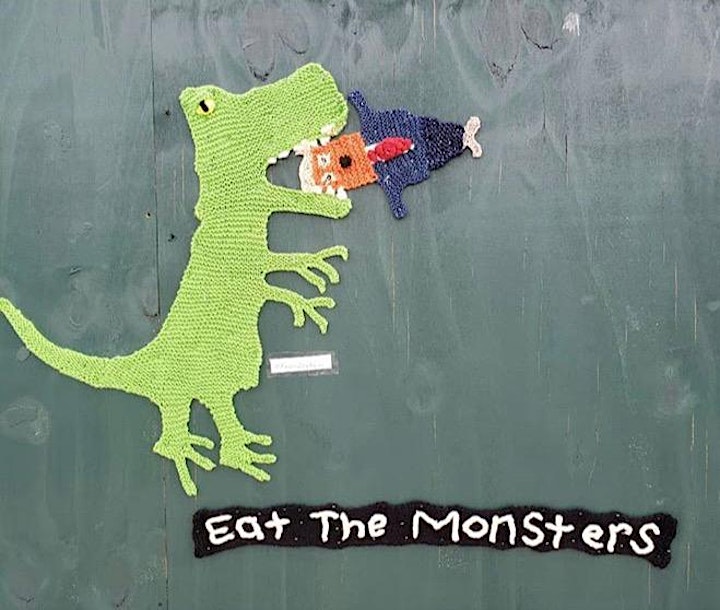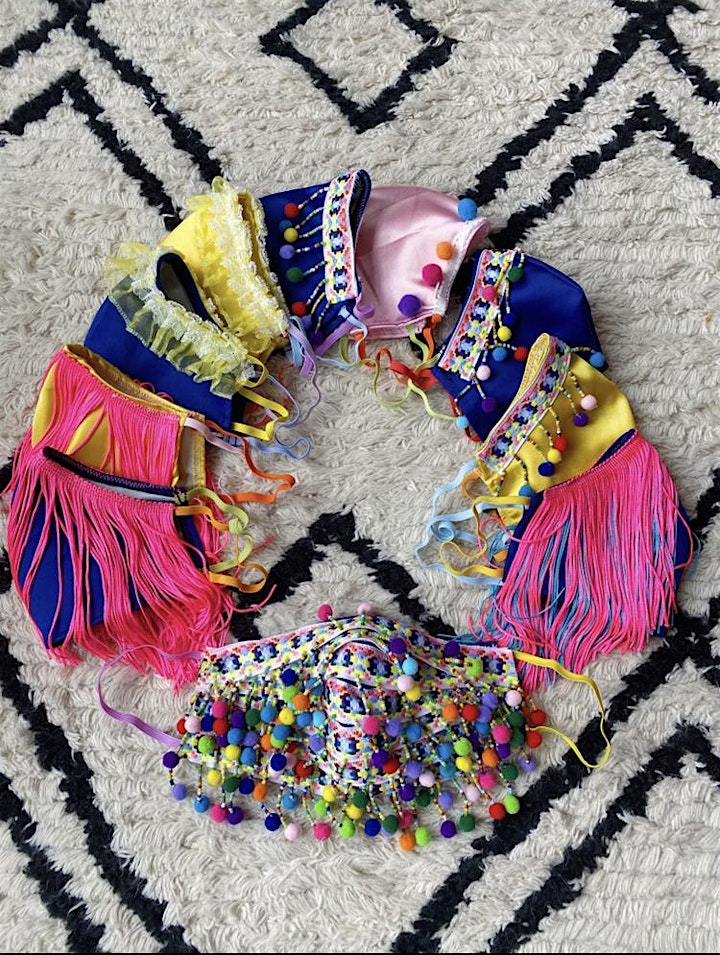 Crochet Photo wall by Ellie D'Eustachio for "Quince" photo by Catharine Krebs
Folk art by Ellie D'Eustachio
Custom Masks by Scarlet Moreno