Description
Who: You're Invited! Friends of Quilting!
What: A Dream Trip to Paducah, Kentucky
When: April 19th-25th, 2020
Where: Fly into Kansas City (MCI). Travel by Bus with a stop in Hamilton and other shops and then on to Paducah, Kentucky. Fly out of Saint Louis (STL).
Why: To Make Your Quilting Dreams Come True!
How: CLICK HERE ****** BEFORE BOOKING PLEASE CLICK HERE FOR AGENDA*******
At the beginning of a brand new decade, it's time to finally make your quilting dreams come true! We want to make your trip from Hamilton, MO to Paducah, Kentucky, everything you've ever wanted it to be. If you've wondered how to get from Quilt Town USA to Quilt City USA, let us help you. First of all, you'll fly in to Kansas City and then we'll take you on a fabulous week-long trip that begins in Hamilton, Missouri, at Missouri Star Quilt Co. You are welcome to fly into Kansas City early and stay at select hotels in the area at a discounted rate for Missouri Star trip goers.(April 18th)
https://hamptoninn.hilton.com/en/hp/groups/personalized/M/MKCATHX-MQC-20200418/index.jhtml
---
Beginning Sunday at 10am you'll travel by bus from The Hampton Inn Airport, Kansas City to Hamilton MO, home of Missouri Star, of course after we check out the local quilt shops along the way. While in Hamilton, you'll get the grand tour and see our 12 quilt shops, Jenny's Trunk Show, and take a trip to Amish country in Jamesport. (See the Agenda in the Sign up here link above for full agenda)
A few days later, you're headed to Paducah, home of the world-renowned Quilt Show!
Come join the quilting fun and you'll see plenty of beautiful sights along the way. All you have to do is step onto the bus, buckle your seatbelt, and we'll do the rest!
When the fun is over, we will finish up in St. Louis, MO and you can fly out of there! If you need a hotel for that night, you can book it at a discount here:
https://secure3.hilton.com/en_US/gi/reservation/book.htm?inputModule=HOTEL&ctyhocn=STLNPGI&spec_plan=MOQ&arrival=20200425&departure=20200426&cid=OM,WW,HILTONLINK,EN,DirectLink&fromId=HILTONLINKDIRECT


For Special Diets contact: meg@missouriquiltco.com
While you stay in Hamilton, the following will apply:
Meals - Lunch on Sunday til Breakfast on Saturday are included.
Snack Table - Snack Table - There will be a snack sharing table. Feel free to bring your own favorite munchies or drinks to share. There is coffee, tea, water, and ice available to you. If you have a favorite cup you like to use, please consider bringing it. (Retreat Center has all paper products.) Please be considerate to others and clean up after you use the kitchen.
Shipping - While shopping at Missouri Star Quilt Company, there is free shipping for all of our U.S guests who spend over $100 in the shops. International Shipping varies.
---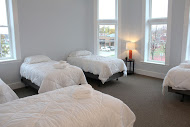 PLEASE NOTE:
Hamilton Sleeping Arrangements:
We will be sleeping at the retreat or similar locations based on occupancy from Sunday-Wednesday. All rooms are shared rooms. NO PRIVATE ROOMS in Hamilton.
Our sleeping rooms are on the second floor of the Retreat Center and are only accessible via stairs. They are shared rooms, configured in several different ways from rooms that have three twin beds, to a room that sleeps six. There are six individual, private bathrooms, each with a shower, toilet and sink, just steps away from the sleeping rooms that are shared by all the guests on the second floor.
We also have two sleeping rooms located on the main floor, each with two twin beds and its own bathroom. These are reserved for couples who choose to take the trip together.
On the Road Sleeping Arrangements:
Thursday- Saturday morn we will be at a hotel. Your ticket choice shows the cost of your ticket based on those options of bed at the hotel areas. Please read very carefully so you know what you are getting!
Ages 18 and over please.
Coming with a friend? We can do that! Contact me at meg@missouriquiltco.com to confirm sleeping arrangements!
WHAT TO BRING:

+ Your FUN personality, fun PJ's and creature comforts, Personal toiletries, blow dryer, ear plugs, easy to transport luggage.


REFUND POLICY: This is a NON-REFUNDABLE REGISTRATION. In the event that you register than are unable to come, you may transfer this registration to someone else.

QUESTIONS? Contact meg@missouriquiltco.com