About this Event
With a low volume of rhythm and beat, we gather to experience devotional honoring, a celebration of allowing, and our innate 'freedom to be.' Join us as we come together to hold a collective intention to cultivate a deeper relationship with the four energy bodies of Self – emotional, physical, mental, and spiritual.
Tap into your intuitive expression, inspired by the elements, nature's cycles + seasons, and the body's chakras. In sacred space, we move in circle with breath awareness and free-form intuitive movement. Each class will close with a guided stillness integration.
Magi combines her passion for sharing self-healing and self-awareness techniques with her love of dance and music. She brings a fun, lighthearted ease to this practice of self-appreciation and celebration of life. Magi encourages acceptance and allowance of wherever you are on your path. With a carefully selected playlist of multi-cultural music, the rhythms bring you on a cyclical journey, de-stressing from the day, focusing on the breath, warming up the body, exploring the connection between the chakras and elements, and closing with a rejuvenating final relaxation. With no steps to learn, Magi's suggestion of positive visualization stimulates creativity and imagination so you can allow your body to move to music with instinctual, intuitive action.
Only 6 spaces are available. Spots fill up quickly — sign up today.
Please arrive five minutes before class start time. Wear comfortable clothes with layers for warm up and cool down. Prepare to dance barefoot or in socks. Bring water to stay hydrated.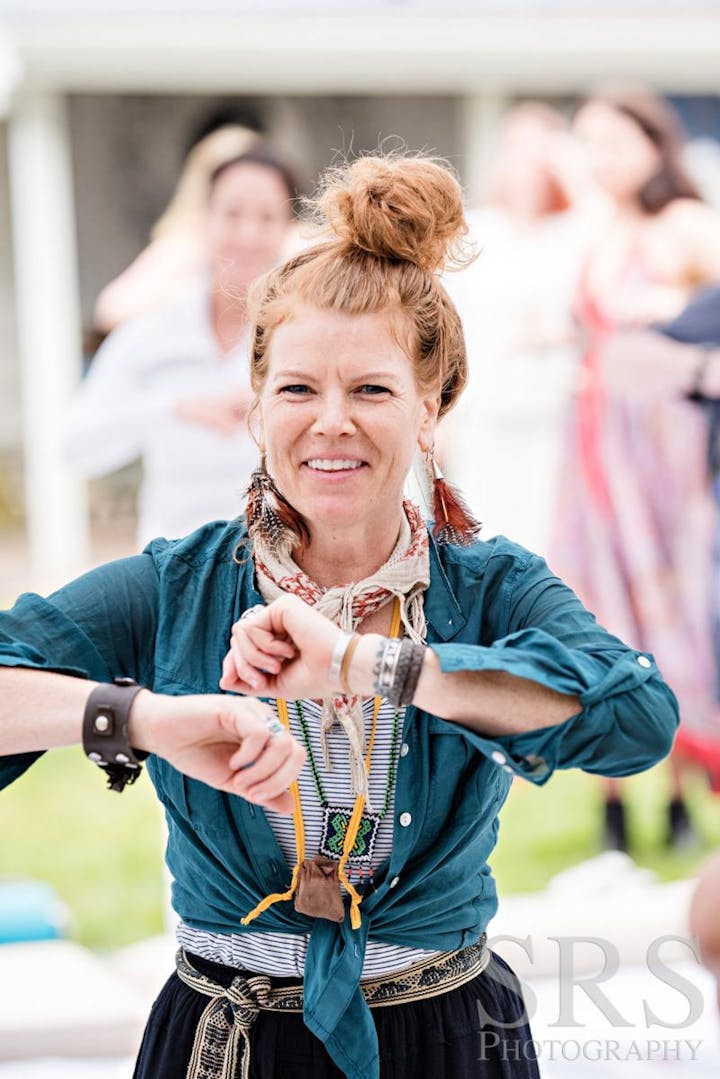 Meet Magi! Magi is a creative - an intuitive artist of motion. She is a dance facilitator, encouraging free-form and wellness through meditative movement.
A forever student of life, the Universe, the Soul, the nature of Spirit and the Self, Magi has a profound interest in many cultures and mysteries from around the globe. She is passionate about finding the links and commonalities as a map for healing and higher consciousness. Magi has 20+years of experience in inspiring wellness with the five main principles of Yoga: Proper Exercise, Proper Breathing, Proper Relaxation, Proper Diet, Positive Thinking, and Meditation.
Weaving an eclectic mix of other modalities, Magi brings to her offerings an emphasis and adoration of the uniqueness of Self.
"As individuals, we are all part of the whole. As Divine Spiritual Beings, when we raise our vibration by being our best selves, it is of direct service to the vibration of the collective." - Magi.