Quickbooks Class for Realtors, R.E Investors or Landlords. Confusion to con...
Event Information
Location
TBD Orlando, Kissimmee Florida Area
Address will be posted February 19, 2018
Orlando, FL
Description
* This Live! Seminar's regular price is $247, but for a limited time is being offered at only $147. Plus see bonus below for more value!
* This seminar is not for the desktop version. BETTER YET, It is for the latest version of Quickbooks ONLINE. This is not a regular boring class. We will have some music and exercise to seal or lock as much information as posible in you. It is a LIVE !!! seminar in Orlando, FL.
* This class is for Realtors, Real Estate Investors, New Entrepreneurs, New Business Owners, Individuals who are NOT accountants (however if your an accountant you are welcome) or any one who needs a real strong base understanding of how to use Quickbooks Online.
It is a class for those who have try to learn it or know some information, but have a lot of confusion, despair and have left it on the side for too long. It is for those who have been using QBO for a while, but do not truly understand the concept or are worry that the transactions posted may not have been posted accurately to show in the correct financial report.
* This Quickbooks seminar, Level 1, will empower and enable you to have clarity and equip you to fix or save yourself from the many mistakes people do when they first start using quickbooks. It will give you a strong base to grow from. As we all know, plants only grow dependant to the kind of ground it has. On this seminar you will not only learn Quickbooks and Bookkeeping, but you will also learn a lot of accounting, best entity to put your real estate investments and what is the best way to set it up for tax purposes. So together, lets stablished that to have an exciting 2018.
* We will use the story of Keith, who is a Realtor and Real Estate Investor, to post transaction to QBO, You will learn Bookkeeping, some accounting and what is the best entity to have Real Estate in to save taxes. I will explain in a simple and easy way to understand language, specially for those who have had a hard time understanding the concept. Every type of business will benefit from this class. Susan Karlic believes that,..."If having a stomach is vital to the body, so Bookkeeping is to your business"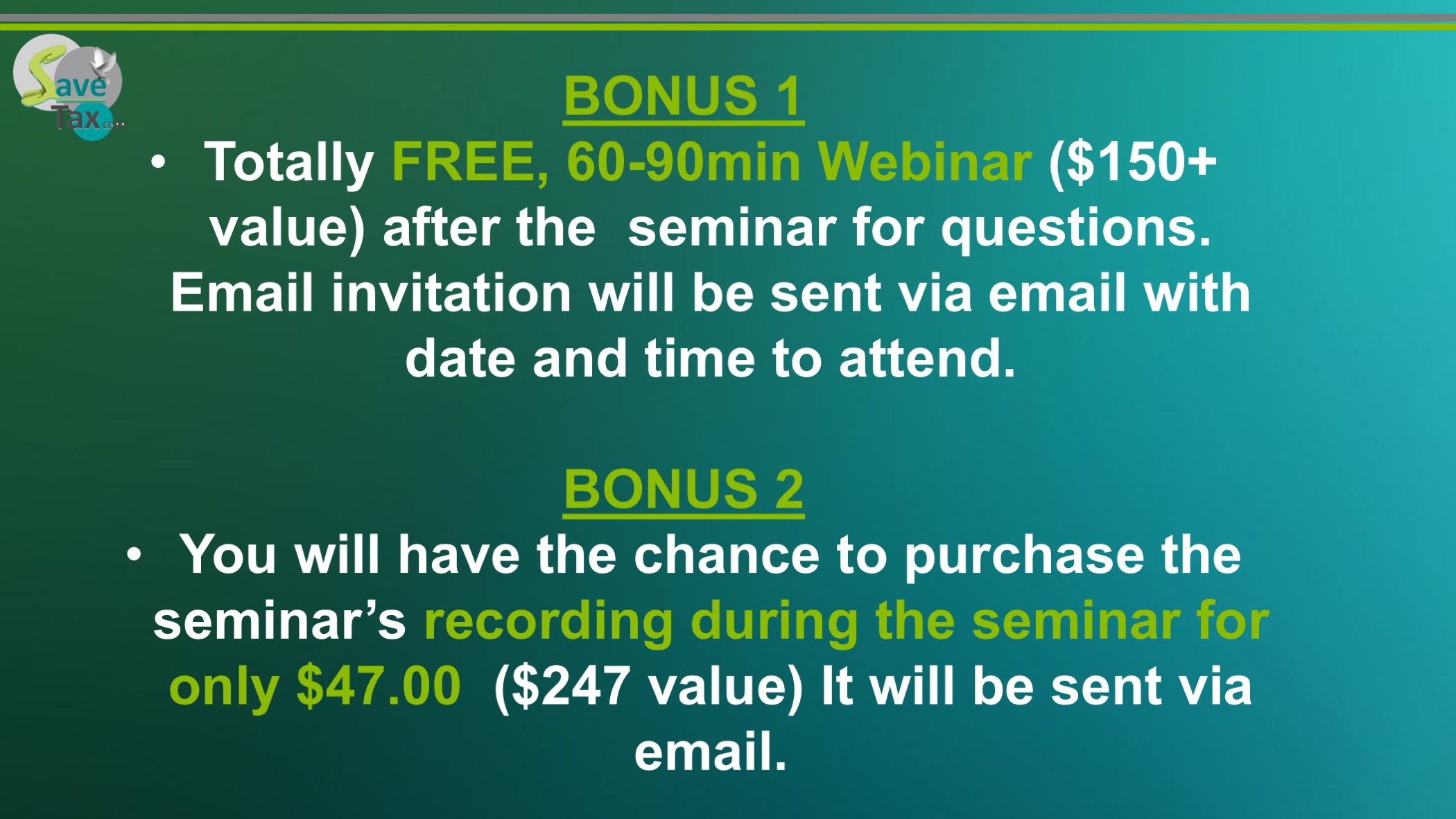 * At the seminar, you will have the opportunity to purchase the seminar's recording for only $47.00!!! ($ 247 value)
continue reading below for great news!!!
* Even more!!! you will received 60-90 min Webinar totally FREE! ($150+ value) after the seminar for questions that may arise after you start using it or to solve any challenges you may have after. An email will be sent to attendees with date and time after your purchase. Please email us your NAME, EMAIL and PHONE # to Ask@SaveTaxCorp.com for dual verification to ensure you receive the invitation.
What this class teaches Realtors and Investor
1. How to Set Up your QBO Account
§

LLC vs S-Corp

§

Passive/Ordinary Income

§

How many LLC or S-Corp

§

How many QBO accounts
2. W
here things are in QBO
§

Dashboard overview, + gear

§

Map or chart of accounts

3.

How to post your first cash investment in the business

§

To give your business life

–

Equity explained
4. How to open a bank account, credit card account and a cash account in QBO
§

Connect it to your bank

§

Balance each one

§

Post checks, expenses, income and other
5. How to post funds used for personal expenses
§

Payment to owner or shareholder

§

Know where to put it

§

Know your running balance
6. How to post your miles driven
§

Monthly or Yearly (Account / Non-Account)

§

Where and how to use mileage rate
7. How to post the purchase of a property
§

Know where to put it

§

Owner investment explained

§

Bank loan described

§

Depreciation shown
8.
How to post expenses by property
§

Track classes explained

§

PL and BS shown for clarity
9.
How to post a business Expense paid with personal funds
§

How to do it fast

§

Know your running balance
10.
How to pay contractors
§

Track their work per property

§

1099Misc explained
11.
How to charge tenants
§

Send monthly auto invoice

§

Tenants pay online

§

Post payments to each property
12.
How to post rental income by property
13.
How to post the sale of a property
§

Simplified with pictures for accuracy
14.
How to obtain your financials and how to obtain it fast
§

Cash vs Accrual and customization

§

Understand it clearly

and MORE!
** This class wil not cover QBO transactions for Property Managers because it will be in level II, but all are welcome to come.
This class will be taught by Susan Karlic EA. She is an Enrolled Agent who represents taxpayers before the Internal Revenue Service anywhere in the United States. She is also a Quickbooks Online Certified ProAdviser and has been teaching Quickbooks to small business owners since 2009. Find her "Free Tax Info" Videos on YouTube.com and Subscribe to be notified every time she post a new video. If more customized tax information is needed, call 1-800-505-2939 for tax advice or consultations.
FAQs
What type of payments are accepted to purchase the seminar's recording?

Cash and Credit Card
Will I be able to bring minors?
Yes, if he/she is over 14, and has his/her own ticket to learn.
Will there be a parking fee?
TDB
What can I bring into the event?
Attendees are not require to bring anything, but can bring a charged laptop and use their phone hot spot wifi, a sweater for confort in case its cold, and a mini snack in case hunger knocks. Water and light snacks will be provided during seminar.
What's the refund policy?
Attendees can receive a refund 30 days prior to the start of the event.
Date and Time
Location
TBD Orlando, Kissimmee Florida Area
Address will be posted February 19, 2018
Orlando, FL