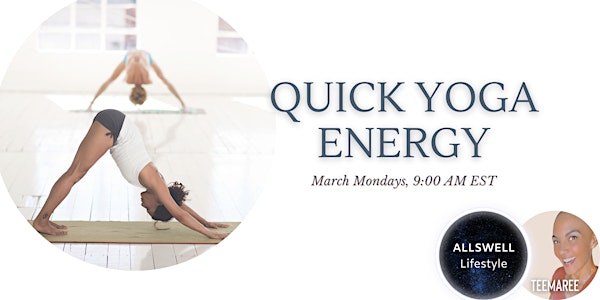 Quick Yoga - Energy
Quick Yoga - Energy
About this event
Experience a lively yoga flow in under 10 minutes. This practice with Teemaree will focus on creating energy in the body and mind. Perfect for those with intermediate experience that want a short energizing yoga practice.
When:
Mondays in March, 9:00 - 9:10 AM EST
Where:
Online via Zoom
Admission:
Free with the option to donate.
*Please note registering for this event will opt you into ALLSWELL Lifestyle and Teemaree email lists. We never spam and you can unsubscribe anytime.
Presented by ALLSWELL Lifestyle, led by Teemaree. Teemaree founded ALLSWELL Lifestyle after 20+ years of studying, implementing, and coaching personal development and spiritual techniques. In addition to ALLSWELL Lifestyle, she helps people feel love, gain power, and have success, with products, practices, and coaching. For more on Teemaree visit teemaree.com
ALLSWELL Lifestyle is an online store, church, and retreat center. We provide goods and services that uplift, empower, and transform. For more, visit us at allswelllifestyle.com