About this Event
Ciao!
I'm Janice, "Nonna", to my many grandchildren. In my family, our daily lives and simple celebrations involve lots and lots of cooking and good food. It brings us all together, doing what we love while enjoying each other's time and winding down each day and celebrating occasions large and small.
I want to bring the beauty of simple every day italian to you and yours.
On February 21st, 2020 from 6:30 to 8:30 we will bring this simple style to you with good wine, good food, and good people.
I look forward to creating and enjoying this meal with you.
Together we will prepare and enjoy:
Two Appetizers:
▪ A Winter Bruschetta: With mushrooms, gruyere and thyme. Served on a warm baguette locally baked at The Bread Shop in Wakefield.
▪ Fig, Bacon and Goat Cheese Crostini: Savory and sweet starter. With fig jam, bacon and goat cheese locally handcrafted by the Vermont Creamery. Served on a toasted baguette locally baked at The Bread Shop in Wakefield.
We'll enjoy a glass of wine paired to complement our meal. recommended by our export Nasty Nonni's of Saugus.
Two Entrees:
▪ Penne a la Vodka: As the name suggests combines penne produced locally in Melrose by Seven Hills Pasta and vodka tomato cream sauce. We'll bring San Marzano tomatoes, heavy cream, parma proscuitto and parmesan cheese both imported from Italy, and fresh basil together to make a delicious pink sauce. All of this in 30 minutes to prepare and enjoy.
▪ Shrimp Scampi: A simple and elegant meal with 15 minutes of prep. White wine , garlic, butter, shrimp, lemon and of course olive oil is all you need to make this delicious Scampi. Serve over a local crusty bread or pasta and enjoy.
Some Extra Treats:
▪ Fried Artichoke Hearts: A favorite at my house this is a quick great appetizer or side dish. Dipped in egg and cheese, rolled in flavored crumbs and lightly fried. We use canned artichoke hearts for a quick and delicious tidbit.
And of course dessert will be served. We'll have a tray of my Homemade Italian Cookies and a little sweet to take home with you.
Excited to join you and share my love and knowledge of Italian cooking and to enjoy a wonderful meal together.
Hope to see you and and to enjoy this meal together!
Nonna
*For your cooking pleasure feel free to bring an apron, a clip for your hair and a pen for notes.
Recipes will be available.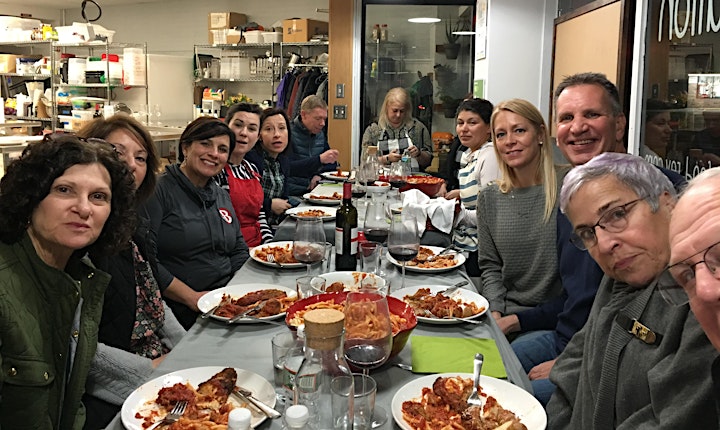 About Janice:
Taught by my mom, dad and my grandmother I have been cooking for dinner and celebrations with my family for decades. From the feast of the seven fishes to my grandson's birthday bringing people together over a good meal is what I love and I'd love to share this love and knowledge with others.
Officially, I have a background in Corporate catering and have supervised corporate events ranging from 4 people to 1000.
My passion is food. I love to cook and I love to bake. I look forward to sharing my love of cooking and passion for good food with you just as it was shared with me.
Ciao!